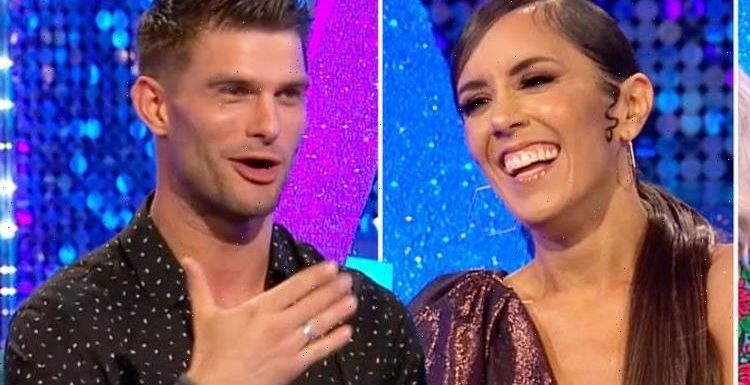 Strictly: Aljaz says he's the 'proudest' he's ever been
We use your sign-up to provide content in ways you've consented to and to improve our understanding of you. This may include adverts from us and 3rd parties based on our understanding. You can unsubscribe at any time. More info
Strictly Come Dancing professional Aljaz Skorjanec and his dance partner Sara Davies took a break from rehearsals to step into the It Takes Two studio on Thursday. And in her all-new BBC presenting gig, Janette Manrara was on hand to interview the pair about their time in training after she said goodbye to her professional dancer role earlier this year. While Janette insisted at the start of the chat she wouldn't be picking "favourites" during their interview, it's safe to say Aljaz wasn't quite as diplomatic towards the end of their chat.
Strictly's Aljaz and Janette tied the knot back in 2017 and have become one of the BBC competition's best-loved stars.
Thursday marked a first for the two, however, as they made their first-ever It Takes Two joint appearance – with Aljaz as a guest and Janette as a presenter.
Introducing the two, Janette joked she had to do a "little disclaimer", telling viewers: "I am not allowed favourites.
"I am treating you the same as I am treating everybody else, Aljaz, so we're going to get straight into it," she added as her other half let out a giggle before adding: "I can't believe it."
Delving into the details of their dance from Saturday's opening show which saw them at the foot of the leaderboard, Janette asked if the Dargons' Den star felt "like the boss" during her routine.
"Not on the dance floor," Sara replied. "We've got a pact going on, okay?
"So he lets me be the boss everywhere else except in training and on that floor."
Sara even went on to say that when she offers dance suggestions, she lands herself in "trouble".
"I've tried to say, 'Can we do this? Or can we do this?' And I do a lot of self-correcting and I get into a lot of trouble," Sara said.
Janette weighed in with her own thoughts, cheekily quipping: "Oh, he's the boss in the room, he's the boss in the room."
The trio then delved into the details of what fans can expect from their foxtrot routine this coming Saturday as the Strictly pair hope to propel up the leaderboard.
However, before the interview could be brought to a close, a beaming Aljaz couldn't help but pay tribute to Janette in her new role.
DON'T MISS:
Tilly Ramsay and Nikita spark rumours amid girlfriend's cryptic post
Neil Jones gobsmacked as Nina Wadia warns about risqué routine
Strictly 2021: Gorka Marquez blasted by Katie McGlynn over comparison
"Can I just say?" Aljaz interjected as Janette tried to bring the chat to a close. "This is the proudest I've ever felt in my life."
Janette began to laugh as Aljaz continued: "I'm sitting next to my work wife, I'm sitting opposite my wife.
"I mean, I'm such a lucky man. Come on, Aljaz!" the Strictly star gushed as he began thumping the air.
"Awww, best of luck at the weekend, I love you both," Janette added as she bid them farewell before Aljaz added: "I love you literally."
And as applause erupted in the studio, Janette made a sweet hand gesture and responded to her husband: "I love you!"
It wasn't just Janette who saw the sweet side of her beau's message as Ceri said on Twitter: "The way Aljaž said 'I love you literally' at the end of #ItTakesTwo to Janette was so cute."
"Did Aljaz just say 'I love you literally!' to Janette? What a sweetheart he is! #ItTakesTwo," Franky added. (sic)
It Takes Two airs weekdays at 6:30pm on BBC Two.
Source: Read Full Article