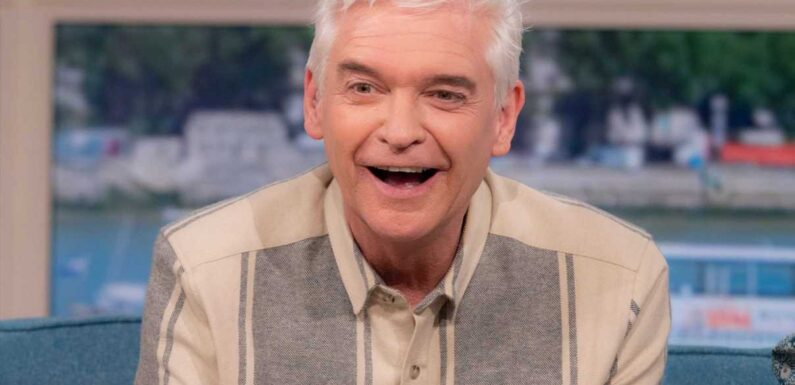 IT is quickly becoming the showbiz story of the year as This Morning's future hangs in the balance over Phillip Schofield's affair with a male employee.
As more details are exposed about what went on off-screen, here we ask all the key questions that need answered.
Why did BFFs Holly and Phill fall out?
THEY have been best friends since 2006 when Holly co-hosted Dancing on Ice alongside her TV industry mentor Phillip.
Three years later she replaced Fern Britton on This Morning and they have been ITV biggest and brightest stars ever since.
But their working relationship came to a dramatic end amid rumours of a growing feud between them – just days after Phillip described her as "my rock", adding: "We're the best of friends."
Neither Phillip nor Holly have publicly stated why their friendship crumbled overnight.
READ MORE ON THIS MORNING
Former This Morning guest hits out at Holly and Phil's 'air of importance'
Eamonn savages 'hated narcissist' Schofield and claims ITV staff were terrified
Phillip initially left the show he'd been presenting for 21 years over the fallout, saying he wanted to "protect the show I love".
He failed to mention Holly in his leaving statement, before she simply thanked him for "his knowledge, his experience and his humour" in a short note.
Phillip's departure was also fuelled by his brother Tim being outed as a paedo.
Just six days later, he made a bombshell revelation about the "consensual on-off relationship" – leaving him no choice but to quit ITV altogether. 
Most read in TV
Shocking moment TV legend calls Holly Willoughby a 'little b****'
Eamonn Holmes says Holly should 'follow Phil out the door' in jaw-dropping attack
ITV ignored Phillip Schofield warning over 'queue-jumping' backlash
Eamonn savages 'hated narcissist' Schofield and claims ITV staff were terrified
ITV said no one employed on the daytime show knew of the affair as Schofield "lied" to everyone.
Holly insisted she had confronted Phillip over rumours about his affair with a young TV worker and, and branded his deception "very hurtful".
Which eight stars were allegedly 'silenced' in ITV 'cover up'?
EAMONN Holmes has accused ITV of a "cover-up"over Phillip's behaviour behind the scenes at This Morning.
His wife, Ruth Langsford, famously made an official complaint to top ITV bosses about Phil in 2019.
At the time, The Sun revealed a civil war had broken out at This Morning, with a series of presenters unhappy about the host's attitude behind the scenes.
Eight star ITV presenters spoke off the record about what they described as a "toxic" environment at This Morning.
Here we look at who the eight presenters could be – including Eamonn, Ruth and Britain's Got Talent judge Amanda Holden who alleged that Phillip got her banned from ­presenting on the show.
Dr Ranj admitted he had taken his concerns to the top, but found himself being used less on the show.
Former executive editor Dan Wootton who worked on Lorraine's show for ten years left after he allegedly confronted bosses about rumours of Phil's relationship with the This Morning employee.
The three remaining ITV stars who could have been the ones who were silenced when they whistleblew about Phil includes Rylan Clark.
The TV star – who is close friends with Eamonn and Ruth – quit This Morning despite being a popular guest host.
Speaking last night on GB News, Eamonn said: "It's a total cover-up. Those in authority had to know what was going on they thought they would dodge a bullet with this.
"All I'm here to do is speak for people who don't have a voice. gagged legally or by actions taken by the production team.
"He created an atmosphere where people hated him."
Did ITV pay for taxis from Phil's flat to TM for the runner?
EAMONN sensationally revealed that Phil would enjoy "Playtime Thursdays" with his young lover.
The veteran presenter said Phil would take the junior runner back to another property he owned in London — and have ITV pay for a car to take his lover back to work on Friday when it was Phillip's day off.
This Morning's former Friday host Eamonn said he recently found out that the runner would arrive at the studio much earlier than he would — "delivered from Phillip's home".
Which ITV bosses' jobs are now under threat?
PHILLIP resigned from ITV and was dropped by his powerful talent agency YMU after confessing to an "unwise, but not illegal" affair with the young male TV aide.
ITV chiefs scrambled to justify their inaction and shift blame by insisting they probed rumours of the relationship but both men repeatedly denied it.
Director of TV Kevin Lygo insisted an investigation into the presenter's affair with a teen colleague had not been bungled.
This is despite claims eight stars had previously complained about the relationship and Schofield's "toxic" behaviour.
Tory MP for Tatton, Esther McVey, said she believes it will be "a matter of days" before executives resign over the scandal at ITV, whose top bosses include chief executive Carolyn McCall, director of TV Kevin Lygo, daytime managing director Emma Gormley and This Morning editor Martin Frizell.
When asked by Sky News if mistakes had been made during the probe carried out by ITV in 2020, he simply replied: "No."
Speaking on GB News, MP Esther said: "People could lose their jobs over this, from the chief executives right the way down."
Read More on The Sun
Towie rocked by show's 'worst ever feud' that's left cast more divided than ever
The UK beach that's been compared to the Maldives with white sand & blue waters
ITV execs are set to be quizzed by Parliament's media, culture and sport committee on June 6.
Dame Caroline Dinenage, the committee's chairwoman, said: "It will be interesting to know who knew what and when at ITV and This Morning."
Source: Read Full Article