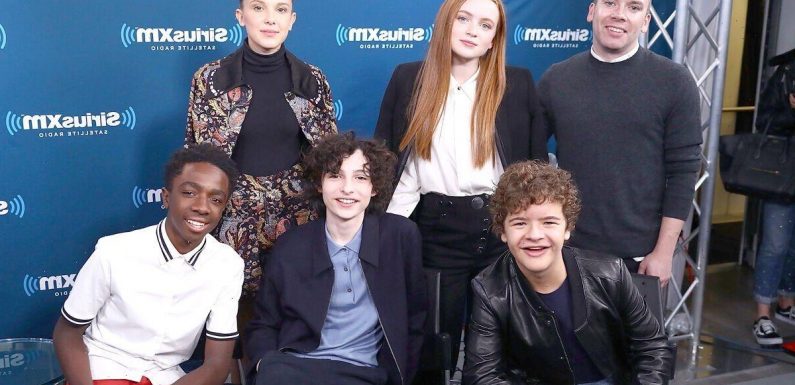 David Harbour admits he had doubts over Stranger Things
We use your sign-up to provide content in ways you've consented to and to improve our understanding of you. This may include adverts from us and 3rd parties based on our understanding. You can unsubscribe at any time. More info
Stranger Things first launched in 2016 on Netflix and quickly became a worldwide sensation, propelling its young cast into the spotlight after they were virtual unknowns. Since then, Stranger Things continues going from strength to strength with the show proving to be one of the biggest titles for the streaming platform. Here's a look at the cast and whether they are as close off-cameras as they are in the show.
Are the Stranger Things cast friends in real life?
On Stranger Things, the characters appear to be close as they take on a range of villains from the Demogorgon and the Mind Flayer to Vecna (played by Jamie Campbell Bower) and Dr Martin Brenner (Matthew Modine).
When the cameras stop rolling, the cast are more like a dysfunctional family who are tight-knit but bicker. Eleven actress Millie Bobby Brown previously, said at PaleyFest back in 2018 as per the Daily Mail: "We are actually siblings. We argue all the time."
Finn Wolfhard – who is better known as Mike Wheeler – said he and co-star Charlie Heaton grew "incredibly close" while filming season four with the series delayed to the coronavirus pandemic.
He said he'd actually become closer with all of his co-stars during the pandemic, telling The Washington Post: "When you start a show that young, there's drama and there's rivalries because it's like school. And then you become older, and you stop caring."
Wolfhard added to the publication: "I think it's actually such an incredible thing to come back to each other and be like, 'Wow, I really understand you. We're all going through this thing together. I love you.' "
Brown and Will Byers' actor Noah Schnapp have a famous friendship with the pair sharing details of their closeness on social media.
The British star and producer said in a recent interview: "We said if we're not married by 40, we'll get married… because we'd be good roomies. Completely platonically, we'd be really good roomies."
She told Glamour how Schnapp made her feel "so comfortable" and "empowered" as well as being her "biggest supporter".
View this post on Instagram

A post shared by Caleb McLaughlin (@therealcalebmclaughlin)
Dustin Henderson actor Gaten Matarazzo and Caleb McLaughlin, who is Lucas Sinclair, knew each other before their Stranger Things days when they were both working on Broadway.
Matarazzo, who has recently returned to his theatre roots, was starring in Les Misérables while McLaughlin was appearing in The Lion King.
McLaughlin posted a photo on Instagram back in 2019 with Matarazzo, captioning the snap: "My partner in crime on and off set."
Max Mayfield star Sadie Sink, who was also discovered after taking the lead as Annie on Broadway, was known to Matarazzo before she was cast in Stranger Things.
With Matarazzo returning to Broadway, his co-stars Sink and Robin Buckley actress Maya Hawke surprised him after his debut in Dear Evan Hansen.
Matarazzo and Joe Keery have a great onscreen partnership as Dustin and Steve Harrington, but their chemistry also continues off-screen as well.
The Dustin actor told PinkVilla recently: "It's awesome. Working with Joe is always incredible, and he's a dear, dear friend. And I love all the stuff we get to do."
Heaton has been dating Stranger Things co-star Natalia Dyer – who portrays Nancy Wheeler – since pretty much season one with the couple still going strong today and by each other's side.
DON'T MISS…
Stranger Things: Is Dr Brenner really Eleven's dad? [ANALYSIS]
Stranger Things explained: How long was Will in the Upside Down? [INSIGHT]
Stranger Things: Is Will in love with Mike? [EXPLAINER]
Along with being friends with Schnapp, Brown is also friends with her onscreen nemesis and 'Papa', Dr Martin Brenner star Matthew Modine.
Modine was also staying with Brown's family while they were shooting with the Enola Holmes actress telling Tudum: "We renamed the guest house Modine House."
She added: "If Modine was tired, we would just take the golf cart down to the house, give him his food and leave a note that we loved him."
Finally, Jim Hopper's David Harbour and Joyce Byers star Winona Ryder are also close after working together for so long and he admitted "professionally" he "had a crush" on her for a "long time".
Ryder told Still Watching Netflix: "Working with David has been a beautiful experience. I admire him so much. I love how he surprises me in life and in takes. This is my first series, so to work with someone for seven years has been absolutely incredible."
Stranger Things season 4 is streaming on Netflix now
Source: Read Full Article