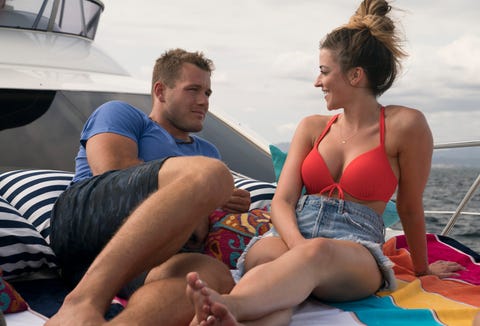 Her time in Paradise may not have been, well, paradisiacal for Ashley Iaconetti, but that's OK–her happy ending came to pass regardless. Yay love! And having been through the ringer on the spin-off twice over now, her take on this year's Bachelor in Paradise madness is both critical and compassionate.
Read on for her insight into this year's madness, whether it's who's coupling up, who's breaking up, and who's just fired up–all's fair when it comes to love and tropical cocktails.
I'm getting right to it: Colton and Tia didn't do anything wrong! Anyone who is ganging up on Colton for being confused and wanting to keep his options open is being ridiculous—most cast members will agree that's the point of Paradise, and the whole reason it makes for an interesting, dramatic show! And anyone who is saying that Tia is being pathetic for not moving on past Colton has never been in unreciprocated love. Oh, and anyone who's encouraging Tia to move on from Colton with Chris is a dumbass! There, I said it. And I meant it.
At this point, Colton likes Tia, but doesn't know if it's enough to rule out dating anyone else… which is probably the case for 90% of the cast. Like John, who likes Caroline, but is still down to go out with Jubilee. And what about Kendall? She likes Joe a lot, but also kisses John before a rose ceremony this week. She kisses two people within a matter of hours and she didn't get any shit for it—and that's TOTALLY fine, don't get me wrong, because again, it's Paradise and that's what you're there for.
But it's a double standard to see Colton made out (made out, get it?!) to be the bad guy because he's not sure he wants to go steady either.
Yes, he and Tia have had a thing going on that pre-dates Paradise. But does that mean the show's 'rules' don't apply to them?! I don't think so. Besides, as we learned these past few months as their relationship status became a Bachelorette plotpoint, they didn't spend much time together—or get that serious. Colton certainly didn't feel strong enough for Tia to give up on the Bachelorette opportunity. (And after the show finished taping, I'm sure he took some time to get over his breakup with Becca before feeling ready to get back into the dating game.)
Who's ready to get back to the beach?! #BachelorInParadise ?: @theyearofelan
A post shared by Bachelor in Paradise (@bachelorinparadise) on
Honestly, emerging from the Bachelor bubble is a weird adjustment even if you didn't fall fully in love with the lead—I know that Jared was also thinking about his Bachelorette, Kaitlyn, during our first season in Paradise together back in 2015. And in particular, the turnaround is a tough one to deal with when it's as fast as it is (i.e. just a few months) for the guy that places fourth. Inevitably, you're going to compare your feelings for the girls in Paradise to what you felt for your Bachelorette—the latter romance having evolved in a much more hyper-romantic environment than Paradise. You can argue that Jason Tartick or Eric Bigger decided not to do Paradise because it would harm their chances of being The Bachelor, but I think there's a lot of truth when they say they weren't ready to move on yet.
Look, I'm engaged to a man who was confused about his feelings for me for two years!
As far as what I think of Colton's confusion beyond his lingering feelings for Becca, look, I'm engaged to a man who was confused about his feelings for me for two years! Paradise was not the ideal environment for our relationship to thrive, and it might not be the case for other couples either. Maybe Colton needs time with Tia without committing to her after date #2? Or maybe strong romantic feelings will never develop between them. (Not all relationships spark in an instant like Jordan and Jenna's seems to have.) Colton's tears are a combination of frustration over not being "perfect," guilt over hurting Tia, and confusion over how to deal feelings in the Paradise fishbowl. Social media critics labeling his behavior as "out of control" or "emotionally unstable" piss me off—expressing emotion like this (especially in a high-pressure environment like reality TV) is not a level of psychosis. I think it's the opposite—it's almost always healthier to express emotions than to bottle them up.
Also, though, I really like Tia, and I feel so much sympathy for her. There's nothing more painful than being in Paradise with the guy you love (we'll call it love, even thought it might be like or lust at this point) and having to come to terms with the fact that he doesn't love you back. I've been there, OK? Take a moment to imagine a camera on you when you're getting the inkling that the guy you really like is pulling away. Now, factor in that you're living in the same house, eating at the same table, and socializing with the same (small) group of friends as your unrequited love. And then those friends are suggesting you date other guys also in the same house who you're not as attracted. And then his friends are suggesting he do the same. And then maybe he'll do so! And then maybe he'll kiss that other girl! Maybe he'll kiss her in front of you! Literally let the undertow along that pristine Paradise shoreline take me!!
Chris kissing Krystal the same night he told Tia that he was her guy is straight up evil—the producers couldn't even wish that shit up!
So, again, neither Colton or Tia are bad. But, wait for it, Chris sure is! The only way you can really be a villain in Paradise is if you are dating someone for a couple of days, say you're all in with them, and then move on to someone else just like that. Chris kissing Krystal the same night he told Tia that he was her guy is straight up evil—the producers couldn't even wish that shit up! (Don't even get me started on Chris and Jordan outright planned a night of auditions for girls vying for Chris's rose!) I remember when this guy told me in a Men Tell All interview that you're going to see a completely different, redemptive side of him in Paradise… and, well, how's that working out for you Chris?!
Incidentally, I think Tia was hanging out with Chris to come across as having moved on—and possibly make Colton jealous. I don't think she really had feelings for Chris; don't fault her when if she hops back on the Colton train. And on that note, then, I'm going to conclude here by saying that, after Jared and I watched Colton sit Tia down to tell her about Chris, we turned to each other and said, "They're gonna get together one day."
This goose is cooked. #BachelorInParadise
A post shared by Bachelor in Paradise (@bachelorinparadise) on
I'm not going to include what we said about Chris.
Follow Ashley on Instagram and Twitter.
Source: Read Full Article