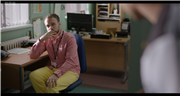 VIEWERS of Waterloo Road were left confused by one cast member's outfit and compared it to something you would find in a sweet shop.
The baffling wardrobe choice was spotted by several onlookers yesterday when James Baxter's character Joe Casey appeared on screen in a rather vibrant outfit.
This article contains episode spoilers.
Mr Casey is joint Deputy Head at Waterloo Road High School, and during the outing of the BBC One school-based drama, he decided to wear a clashing combo of yellow trousers and a pink shirt.
Despite going through a dramatic scene, some viewers were distracted by his colourful look and compared him to well-known sweets.
One confused viewer tweeted: "Mr Casey looking like a Rhubarb and Custard sweet #WaterlooRoad."
Read more about Waterloo Road
Waterloo Road fans sob as 'heart-breaking' ending leaves them 'emotional mess'
Waterloo Road star swipes at 'embarrassing and shameful' kiss with Adam Thomas
Another added: "Joe Casey looks likeDrumstick's Squashies #WaterlooRoad."
As he continued to wear the outfit, a third chimed in: "Why is he still dressed like a Rhubarb and Custard sweet? #WaterlooRoad."
James' performance was not wasted with a fan commenting: "Joe Casey was definitely the standout of this episode, excellent character #WaterlooRoad."
The episode also saw cast member Kym Marsh's character Nicky Walters get caught up with the wrong people and owing money to them she found herself threatened.
Most read in TV
Love Island's Mitch makes 'wrong' decision leaving 2 fan favourites at risk
Holly snubs Phillip with gushing post about Dermot & rival wine after his is axed
Corrie's Jane Hazelgrove reveals family tragedy amid terminal illness plot
This Morning fans complain about Holly Willoughby amid presenter shake-up
Danny (Adam Abbou) tried to rectify his past actions and visited Waterloo Road to play an integral part in the school's knife crime initiative.
Fans are in for an emotional season with more drama to follow as the show unfolds.
The final episode of this season is set to air on June 27,
Waterloo Road airs Tuesdays at 8pm on BBC One and is available as a boxset on BBC iPlayer.

Source: Read Full Article