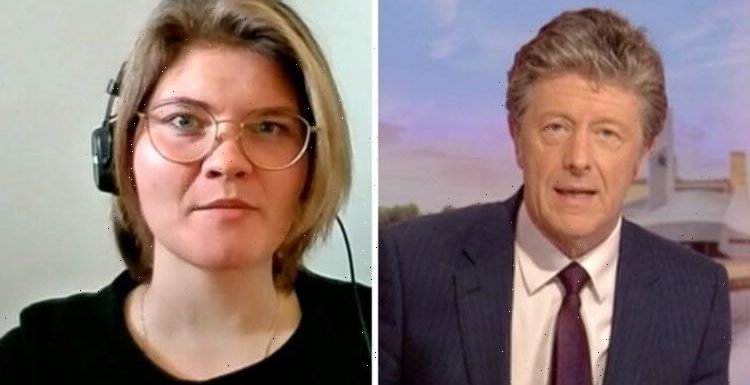 Ukraine: Charlie Stayt cuts off interview amid air strike alert
We use your sign-up to provide content in ways you've consented to and to improve our understanding of you. This may include adverts from us and 3rd parties based on our understanding. You can unsubscribe at any time. More info
BBC Breakfast hosts Charlie Stayt and Naga Munchetty covered the latest developments in Ukraine when several interviews to be interrupted due to safety concerns. Within a short space of time, two contributors on the ground had their interviews pulled on Saturday's show as the BBC hosts felt that it would be irresponsible and life-threatening to continue.
BBC veteran Charlie was joined virtually by Olena Ponomarkeno, who was about to give an account of what was happening in the city of Ivano-Frankivsk.
Ivano-Frankivsk was a city previously unaffected by the war attempts but has now come under fire.
Olena opened her interview with: "Even at the moment, we have an airstrike alert, so after this interview, I should go to the corridor or to the bathroom to be in a safer space."
She had referenced an explosion that had happened yesterday, which was a cause for concern for Charlie.
Read More: Emmerdale's Charles Anderson devastated as Manpreet is given frightening diagnosis?
The guest was only a matter of seconds into her interview and was narrating a video that showed the local area when she was stopped.
Charlie said: "Olena, what I'm going to do is, you've just told us there is sound going off now; I think you need to be in a safe place, and I'm very conscious of our responsibility to you.
"If we can, we will catch up with you later; I think you should go and make yourself safe. We'll try and catch up with you another time.
"My apologies, but I think it's the right thing to do, thank you."
Olena frankly replied with "Ok, fine" as she seemed a bit startled by his response.
Naga quickly added: "And of course, we are so grateful to all our contributors who talk to us, but obviously their safety is the ultimate priority."
Several viewers took to social media to point out the awkward interview.
Andrew S tweeted: "She wasn't happy getting cut off! #BBCBreakfast."
DON'T MISS…
Coronation Street twist as Phill Whittaker's secret unveiled in Maria Connor plot? [SPOILERS]
Our Yorkshire Farm's Amanda Owen trying to 'stay upbeat' in sad update from Ravenseat [LATEST]
'Never cover it' Star Trek expert shares biggest Lucille Ball 'pet peeve' [LATEST]
"She didn't look impressed that the BBC ended the interview due to air raid sirens and explosions in the background #bbcbreakfast," @Christopher_T42 added.
Mike Hope however, praised Charlie's swift thinking: "Well done, Charlie @BBCBreakfast #bbcbreakfast."
This followed just minutes after Naga had to make a similar judgement call.
Naga spoke to James Waterhouse, who is currently on the front lines in Kyiv and has been a staple correspondent covering the war between Russia and Ukraine.
James described an eerie "movie set" like Kyiv where "strangely" locals were used to living in the limbo of a city in a war.
He did start his segment off referencing a "rumble" that they could constantly hear and added: "People have to live with it; it doesn't mean it's a happy existence."
The broadcaster spends his nights underground in a car park where he continued: "Every time someone slams a car door, you jump."
Naga then made a snap decision ending the interviewing: "I think we should just say goodbye to you for your safety."
BBC Breakfast airs weekdays at 6 am on BBC One.
Source: Read Full Article