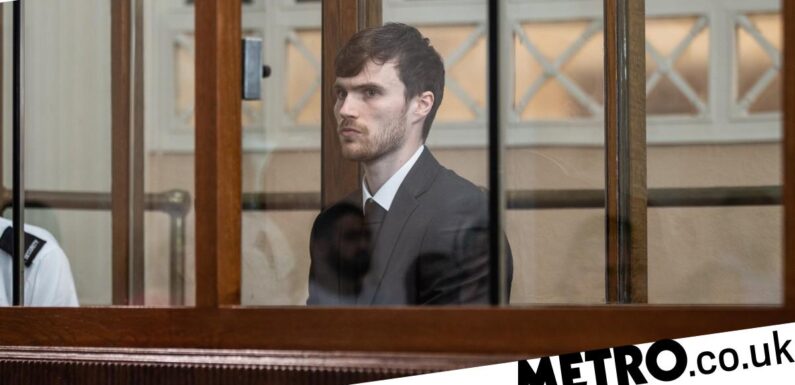 Justin Rutherford (Andrew Still) isn't going to give up easily in Coronation Street as the trial into Ryan Connor's (Ryan Prescott) acid attack and Daisy Midgeley's (Charlotte Jordan) stalking continues.
This is a man who genuinely believed for months that him and Daisy were meant to be together forever, going to extreme lengths to try and convince her and even planning where they'd go on a honeymoon.
Justin was forced to face his reality, however, after attacking Ryan with acid. He was arrested and soon, he will be questioned in front of the jury about this event and, according to Andrew Still, his character is more than ready to do whatever it takes to ensure he doesn't go down.
'It's a new Justin that we are going to see', he said.
'There is a lot going on in his head with the trial underway as he feels backed into a corner, so he is willing to go to whatever lengths he has to, to gain the upper hand.
'He has manipulated his sister and he is lying to anyone and everyone around him. There is a very definite fear of going to prison for a very long time so he is desperate. We will see a slither of the pathetic Justin, but this is his big chance to be seen and to be heard, particularly by Daisy, so he is happy to grab that opportunity with both hands.
'As the trial progresses we are going to see Justin wrestling to stay calm and collected as this inner tension is bubbling under the surface.'
Andrew goes onto explain that despite the fact Justin has been arrested and so much has changed between him and Daisy, he still feels the same about her.
'It's complicated because that antagonistic feeling he had towards Daisy before the attack came from all this pressure from her rejection and the death of his mum. Everything was building up into this boiling point but after the attack he has fallen back into this obsession with her, and we saw that during the scenes when he was in the car in the hospital car park.
'He has already immediately gone into feeling like she is this kind of hope he can hold on to. He certainly isn't desperate for her to suffer for rejecting him, he is in this cycle of hatred and objectified obsession and depending how the mood takes him or what situation he finds himself in, he will swing from one degree to the other.'
'Justin has a well-rehearsed speech as he knows this trial is important so he sees this as his golden opportunity to convince the jury to let him go', he added.
'He is going to put on the full charm offensive, and he will use all of his manipulation tactics to win the jury round. He's not confident that this is going to all pan out for him, but he knows that this is make or break and he has to put on the performance of his life to get away with this. It's a very stakes, high pressure situation for him.
'We are going to see the most manipulative Justin yet.'
Source: Read Full Article