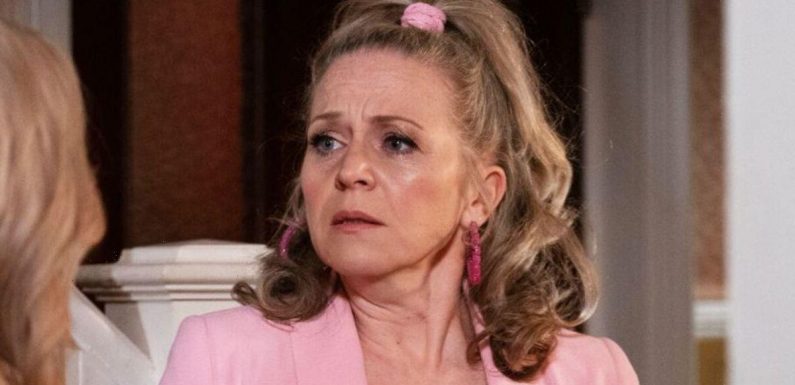 EastEnders: Kellie Bright discusses whodunnit flash forward
We use your sign-up to provide content in ways you've consented to and to improve our understanding of you. This may include adverts from us and 3rd parties based on our understanding. You can unsubscribe at any time. More info
Monday's EastEnders episode marked the soap's anniversary with a unique twist. The instalment saw Linda Carter (played by Kellie Bright) hosting a lock-in at the pub with Sharon Watts (Letitia Dean), Denise Fox (Diane Parish), Suki Panesar (Balvinder Sopal), Kathy Beale (Gillian Taylforth) and Stacey Slater (Lacey Turner). However, there was later a flash forward to Christmas 2023 which saw the women standing over a man's body before confirming he had died.
The gruesome scene didn't give much away as to who the murder victim was, but fans have already started guessing.
It came after the women toasted to "men getting what they deserve".
Although the next episode confirmed the women had simply gotten very drunk before falling asleep on the pub furniture, it's clear from the ominous flashforward that the night marked the start of an intense plotline.
Discussing the storyline, executive producer Chris Clenshaw teased: "It's been in the pipeline since I took over at the beginning of last year.
"I was looking for a blockbuster story for 2023 and there was clearly an appetite for a 'whodunnit', but I was reluctant to play a 'whodunnit' in the traditional form, largely due to the spectacularly brilliant 'Who Killed Lucy' storyline, that was not just hugely successful but also incredibly gripping throughout.
"I, therefore, tasked the writing and story team that if we were to do another 'whodunnit' it would have to be different, have to feel different, and have to have a very different mechanic at its core.
"A couple of our writers and story team took that brief on board and came back with the idea of flashing forward and, in doing so, we're promising a 'whodunnit' is coming in the future."
Viewers didn't take long to start placing their bets on who the anonymous victim could be.
Taking to social media, one name, in particular, kept coming up.
Dean Wicks (Matt Di Angelo) raped Linda in 2014, almost destroying her life.
He was last seen on the Square in 2016, but was mentioned on Monday's episode.
Linda was devastated to see Shirley Carter (Linda Henry) had reunited with her manipulative son.
This detail left some fans certain Dean would be the one to be killed on Christmas Day.
Twitter user @xtaylor2317x wrote: "#EastEnders could the dead guy at Christmas be dean!?"
@Simy_78 added: "So I don't think it's Phil or Keanu who dies at Christmas as Sharon would have been distraught in that scene. "Could be Nish or Dean but would Eastenders kill off another of Shirley's sons? She's already lost Mick and Tina! Only 10 months to find out #EastEnders."
@MrJackMcLaren theorised: "Think it's Dean Wicks (Rapist) that gets killed at Sharon & Keanu's Christmas wedding on his birthday."
@KarolanneParis2 added: "Christmas can't come quick enough now after last night's EastEnders what are you doing making us wait 10 months to find out who is dead #eastenders #christmasday2023 my guess is it's Dean if it's a big year for Linda."
@hmorganCARTERS penned: "This will never happen but imagine dean returns sometime this year and makes Linda's life hell, he is the one that gets killed at Christmas and the killer is….. MICK #eastenders."
"Just watched last night's EastEnders episode. It was so good, I already can't wait for the Christmas episode! I think it's either Nish, Dean (he probably comes back to the square), or Jack that will die and Denise or Stacey killed them with the bottle. #EastEnders," @CHXN3L shared.
For now, fans will have to keep guessing before the plot really begins to play out over the coming months.
EastEnders continues on Monday at 7.30pm on BBC One.
Source: Read Full Article