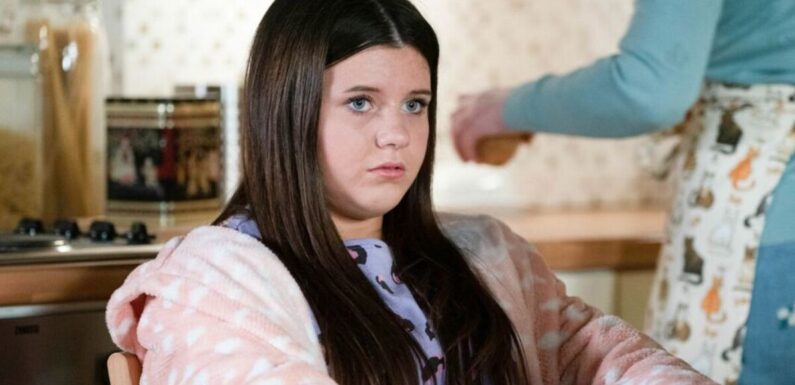 Eastenders: Freddie confronts his former teacher
EastEnders newcomer Theo Hawthorne (played by William Ellis) has inserted himself into the Slaters' lives and on Thursday, tried to gift Lily Slater (Lillia Turner) a pair of trainers.
Stacey Slater (Lacey Turner) thought the gift wasn't appropriate, and forced Lily not to accept it, but he later insisted she keep the shoes.
The school teacher will continue to act inappropriately though, with EastEnders spoilers revealing he will give the teenager more money in scenes yet to air.
When Lily and Ricky Mitchell (Frankie Day) are invited to meet with the social services, the soon-to-be teen parents are concerned.
The pair try to come up with a money-making scheme to help them, and end up luring Theo to Walford.
Don't miss…
David Attenborough's film crew attacked by 15ft tiger sharks[VIDEO]
Antiques Roadshow guest set to give necklace back to king after huge valuation[LATEST]
Ben Shephard fumes at Just Stop Oil protestor in heated climate clash[INTERVIEW ]
Thursday's episode saw Stacey fuming after Theo presented Lily with the shoes she'd been after.
Stacey argued it wasn't fair on her other children for Lily to receive an expensive gift she can't afford.
When she sneakily took the shoes back on Theo's instructions, Lily's friend Amy Mitchell (Ellie Dadd) began to worry about Theo's intentions.
We use your sign-up to provide content in ways you've consented to and to improve our understanding of you. This may include adverts from us and 3rd parties based on our understanding. You can unsubscribe at any time. More info
Lily angrily insisted she wasn't being groomed, but is there a darker reason for Theo's ongoing involvement in Lily's life?
If the teacher keeps handing her money and gifts, he could be trying to earn her trust.
Is the pregnant teenager in danger? Perhaps the social services might be able to uncover the truth about the money and begin to ask some questions about the new Walford regular.
It could be that they become concerned for Lily and raise the alarm before something happens – but how far could it go if Lily refuses to give anything away about Theo?
EastEnders continues on Monday at 7.30pm on BBC One.
Source: Read Full Article