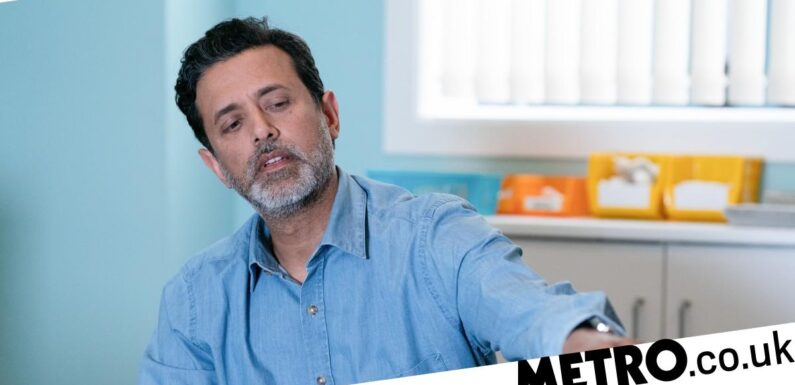 Nish Panesar (Navin Chowdhry) is a man not to be messed with in EastEnders.
Heading to Walford after a lengthy stretch behind bars for murder, Nish is currently controlling Suki (Balvinder Sopal), who is desperate to be free from her marriage so she can be with the person she actually loves – Eve (Heather Peace).
Concerns are set to grow for Suki in upcoming episodes as she ends up in hospital after falling down the stairs.
As the aftermath unfolds, it's Vinny (Shiv Jalota) who raises his suspicions about Suki being pushed by his dad.
Nish does his best to destroy the theories, desperate to keep his reputation as a businessman intact, but what does Navin think?
'Nish is capable of anything', he told us.
To view this video please enable JavaScript, and consider upgrading to a webbrowser thatsupports HTML5video
'This is a man who went to jail for twenty years and effectively lost the best years of his family life. He wasn't there for his children just because he believed, although he had no evidence and he didn't catch Suki in bed with another man, but he believed that she was having an affair and he burnt the house down which killed a man and resulted in him being jailed for twenty years. So, he's capable, I think, of doing anything.'
When Suki returns home, Nish wastes no time in keeping her isolated from the likes of Mitch (Roger Griffiths), who wonders if Suki might be being abused, similar to his daughter, Chantelle.
'Nish isolating Suki is all about control. It's all about him wanting Suki to need him, to want him, to desire him', Navin explained.
'He doesn't want her to get any help from anybody else whether that's financial or physical, but especially mental support. He thinks he is enough for her, and she doesn't need anything from anybody except for her husband. He also wants to make sure that no one fills her with ideas or possibilities.
'He doesn't want anyone to say anything that goes against the way he wants to handle this situation. It's a very common trait with relationships that are based on control. You try to isolate any opportunity that the person your controlling has with anyone else. It's quite horrific behaviour to be on the receiving end of but this is the way that he chooses to control the narrative in their relationship.'
After Nish is arrested for ABH, Suki and Eve are no doubt going to wonder if the ordeal will finally be over, but could this be the last we've seen of him?
Will the evil character head back behind bars?
Navin doesn't seem to think so…
'I think Nish can wriggle out of anything in his own mind. He obviously does have moments of fear but aside from that he's used to getting things done his own way so whether he can actually wriggle out of anything doesn't occur to him because in his mind he can just get the job done.'
Source: Read Full Article