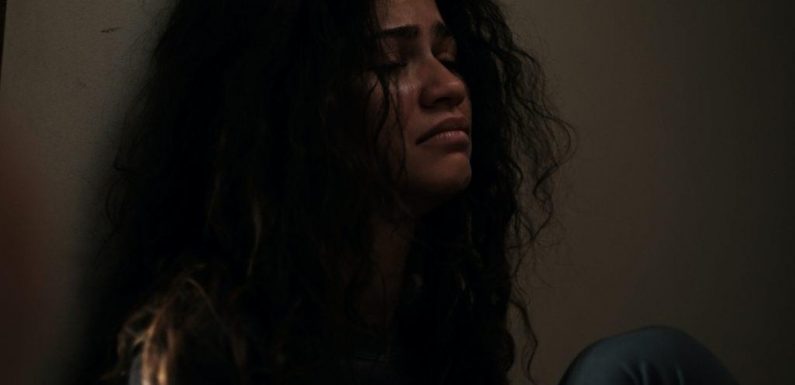 Euphoria fans are demanding Zendaya gets an Emmy after seeing her performance in "Stand Still Like the Hummingbird." The episode follows Rue's (Zendaya) grow more desperate as she starts going through withdrawal. Within the first five minutes of the episode, the pressure that's been mounting in Euphoria Season 2 finally bursts in what might be Zendaya's most explosive performance as the drug-addicted teen. 
'Stand Still Like the Hummingbird' shows Rue at her most desperate
After episode 4 ended, many fans thought Rue overdosed again and died. But episode 5 proves Rue is alive, even though she's hanging by a thread. Her relapse is no longer a secret, thanks to Jules (Hunter Schafer), who learned Rue has been using with Elliot (Dominic Fike). 
At this point, Rue cares less about her mom (Nika King) knowing about her relapse and more about the suitcase of drugs valued at $10,000, which got flushed down the toilet. Panicked, Rue spirals in one of the ugliest and most terrifying scenes in the HBO series. She turns the house upside down in an attempt to find the drugs. 
"What do you want me to do?" Rue screams so loud she goes hoarse, never revealing the danger she's in having lost Laurie's (Martha Kelly) drugs. Instead, Rue reminds Jules of all the ways she failed her ("You f***ing left me at my f***ing lowest") and terrorizes her sister Gia (Storm Reid) by kicking her bedroom door in.
Rue exposes Cassie's secret in 'Stand Still Like the Hummingbird'
The Howard house is one of Rue's stops trying to find drugs. First, she tries Fez (Angus Cloud), who claims he doesn't keep product at home anymore and kicks Rue out when she tries taking his grandmother's medication. But as soon as Rue asks to use the Howard's bathroom, Suze (Alanna Ubach) seizes the opportunity to call Leslie. 
"Stand Still Like the Hummingbird" centers around Rue, but the other shoe finally drops on Cassie (Sydney Sweeney), too. "How long have you been f***ing Nate Jacobs?" Rue questions, frustrated beyond belief with everyone in her life working to get her back into rehab. Cassie tries blaming Rue's drug addiction for the seemingly crazed words, but Maddy (Alexa Demie) knows better — she can see the truth on Cassie's face. 
Rue gets help from Laurie  
Rue's wild ride through her hometown continues in "Stand Still Like the Hummingbird" when she decides to try Laurie's. Hopeful Laurie can help take the edge off, Rue shows up with a show of good faith — $2,000 and some jewelry, to which Laurie says: "This isn't a pawn shop."
Still, Laurie gives her morphine intravenously, a shocking first for Rue, who has seemingly tried everything. The drug takes Rue into a memory of the eulogy she delivered at her dad's funeral, reminding us Rue's drug use directly correlates with the grief she feels about her father's death. 
On the next episode of 'Euphoria' 
While the Cassie/Maddy drama doesn't play out fully in "Stand Still Like the Hummingbird," it did set fans up for what's sure to be another tension-filled episode of Euphoria. "They weren't boyfriend and girlfriend!" Cassie screams in the teaser for episode 6. 
"She needs an exorcism," Suze says, leading us to believe there's more to Cassie's meltdown. Watch new episodes of Euphoria Sunday nights at 9 p.m. ET on HBO. 
Source: Read Full Article