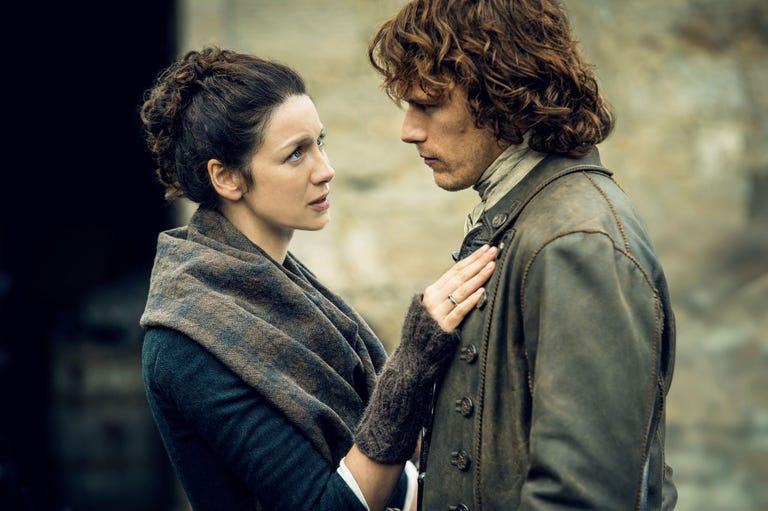 This post contains spoilers for the fourth season of Outlander.
Droughtlander has been in full swing since December, and as you no doubt know, it's terrible. Television is just so pointless without Jamie Fraser fainting in print shops and being generally perfect. So what's a Heughligan to do until Outlander returns? Comb the internet for any and all season-four information, of course! Below, a roundup of everything there is to know about the next installment of everyone's favorite Scottish time-travel historical romance.
1. Season four will premiere in November 2018 and will consist of 13 episodes. The season is already well under way because Starz ordered the third and fourth seasons at the same time. "The hope is that we would be on the air regularly in the fall," showrunner Ronald D. Moore told Entertainment Weekly last summer. "That's part of the reason why we're overlapping the production. We were actually working on season four while we were still shooting season three this [in 2017]."
2. It will be based on Diana Gabaldon's book Drums of Autumn. The show will continue to follow the pattern of one book per season — Outlander for season one, Dragonfly in Amber for season two, and Voyager for season three.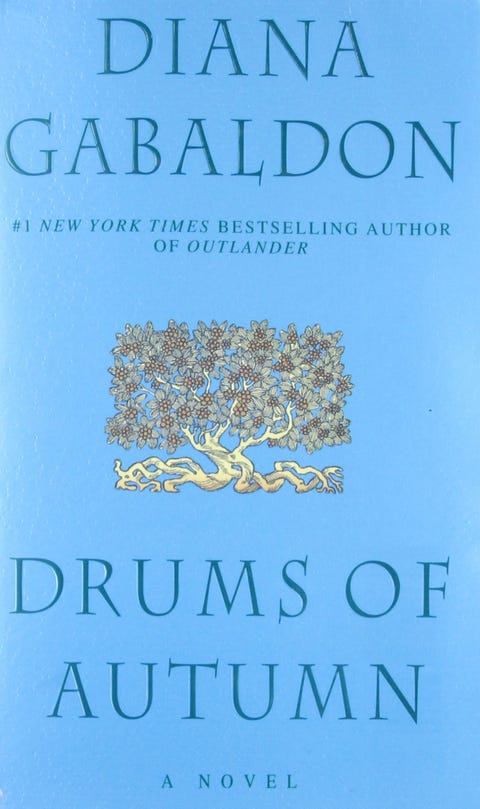 SHOP NOW Drums of Autumn, $10
3. The Frasers are going to America. This was pretty much established in the season-three finale, which saw Claire and Jamie shipwrecked on the Georgia shore, but there's also a quick teaser of them talking about their American dream. Eastern Europe will be standing in for North Carolina, though, so I'm sorry to dash your hopes of visiting a stateside set.
4. There'll also be some scenes set in 20th-century Boston and Scotland. Though the focus will, as usual, be on Claire and Jamie, the show won't leave behind Brianna and Roger, last seen in the 20th century being cute and in love. "They're still at the very beginning of their relationship," Moore told The Hollywood Reporter. "You're starting this season with them not even entirely sure where this is going to go or even if it's going to go anywhere. And then it goes through all the turmoil and finding each other again under the circumstances they do and the shock of that; it's a fairly heavy, tumultuous relationship story for them this season."
5. Jamie and Claire aren't going to be so frisky. Ugh, does anyone making this show know what the people want? "They're slightly older, so maybe it's less energetic, who knows?" Sam Heughan said during a panel discussion in March. "But they are madly in love with each other. They're older now, and it's the first time we actually get to see them as this couple that actually can be together and not be in some sort of dire drama." But in an interview with Elle.com, Caitriona Balfe said the sexy parts are "a given at this point," so maybe Sam is just trying to temper expectations.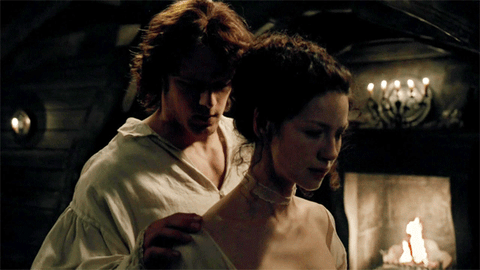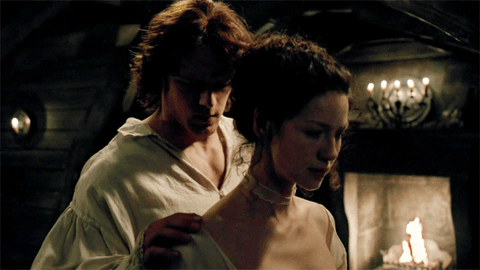 6. MAJOR SPOILER: Jamie's finally going to meet his daughter. The tears, they will roll. "It's the primary storyline for Jamie this season," Sam told THR of the reunion, which will happen when Brianna travels back in time. "It is the catalyst to almost everything he sets up in the season and their life there gets thrown upside down by it. It's the ignition of the spark to the drama of this whole season."
7. Young Ian is getting a dog. In the book, Rollo is a wolf hybrid, but on the show, he'll be played by two Northern Inuit dogs, the same breed of dogs that were used as direwolves in the first season of Game of Thrones. "The dog will play a key part in the adventure that lies ahead," said a Starz spokesperson.
#YearOfTheDog? You know what that means: Year Of Rollo. To celebrate, we want to see YOUR Outlandogs! #Outlander pic.twitter.com/MZq7TBhfdV
8. Maria Doyle Kennedy will join the show as Jamie's aunt Jocasta. You might recognize Maria from Downton Abbey, where she played Bates's first wife, or from Orphan Black, where she was the fierce Mrs. S. Jocasta is the younger sister of Colum and Dougal, and when Claire and Jamie meet up with her in Drums of Autumn, she lives in North Carolina. She appears in the teaser that Starz released in July.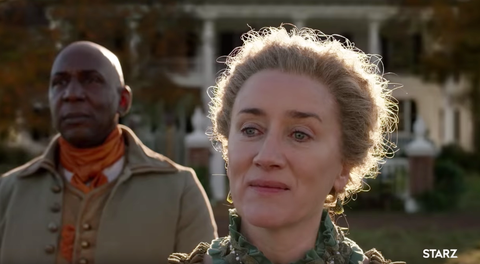 9. And Ed Speleers will play the villain Stephen Bonnet. Ed is also a Downton alum, having appeared as Jimmy the footman. As book readers know, however, Stephen Bonnet is a far less pleasant character than Jimmy was. According to Sam Heughan, Stephen is actually worse than Black Jack Randall. "People are going to hate him," Sam told THR. "He's so charming, so you kind of like him, but you find out later down the line that he does some really terrible things."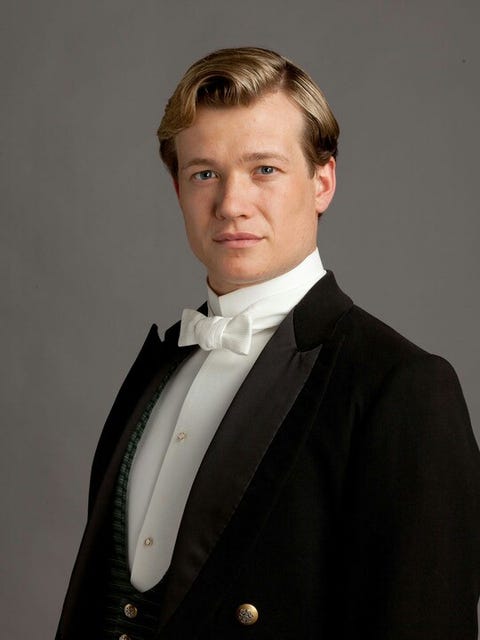 10. Laoghaire might be back again. You never know where Jamie's other wife might pop up — she just loves to start shit! "The fans love to hate her," Moore hinted in March. "That just means you want to see her more."
11. You won't see Black Jack Randall, but Frank could make an appearance. Frank and Black Jack are both dead, but Moore told Elle.com that "there's a chance" we'll see Frank again. Dead or not, this is a show that involves time travel, after all. Still, don't get too excited for a ton of Frank action — Tobias Menzies just got cast as Prince Philip in the third season of The Crown, so he's about to be very busy.
12. Billy Boyd will play Gerald Forbes. Lest you have forgotten, Billy played Peregrin "Pippin" Took in The Lord of the Rings. In May, Entertainment Weekly reported that he'll play Gerald, a lawyer who's friends with Jocasta. That round of casting news also included the addition of four more characters: (1) Simona Brown as Gayle, the best friend and college roommate of Brianna, (2) Natalie Simpson as Phaedre, Jocasta's personal maid, (3) Caitlin O'Ryan as Lizzie, a Scottish acquaintance of Brianna's, and (4) Tim Downie as William Tryon, a real-life historical figure who served as the governor of North Carolina and later New York.
13. Somebody will be doing some time travel. In the teaser for the show that Starz released in July, Jamie and Claire examine a skull that has silver fillings. As Claire notes, silver fillings won't be invented for another 100 years, which means that they're looking at the skull of another time traveler. What does it all mean?!
Follow Eliza on Twitter.
Source: Read Full Article