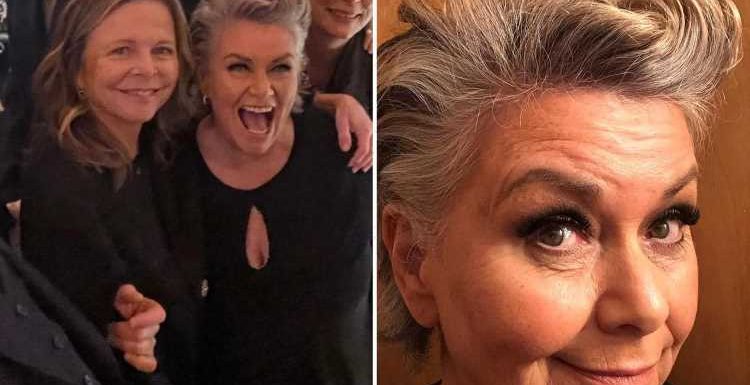 DAWN French showed off her natural good looks with a cropped grey hairdo.
The comedian, 64, was sharing a star-studded pic for her Hollywood movie Death On The Nile.
She was reunited with her close showbiz pal Jennifer Saunders, 63, as they gathered at London's British Museum.
They were having a luxury private dinner at the tourist attraction to celebrate the film's opening.
She joked in the caption: "Almost everyone in this photo is a potential murderer,' alluding to the whodunnit plot of the murder mystery."
And she also praised her parents and make-up artist for her face as she showed off her glamorous look.
Dawn wrote: "Face by my parents….and @charlieduffymakeup
Hair by my follicles…and @mdlondon."
Most read in Celebrity
LEGEND PASSES
Foreigner and King Crimson rocker Ian McDonald dies aged 75
Rylan Clark rushed to hospital as he's forced to pull out of Radio 2 show
Louis Tomlinson's sister expecting 1st child with Caroline Flack's ex Lewis
Adele refuses to confirm engagement despite ring – but drops baby bombshell
Dawn recently ditched her brown bob for short cropped look – and fans are loving the fact she's embracing her natural colour.
She joked she's turning into the late ghosthunter Derek Acorah after embracing her natural grey hair.
The 64-year-old previously poked fun at her new look as she shared a snap of herself beside one of Derek – showing them both with slicked back grey hair.
She joked: "I loved Derek Acorah… but I don't want to BE him… what's happened?!?!"
Her followers found the comparison very amusing, with one person joking: "Dawny Acorah."
Another wrote: "Oh ?lovely, you're nowhere near him. You're just your wonderful self, but has made me chuckle ❤."
While someone else added: "Only if you start talking to dead people ?."
Source: Read Full Article