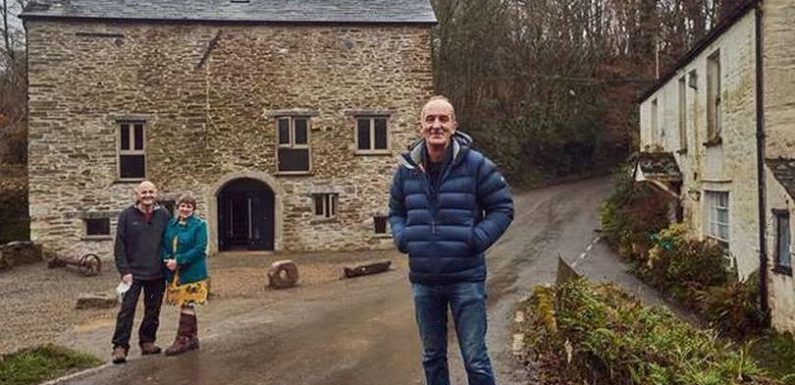 TENSIONS are high when Grand Designs couple strip away historic elements in an epic transformation leaving presenter Kevin McCloud devastated.
On the home renovation show, couple Leigh and Richard aimed to convert an abandoned 17th century flour mill in Cornwall into a stunning contemporary home.
Viewers follow the transformation of the mill which had been working till the 1960s and had been abandoned for around 60 years.
They bought it for £235,000 but it was completely unlivable, full of rotting wood and serious structural cracks. 
But the couple were determined to see their dream home through to completion.
The place was full of history which meant the couple wanted save as much of the original building as possible.
read more on grand designs
I'm a property expert and was horrified by Grand Designs' seafront makeover
Property guru could be forced to tear down treehouse that featured in show
This included repurposing stone slabs, a century old, to create their dining room table.
They planned to spend about £250,000 fixing it back up – with a £50,000 contingency. 
But presenter Kevin was skeptical thinking the amount wouldn't be enough to transform the property that was falling down on them.
Unfortunately, a number of inside beams, the original a-frame roof, and all the old mill equipment were taken away.
Most read in Reality
Gemma Collins admits she's struggling to get pregnant and is praying for help
Anna Vakili leaves little to the imagination in barely-there lingerie
Ekin-Su made a cheeky reference to Love Island on last night's Dancing On Ice
Reality TV legend will replace David Walliams as judge on BGT
A devastated Kevin commented: "For years I've loved old buildings, with their wonkiness. And it's being stripped away."
However, they managed to save the roof and keep around 80% of the original fittings. 
In March 2020, Leigh said: "You can't save everything. We have saved bits, it's a significant building.
"And to be honest, I don't think an outsider standing here is in a position to make a judgement. Frankly I don't give a s**t what they think."
Richard added: "Purists won't be happy with us."
Kevin was wowed by the property months after saying: "I can't fault the outside. A shining beacon.
"Everywhere you look there's a little bit of history a little bit of story, a remnant of its use. It's just so beautiful and magical."
Leigh said they "never [gave] up hope" during the project and, despite everything, she'd "do it again in a heartbeat."
The pair of "complete novices" to home renovation turned the run down, falling apart building into a stunning home
Read More on The Sun
I'm a speed camera officer… here are three myths drivers always get wrong
You're charging your iPhone wrong – how to make it charge much faster
It was even complete with the 100-year-old round stone slab dining room table.
Grand Designs is available to watch on Channel 4 and All 4.
Source: Read Full Article