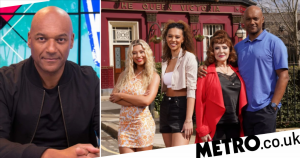 EastEnders is set to welcome a new family into the fold, led by Hollywood actor Colin Salmon.
Colin will make his debut on the soap as George Knight in upcoming episodes, when he and daughters Anna and Gina (Molly Rainford and Francesca Henry) arrive from Marbella to help run the Vic.
Speaking about his role on in the BBC soap and being the newest face in the Queen Vic, Colin described it as a 'big deal'.
'It's a big deal. The Vic is an iconic British institution, so its daunting because we have to look after it! It was absolutely surreal to walk onto the set for the first time.
'I had to do a big speech as George in front of lots of the locals. You are playing to the crowd, so you must get it right.
To view this video please enable JavaScript, and consider upgrading to a webbrowser thatsupports HTML5video
As an East End boy himself, the show holds a lot of history for Colin.
'I remember when EastEnders first started, I was living in Luton after being born in Clapton in East London. A lot of us East End people had been moved out that way, and we had never seen people like us on the telly before.
'There hadn't been a lot of East End drama, so it was great, and we were really excited.'
This isn't the first time someone in Colin's family has taken their place behind a bar, as he revealed.
'My grandad ran a brewery on Black Pot Lane, so I feel I've got some credentials in the pub game, too.'
Colin told us that he was really enjoying his time on EastEnders so far, and explained why.
'As an actor, people see me in a certain way. I've been playing alpha males for a long time, but I'm an emotional man. In this role, I feel like I'm getting to play with a full emotional palate, and it's a real thrill for me as an actor.'
According to Colin, George is 'a good man' and a 'warrior'.
'He's a good man because he's had strong women around him, just like I have in real life!
'As an ex-boxer, he doesn't have to be hard or prove himself because he's a warrior. He's been through some things like many people have.
'When you are a big man, you have the power to hold people down or to lift them up – and George Knight is strong enough to lift people up.
'He's also a single parent, and he's had to get real, and I like that.'
Source: Read Full Article