TheWrap Oscar magazine: "I've got a rule: All the films that I've done, I've been scared of," the British actress says of her wildly different roles
A version of this story on Florence Pugh first appeared in the Actors/Directors/Screenwriters issue of TheWrap Oscar magazine.
It's a rainy day in downtown Los Angeles, and an upstairs lounge at the Ace Hotel is dark and moody. But the place brightens when Florence Pugh walks in — not just because of her puffy-sleeved white dress, but because the 23-year-old actress has has a lively, irreverent energy that befits somebody who's had a crazy breakthrough year that found her starring in not one but three critically acclaimed films, including a pivotal part in Greta Gerwig's eagerly anticipated adaptation of "Little Women."
"She's wildly, outlandishly talented and fascinating to watch and totally unafraid as an actor," Gerwig said. "There is something about her that can't be knocked down or overtaken, and that's incredibly telling in a young woman. And I think it's very exciting, too, to be with someone when they come into their power. She has a lot of power and she's just starting to share it."
Pugh may well be this year's coolest breakout star by virtue of her performances in Gerwig's celebration and deconstruction of the classic 1868 Louisa May Alcott novel as well as the unsettling summer horror film "Midsommar" and the Sundance pro-wrestling hit "Fighting With My Family." But her rise has taken her by surprise. Four years ago, she was a teenager from Oxfordshire, northwest of London, who'd been acting in school since she was 6 but hadn't started doing it professionally until 2014. Then she landed a role as a frustrated 19th-century wife in William Oldroyd's bold "Lady Macbeth," and suddenly the film world took notice. "It genuinely is an odd transition because you've been dreaming about it for so long, and you're so busy that you're not noticing it's happening," she said. "Every now and then, I pause to smell the roses and make sure I'm taking it all in.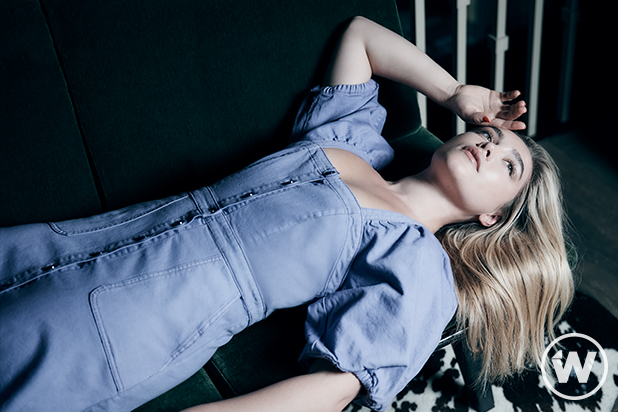 Florence Pugh, "Little Women" 
Photographed by Shayan Asgharnia for TheWrap
Hair: David Stanwell @thewallgroup @oribe 
Makeup: Jenna Kristina @thewallgroup @maybelline
Florence Pugh, "Little Women" 
Photographed by Shayan Asgharnia for TheWrap
Hair: David Stanwell @thewallgroup @oribe 
Makeup: Jenna Kristina @thewallgroup @maybelline
Florence Pugh, "Little Women" 
Photographed by Shayan Asgharnia for TheWrap
Hair: David Stanwell @thewallgroup @oribe 
Makeup: Jenna Kristina @thewallgroup @maybelline
TheWrap film reporter Beatrice Verhoeven and Florence Pugh, "Little Women" 
Photographed by Shayan Asgharnia for TheWrap
Hair: David Stanwell @thewallgroup @oribe 
Makeup: Jenna Kristina @thewallgroup @maybelline
The actress sits down for an interview and photo session
Florence Pugh, "Little Women" 
Photographed by Shayan Asgharnia for TheWrap
Hair: David Stanwell @thewallgroup @oribe 
Makeup: Jenna Kristina @thewallgroup @maybelline
Information
Masthead
Newsletter Subscription
About Us
CollegeWrap Magazines
OscarWrap Magazines
EmmyWrap Magazines
CannesWrap Magazines
Fall TV Preview
Popular Article Tags
Press Releases
Contact
Advertise With Us
Jobs
Privacy Policy
Featured Blogs
Waxword
Steve Pond
Alonso Duralde
Media Alley
BE Conference Blog
Party Report
TheGrill Conference
Obits
Connect
Source: Read Full Article