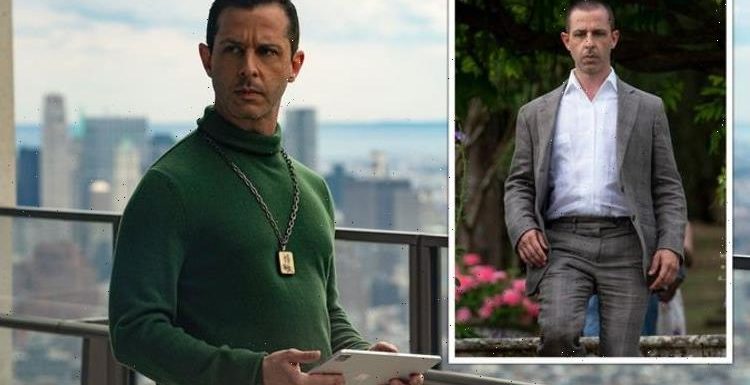 Succession: HBO teases season finale of hit show
We use your sign-up to provide content in ways you've consented to and to improve our understanding of you. This may include adverts from us and 3rd parties based on our understanding. You can unsubscribe at any time. More info
Succession season three has been airing on HBO and Sky and the upcoming episode will mark the last of the season. The penultimate instalment ended on a dramatic cliffhanger as Kendall Roy (played by Jeremy Strong) appeared to have drowned. Fans are keen to know whether he will return for the season finale.
Is Kendall Roy dead in Succession?
Fans of Kendall were left in shock after the eighth episode as his depression got the better of him.
When the pool was left empty, a drunk Kendall dropped an empty beer bottle into the water.
Viewers watched as he submerged himself under the water, before the credits rolled.
The show has teased a major death will feature in the season finale, ruling out one of Logan's (Brian Cox) potential successors.
Kendall's death has somewhat been foreshadowed as his mental health has taken a dark turn.
The means of death could also be a nod to the way he once killed a child in the first season, by drowning.
Kendall does not make an appearance in the trailer for the final episode, which further suggests he is no longer in the series.
One of Logan's sons is heard commenting on the fact his father is "hurt and tired" in upcoming scenes.
Could this be an indication that he has suffered a tragic loss? Or has been left shaken up by Kendall's actions?
Fans took to Reddit to discuss whether they believed Kendall had died in the pool.
RealPaulieWalnuts said: "I think it was a real attempt but I think Logan's security guy is spying on him and will save him."
Erincyclopedia said: "The orange on the table made me immediately think someone was going to die.
"A Godfather reference in an episode set in Italy is a little on the nose for this show, though."
Qaganoficeandfire agreed, saying: "I gasped when I saw it poolside. I really hope the showrunners were just messing with us, knowing the symbolism is hard-wired in our brains."
Goosebusiness said: "I honestly think he passed away and the news wasn't broken ASAP as to not ruin his mother's wedding. So the family might genuinely not know in those scenes."
Burritobaby added: "If they did kill him off that way I actually think it makes perfect sense.
"In the last episode at his birthday I think he finally realized how futile all his efforts have been and that deep down he doesn't want to be his father.
"His character arc doesn't really have anywhere else to go but his death could change the trajectory of the other characters. Also I'm still having PTSD from GOT and I know that no one is ever safe."
However, eagle-eyed fans believe they have spotted the character in upcoming scenes on the show.
HBO posted another trailer showing viewers what to expect in the weeks ahead, back in October.
During a shot of Caroline's (Harriet Walter) wedding, fans think they have spotted Kendall seated at the table.
With this in mind, it seems he could still pull through for the final episode of the season.
However, his actions will not come without consequence as the rest of his family will be shaken by what happened.
The promotional video for the season finale shows Lukas Matsson (Alexander Skarsgård) telling Logan: "I don't want to be rude because you're a legend.
"We're flying like a rocket ship and you are sinking like a lead balloon.
"This is a family thing, I get it. Business-wise it's time for you to beef up or sell out."
Succession continues on Sunday on HBO and Sky.
Source: Read Full Article