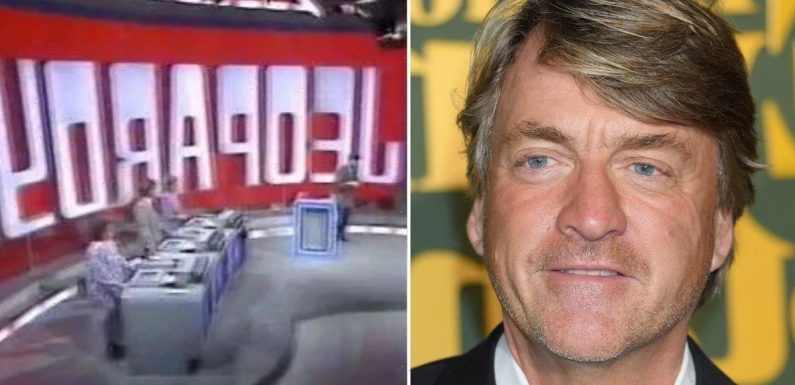 Alex Trebek thanked by Jeopardy! winner Burt Thakur
We use your sign-up to provide content in ways you've consented to and to improve our understanding of you. This may include adverts from us and 3rd parties based on our understanding. You can unsubscribe at any time. More info
ITV are reportedly in talks to commission a Jeopardy! revival after the classic game show spent 26 years off-screen. The original programme is based on the American version of the same name, with the UK version launching on Channel 4 back in 1983. While nothing has been confirmed, an inside source suggested the show could be hosted by Good Morning Britain star Richard Madeley, who would be following in the footsteps of Derek Hobson, the show's original presenter.
The UK version of the popular quiz show, which is based on the American version of the same name, launched in 1983 and was hosted by Hobson.
Viewers would see the host test the knowledge of the contestants on a wide range of subjects and the winner gets to claim the title and keep the prize money.
However, an ITV source for Metro teased that fans could soon see another TV reboot but added "absolutely nothing confirmed at this point and it has not yet been commissioned".
Not shy of a few setbacks, Jeopardy! was revived by ITV in 1990 with host Chris Donat and later Steven Jones.
Sharing their thoughts on the idea of a revival, fans flocked to social media while some took a swipe at the choice of host.
One viewer, @Col8712 pointed out: "I not sure he is the right presenter I think it needs someone who is light hearted at least." (sic)
@segamad67 echoed: "what is a no thanks? richard, find someone else, maybe someone competely new.
The viewer went on to say: "idk. richard isnt it."
While another @BigScreenQuiz wondered: "Can we have @GregScottTV for host of #Jeopardy @ITV?"
Legendary host Alex Trebek, who had presented the US version of the show since 1984, sadly died aged 80 in 2020.
The TV star opened up about his cancer diagnosis in 2019 and immediately began chemotherapy, continuing to host the game show while having his treatment.
After receiving his health diagnosis, the beloved Alex was signed on to continue hosting Jeopardy! until 2022 but joked: "Truth told, I have to!
He added: "Because under the terms of my contract, I have to host Jeopardy! for three more years!"
After his death, it had been revealed Alex had hosted more than 8,000 episodes during his time on the quiz programme.
The show paid a fitting tribute to the father of three, who lost his battle to pancreatic cancer, after they dedicated its stage to the longtime host, renaming it "The Alex Trebek Stage" with the help of his wife Jean and children Matt, Emily, and Nicky.
Alex had also been honoured with a Daytime Emmy for Outstanding Game Show Host.
The award was accepted by his children as Matt beamed: "We are so honoured to accept this award on behalf of our dad.
"For as long as we can remember, he was always so proud to be a part of Jeopardy.
To work on a show that was based on knowledge, and risk, and that challenged people on how to think.
The youngster went on to say: "He loved every bit of it."
Source: Read Full Article