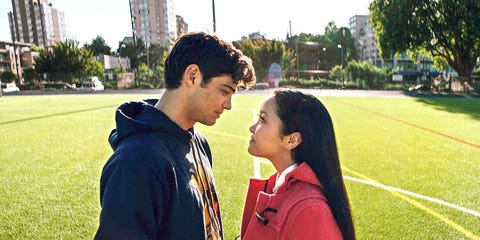 This post contains some spoilers for To All the Boys I've Loved Before. Stream It
The opening scene of To All the Boys I've Loved Before should look familiar to anyone who loves romantic movies. Picture it (with the sweet sounds of harps and horns): two lovers, in a field—she's in a country dress, he's wearing suspenders—about to kiss. Before that happens though, our real protagonist, the lovestruck Lara Jean Covey, played by Lana Condor, is interrupted from her daydream with a pillow to the face by her younger sister.
Turns out, that field sequence is from a fictional romance novel titled The Forbidden Kiss and Lara Jean's sister Kitty just wants to know if they're "hanging out or what?" Their older sister, Margot, meanwhile, rallies everyone to help their dad with dinner downstairs. So much for finishing that chapter.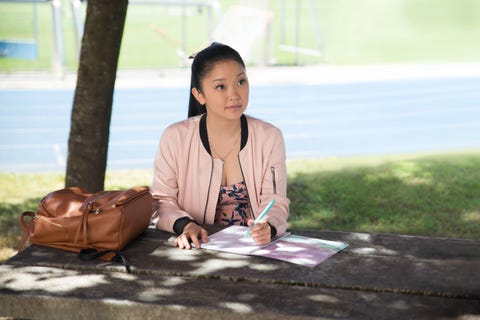 To All the Boys I've Loved Before, adapted from Jenny Han's bestselling YA novel of the same name and streaming on Netflix beginning Friday, is yet another triumphant moment for Asian-American audiences, who are also basking in the release of Crazy Rich Asians. (And next year, Netflix, who's been giving new life to the rom-com genre, will bless the world with Always Be My Maybe, written by and starring Ali Wong and Randall Park.) While Crazy Rich Asians is the first major film to feature an all-Asian cast since The Joy Luck Club, which came out 25 years ago, To All the Boys is the first mainstream teen romance to have a young Asian-American actress as its lead.
And I've been waiting for this week for more than two decades.
Growing up in Vancouver, Canada, I occasionally joined my parents for a Chinese movie or an episode of a TV drama imported from TVB, a Hong Kong-based TV network. But I never really got into those programs as much as I did whatever my friends were watching: She's All That, Empire Records, Clueless, 10 Things I Hate About You, Can't Hardly Wait, the American Pie movies. On the non-romantic comedy front, I became obsessed with Romeo + Juliet (and its soundtrack), which basically launched my lifelong crush on Leonardo DiCaprio.
"These ostensibly perfect storylines never seemed attainable."
While these movies were hugely entertaining and offered plenty of eye candy (who didn't fall madly in love with Freddie Prinze Jr. or Heath Ledger?), they were never wholly satisfying for someone who looked like me. The message I always walked away with was something to the tune of, You'll never get that major makeover. You'll never be invited to a cool high school party. And don't even thinking about getting the guy in the end, especially if he looks like Freddie Prinze Jr.
Along with a ticket stub I would always keep for some reason (scrapbooking? the memories?), I would exit the theater, every time, with mixed feelings. It didn't matter if a rom-com's heroine had glasses, looked a tad nerdy, or was a little bratty—as long as she had blonde or brunette hair and parents who didn't make her take her shoes off at the door, she would eventually become the coolest, most desirable girl in school. (And pursued by the hottest guy at school, naturally.) As for those of us with darker locks, Chinese school on the weekends, and TBH, clean(er) carpets and floors, these ostensibly perfect storylines never seemed attainable.
That is, until now. Turns out, you can get that makeover, go to a cool party, and even get the guy, all while looking like the lead in this movie, too.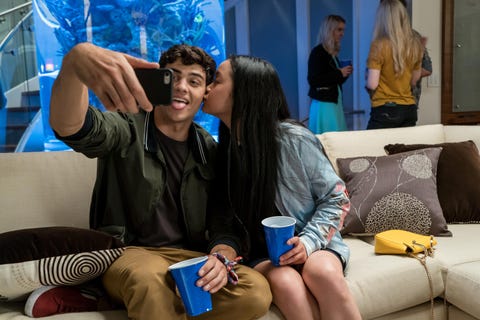 To All the Boys I've Loved Before tells the story of Lara Jean Covey, a 16-year-old high school student who loves romance novels and writes love letters to her old crushes with the intent of never sending them to said crushes. Too bad. Oh, and then her younger sister discovers them and mails them out. That's when the crushes come running (literally, if you've seen at least the trailer).
The Covey family consists of Lara Jean, her two sisters, and their dad (played by John Corbett), who's not a great cook but tries his best in making Bossam, Korean pork lettuce wraps. As it's revealed early in the film, their mom died when the youngest daughter was "still eating mushed peas." (While the book identifies the Covey girls as half-Korean, half-Caucasian, the film makes no blatant attempt to explain the makeup of the family. It doesn't have to. It's 2018.)
In wake of the letter drama, Lara Jean and one of her crushes, Peter (Noah Centineo), agree to fake a relationship purely to (1) ward off another crush who happens to be her older sister's ex, and (2) make Peter's ex girlfriend Genevieve jealous. If you haven't read the book, I'll spare you the details on how this fake relationship ends.
Throughout the film's 99 minutes, Asian movie and TV stereotypes are nonexistent. Lara Jean isn't presented as some studious girl who tutors in her free time. Her older sister goes abroad for her first year of college in Scotland. (Think of the tuition fees! The living expenses! The late-night drinking!) Her younger sister is just like any other younger sibling—always in your face, probably smarter than you, and quick with the one-liners.
All these girls have real interests and passions. For Lara Jean, that includes romance novels, scrunchies, crushes (i.e., all the boys she's loved), and fantasies (going back to that field with someone IRL). Of course, there's more to her identity than these current obsessions. But she's just a teenager who's exploring, carving, and fine-tuning. Give her a minute, would you?
"The change Lara Jean represents isn't meant to be sweeping or Nobel Prize-winning."
The only nod to Hollywood stereotypes happens in a scene that reminds viewers exactly how long Asian-American characters have been in the shadow. Early in their fake relationship, Lara Jean and Peter hang out at her house to watch Sixteen Candles with her little sister. Peter is quick to point out that Long Duk Dong—the exchange student played by Japanese-American actor Gedde Wantanabe in the film—is "like, kind of racist." Lara Jean corrects him, "Not kind of. Extremely racist."
When Peter asks why the sisters like the film despite this major flaw, Kitty points out the obvious in the extremely attractive existence of Jake Ryan (Michael Schoeffling).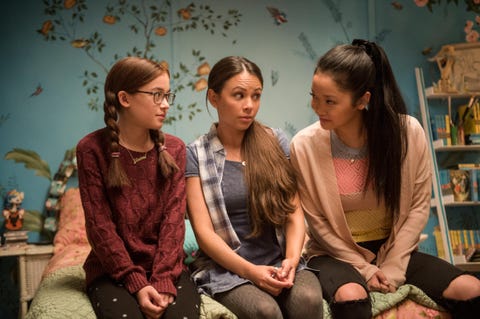 No, To All the Boys isn't perfect and does not check off every crowd-pleasing box. It requires that certain brand of unrealistic suspension of disbelief that teen-specific pop culture tends to ask of us: everyone in high school has great style; sex talk with a parent can be over and done with in the time it takes for you to get dropped off at a field trip; the perfect selfie can be achieved with one take. There's also something about seeing Aidan from Sex and the City being an OB-GYN and a father of three that is incredibly, ridiculously distracting. (But maybe I'm still torn about that fountain scene with Carrie from all those years ago.)
And then there's the backlash the film has been getting about Lara Jean not crushing on a single Asian boy.
So, TO ALL THE BOYS I'VE LOVED BEFORE.
I can't get too angry at seeing more Asian women on screen, but at the same time I'm disappointed that the boys she's loved are majority white (with a token black dude).
WHY ARE NONE OF HER CRUSHES ASIAN??? Not that they need to be, but, Asian American boys need representation as much as Asian American girls!
To All The Boys I've Loved Before | Teaser [HD] | Netflix https://t.co/1bDgE3JGmS via @YouTube
Where is Asian man representation in media? Why Asian women (compared to female of other races) in media never choose her own race? Media like this is harmful. It validates Asian female stereotype and causes more conflict between Asian men and Asian women. #AsianTwitter https://t.co/x8nTCl7F9S
The change Lara Jean represents isn't meant to be sweeping or Nobel Prize-winning. It's one version of a narrative that puts the spotlight on a young lead actress who happens to be Asian-American for once. And that actress, Lana Condor, soars with such confidence and grace playing someone who digs herself out of typical high school problems (crushes, mean girls). The film also sparkles, and this isn't just because Lara Jean's bedroom has twinkle lights. Every frame of the movie is stunning and set up so meticulously that it makes you want to Instagram your TV screen.
Nitpicking on what a film lacks when it's already taken this long for a story of this nature, a film that stars characters who look like long underrepresented teenagers in America, is not the solution. One thing does not represent the whole. It's impossible to solve every problem with one single movie, and that's certainly not what films like Crazy Rich Asians and To All the Boys are here to do. Rather, these movies are shining examples of what can happen if you open up the floor to new stories, voices, and perspectives.
I'm no longer in my teens, but the first time in my life, I can finally watch a splashy, contemporary rom-com and feel hopeful and supported. Finally, Hollywood has my back, and it feels great. And that's something to celebrate, stream, rinse, and repeat.
Source: Read Full Article