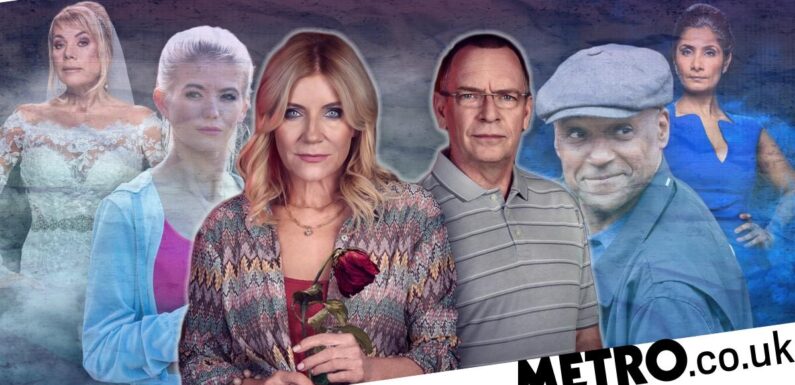 If you told me a year ago that Cindy Beale would be back from the dead, Colin Salmon would be in the Queen Vic, Kim Medcalf would be in her rightful place as Sam Mitchell and my friends would have a physical clue board over a murder mystery set in the future, I'd have raised a quizzical eyebrow in your direction.
And yet, EastEnders has been going all out, hitting us with blockbuster after blockbuster over the last year and getting everyone buzzing about the show once again.
It's trending, it's bucking the trajectory of plunging soap live viewings while increasing its online home, it's receiving critical acclaim and it's winning awards – it's very clear that this is the show EastEnders fans want, and have been owed.
A consistent thing that cast members have been telling me over the last couple of years is how exciting and positive the atmosphere on set is.
The cast and crew are riding a wave of well-deserved success, and it has been a long time coming, with heavy graft put in.
Since the lockdown years – the memory of cast members standing two metres apart and talking to tennis balls will never not induce very strange and quite unpleasant feelings in the gut – EastEnders was hit particularly hard when it came to the soaps.
The team battled against the odds and, even with social distancing in place, managed to pull off some brilliant work – the episode of Chantelle's death was emotionally and physically harrowing, and very well done given the restrictions.
To view this video please enable JavaScript, and consider upgrading to a webbrowser thatsupports HTML5video
Eventually, the show had to come off air for the first time in its history, and the schedules really felt its absence.
Viewers were lonely enough locked down in their homes, with so much horrible news and so much fear and grief in the world, so losing a comfort show felt like a blow.
It was equally a struggle for those working on the show to be suddenly left without it.
When it came back, it took a while to still work around the necessary precautions, but it was the storylines that would be of a divisive nature.
Bring in the likes of Heather Peace and Lillia Turner were perfect castings, ones paying off more than ever now. And Mick's abuse at the hands of Katy, with spectacular performances from Simone Lahbib and Danny Dyer, was a soap highlight of the year.
But the show was overshadowed by a number of strong criticisms, focusing particularly on the domestic abuse storyline around Gray suddenly becoming an unnecessary and very long serial killer storyline, which sapped the original message meant to be conveyed by the story and killed off characters in uncomfortably brutal ways.
Ian and Sharon's sudden marriage and then spaghetti poisoning furore was a sour ending on what many feared would be Ian Beale's last story after Adam Woodyatt went on sabbatical.
And uses of incidental music and special effects felt out of place and won very few fans.
EastEnders of old felt a bit lost, so watching it now, sitting back after the most 90s-era feeling episode of the soap (hi, Cindy!), the controversial years seem a distant memory.
Show producer Chris Clenshaw – dubbed King Clenshaw by the online soap fandom – is evidently an EastEnders fan through and through.
Having worked as a story producer on the soap for several years before taking the helm, his passion for the show means that extra care is taken to the detail of stories and dialogue, and the attentions to relationships and history.
From around the time of the Mitchell flashback, and across episodes such as Dot's funeral, it has become clear that EastEnders is in a very exciting new era – the reactions are palpable.
Viewers and critics – including those who were predicting they would never gone back to the show and it was potentially facing a slow death – are raving about what they are seeing.
As they should be. Danielle Harold had a nation in bits after a beautifully and devastatingly handled cancer storyline, that was as much about the tragic illness as it was about the relationships and the injustice of a person losing their life so young.
The scripts were packed with heart, and those who feared it would be a rush-job for awards were defied as the story has played out authentically – with a welcome cameo from Patsy Kensit along the way.
James Farrar has been an unsurprising revelation, handed two humungous stories to tell after a couple of years of having little to do.
Trusting him with work of such magnitude paid off, with some of the year's best performances and talked about issues.
Equally, Lillia Turner has amazed with her coming of age performances and the story of her pregnancy has done what it set out to do – trigger conversations, which is what soap is about.
From the moment Lily discovered her pregnancy until now, our site has been exploding with discussion and interest – in a way that stories until this past year haven't to such an extent.
In fact, as a writer, it has been a long time since any soap created such an ongoing buzz, the last time I recall such a massive uptick of viewer investment in the genre was during Geoff and Yasmeen's coercive abuse story in Coronation Street and Meena the Emmerdale killer.
It's not just the issue led, hard-hitting stuff that is hitting the mark either. The Panesar family has reached peaks after much-needed story investment, which had struggled since the death of Jags.
It has led to fascinating characters such as Ravi and Nish, and the very viral ship of the year SukEve (That's Suki and Eve to fandom novices).
The dialogue drips of EastEnders of old, and small nods to the past and character interactions have been packed into episodes, meaning it's character over plot.
And we can't get away from the biggest talking point of the year – the genius idea of a flashforward episode has given months and months of intrigue bordering on obsession. And I'm just talking about me there.
Bringing together six of the most colossal and iconic female soap characters into one story, in a mystery pieced together so well that there are enough clues to keep appetites fed, has been a runaway success, and part of what has put EastEnders back on the map.
Many may have dipped in to see the mystery unfold but there is plenty to stay for, with every week right now feeling like top tier soap.
Having been behind Coronation Street and Emmerdale for some time in terms of viewing figures, many wondered if ITV's move of putting Emmerdale directly in competition was what could send the show to its grave.
But, as well as grabbing the opportunity for online early viewings at the right time, the show has subverted those expectations, seeing the smallest decline of all three soaps – at some points even enjoying an annual increase.
People are watching, people are talking, people are enjoying.
EastEnders is enjoying its biggest resurgence in years and has never felt more full of life.
If the last year is just a taster of what to come, fans are going to be fed with the show they have been craving for so long.
Source: Read Full Article