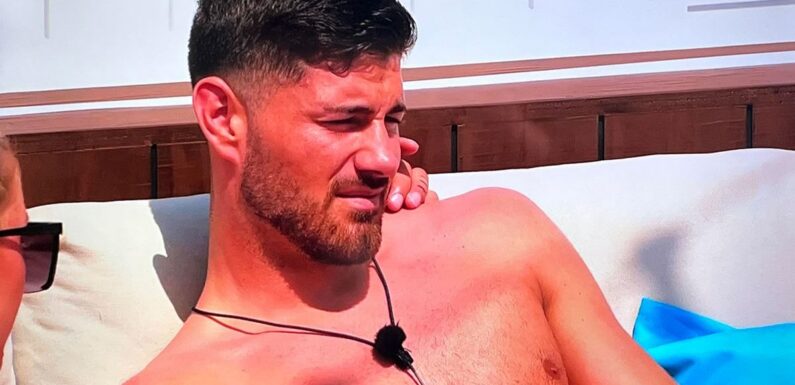 Eagle-eyed Love Island fans have been left totally baffled by an "eerie" clip of singleton Scott Van Der Sluis appearing to be caressed by a mystery hand.
The goalkeeper could be seen laying out in the sun by the fire pit with his fellow islanders, but a closer look shows a male hand gently resting on his shoulder and touching his neck.
The rogue hand does not appear to have an arm attached – causing fans to question what the source of the mystery hand is.
READ MORE: Molly-Mae Hague drops baby bombshell as she begs Tommy Fury to get tattoo for Bambi
"Whose hand is on Scott's shoulder, just seen this I don't know if it's photoshop but got me thinking," said one fan.
"That's eeire….is it when they edit certain scene?" asked a second.
A third penned: "I'm sooo confused. Why is there a hand just randomly touching Scott's neck and where is the body?" while a fourth blasted: "This is such a strange picture lol. It looks like it's just chilling there behind him not attached to anyone. I'm trying so hard to figure out where its arm is."
Some also acknowledged Molly was in the shot but is not close enough to be the one touching him – and argued that it doesn't look like her hand.
Fans blasted show bosses for "overly editing" the show as they were convinced it must have been a continuity error.
One fan warned: "This should probably be a reminder to everyone that this show is heavily edited and not to take things so seriously."
Another reference a similar hiccup when contestant Dami from season eight appeared on the screen twice
"Yeah I noticed this and couldn't figure it out. Remember when they had Dami in two different places in the same scene on this season. Nothing is real on this show."
Scott has been making his mark since entering the villa as a bombshell last week.
He was branded a "snake" by fans last night (June 21) after he was seen smooching Catherine on the terrace and then telling Leah that he was "100% open" to getting to know her.
Scott was fuming after Sammy accused him of not fancying Catherine during the incompatibility vote, reassuring her that he found her "gorgeous".
"SCOTT really told LEAH he was full in on getting to know her then right afterwards he went and pulled Cath to makeout on the terrace. This man is not SERIOUS," blasted one fan.
"Scott is fighting for his life …we're not buying your snake oil," said a second.
For more of the latest showbiz news from Daily Star, make sure you sign up to one of our newsletters here .
Source: Read Full Article