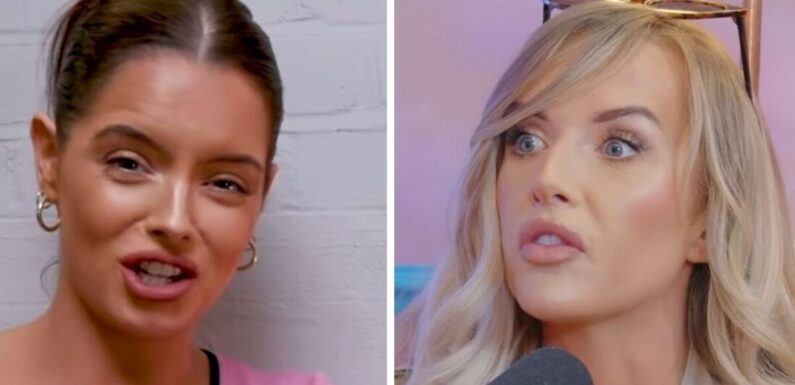 Love Island: Faye mocks Jake's height during game
Over the years, there have been many scandals which have come out of the ITV reality series Love Island.
One star who has hit the headlines over the last couple of months after splitting from her boyfriend from the show was Faye Winter.
Whilst appearing on TikTok star GK Barry's podcast Saving Grace, Faye opened up about who she disliked the most during her time in the villa.
Playing the drinking game Say It or Shot It, Grace asked: "Who did you hate the most from your season of Love Island?"
Immediately Faye revealed: "Oooh Jake [Cornish]. Didn't like him! I knew him before the villa, he dated one of my friends.
"I said when he walked in, 'I know him' but I thought I'd give him a chance, I am one of these girls that I will give you a chance.
"If someone else hates you, I am not going to hate you because of it, I am going to be wary but…
"And then yeah, I really didn't like him but I really loved Liberty [Poole] so."
Reacting to the admission, Grace said: "Oh yeah I forgot! Oh, Liberty… bless her soul."
Don't miss…
Escape to the Chateau's Angel Adoree 'launches into foul-mouthed rant'[LATEST]
Midsomer Murders John Barnaby star pays tribute to on-screen wife[WATCH]
GB News host admits 'it's satisfying' watching Schofield's career 'tumble'[INSIGHT ]
Whilst on the podcast Faye also discussed a recent video of her ex-boyfriend Teddy Soares getting into a cab with some girls.
Teddy and Faye fell in love during the show but split up in February 2023 after months of speculation from fans on Instagram.
Faye said: "I feel like there is always three sides to the truth, his truth, her truth and the truth. I wasn't personally there.
"I am still finding things out until a few months ago, just after Christmas more stuff came out and I am just like what do you believe?
"I think you don't want to believe s**t, you want to see the good in people, you want to really believe that he wouldn't do it, but I won't know I wasn't there in that hotel room."
Faye has been very vocal about their break-up over the last couple of months but Teddy has been subliminal in his comments towards Faye.
Sharing images of himself at a bar on his Instagram page, he candidly wrote: "Taking time but we're getting there." (sic)
In another promotional post, he said: "It's time for a change, I'm going through a huge transitional phase of my life at the moment.
"As you know, I went through a breakup at the start of the year." (sic)
Love Island returns Monday, June 5 from 9pm on ITV2.
Source: Read Full Article