Though he started out thinking he was making a documentary about Wayne Gardner, the one-time apprentice steelworker from Wollongong who became Australia's first 500cc motorcycle world champion in 1987, Jeremy Sims now realises his film has two stars.
Replay
"It's not just the Wayne Gardner story, it's the Wayne and Donna story," the director of Last Cab to Darwin says of Wayne, his first foray into non-fiction.
"They were absolutely Macbeth and Lady Macbeth. She was the power behind the throne, the one who said, 'Get on your f—ing bike and ride'."
Wayne and Donna met in their teens, dated for 11 years and finally wed in 1989, before divorcing five years later. Donna is now married to Johnny Kahlbetzer, one of Australia's wealthiest men, but she and Gardner remain close.
"They're still best friends, she still thinks he's a dickhead but she loves him to bits," says Sims. "Their love for one another is so apparent in the doco – and that's the one thing we hadn't expected."
Sims is no great fan of motorcycling – "I rode for three months when I was at uni, fell off twice and never did it again" – but when he was approached to direct Wayne, which had its world premiere at MIFF on Friday night – he saw it as a tale about a particular moment in Australian cultural history.
Wayne Gardner and future wife Donna Forbes in the early 1980s.
"I remember that period of the mid to late'80s very fondly: Crocodile Dundee, Paul Keating, the bicentennial celebrations, Neighbours taking the UK by storm," Sims says. "There was a great deal of confidence in Australia at the time and Wayne kind of encapsulated that."
Though Gardner isn't the most successful Australian motorcycle champion ever – Mick Doohan won the 500cc world championship five times, and Casey Stoner was twice champion in the redefined MotoGP class – he was the first. He was also instrumental in bringing the Grand Prix circuit to Australia, capping the dream by winning the inaugural race at Phillip Island in 1989.
That win provides the climax of Wayne. But Gardner's story could easily have come to a very different end, as he readily admits.
Included in the film is excruciating footage of an accident in his first GP ride, in 1983. Then world champion Franco Uncini had fallen from his bike; as the field rounded the bend, most went to the right to avoid him. But Gardner went to the left, just as Uncini got to his feet and staggered that way.
The collision left Uncini in a coma, and Gardner injured. The Australian went to visit the Italian in hospital, and was greeted by his hysterical wife, a braying media and, he claims, "the mafia".
Wayne Gardner, left, and Jeremy Sims.
"Everyone was screaming at me for killing the world champion," Gardner says. "I said, 'Get me out of here', I was crying all the way down the road. All I wanted to do was go home to Australia and quit my career."
For a couple of weeks he moped around in England, thinking about buying a plane ticket but waiting for news on Uncini. Eventually it came: he was out of the coma, and he was going to live. He says Uncini's family even apologised once they saw the footage and realised it was not his fault.
Tentatively, he went back to the track. "I tried one race, said let's see what happens, I won, and I thought, 'I like that feeling, let's keep going'."
Gardner was injured many times in his career, though Wayne doesn't dwell on that. Nor does it poke around too much in the darker recesses of his personality or behaviour at the peak of his fame, other than to have Donna Kahlbetzer remark that "I put up with a lot" as images of Gardner and various pit girls pop up on screen.
"I think there's a trade-off when you make a biography if you want the subject to be involved," notes Sims. Not that he is suggesting his subject tried to exert any kind of influence. "Wayne has been completely fine with it."
For his part, Gardner is chuffed and more than a little surprised to have his career celebrated this way. "I wasn't trying to bathe in the sunshine any more," he says. "I was a has-been."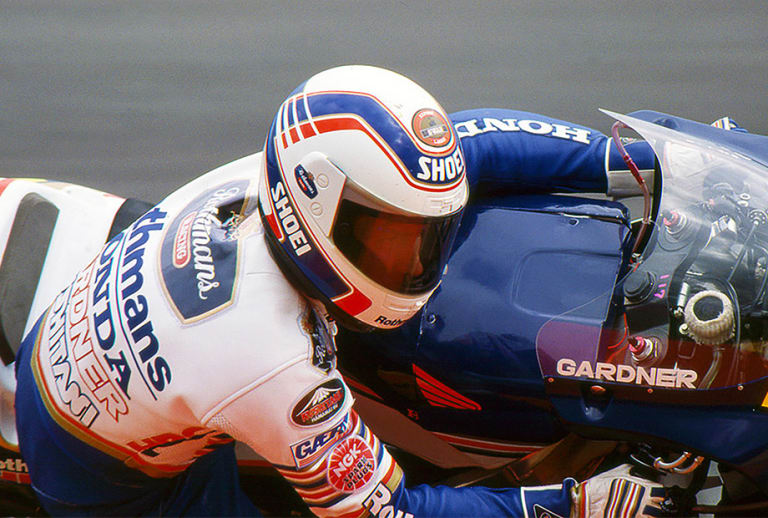 Gardner in full flight.
Back in the early '90s there had been talk of turning his story into a miniseries for Nine, "but it all fell away". Now Wayne is done and dusted, he couldn't be happier, "because it leaves a legacy to the kids".
His sons Luca, 18, and Remy, 20, both took to riding early on, about which he admits he had mixed feelings. "It's a great sport but it's a dangerous sport."
When Luca gave it away, "I was relieved". But by the same token he is determined to support Remy all the way. "For him it's the most important thing in his life."
Gardner knows the feeling, of course. He still rides – four years ago, he established a legends circuit, and he is confident it is on the brink of going global – and after retiring from the GP circuit in 1992 he had a reasonably successful stint in car racing.
"That was good, but it wasn't fulfilling the same thrill as racing a motorcycle at warp three," he says. "Racing cars was fun but it isn't that ultimate challenge of playing with your life, so it never quite filled the gap. But it was a good distraction."
Wayne screens at the Melbourne International Film Festival on Sunday at 1.15pm at the Comedy Theatre. Details: miff.com.au
Facebook: karlquinnjournalist Podcast: The Clappers Twitter: @karlkwin
Source: Read Full Article