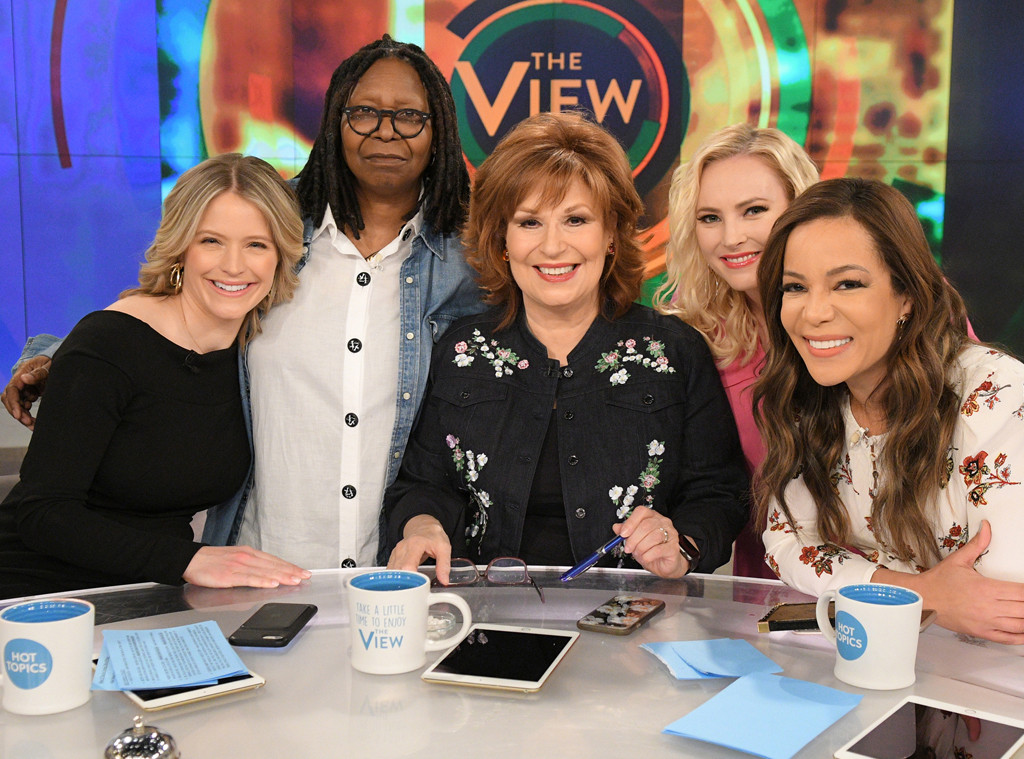 Lorenzo Bevilaqua/ABC via Getty Images
Earning a chair at The View's table is no easy task.
Day after day, you have to be willing to share your opinions on everything from politics and Washington D.C. to sex and relationships. And did we mention you have to address the biggest "Hot Topics" on live TV with four other ladies besides you.
But when Meghan McCain first got the news about joining ABC's well-established daytime series, she was up for the opportunity—even though she knew it was going to be a challenge.
"It's such a difficult job on so many different levels. It's highly political. It's highly nuance. Trump's America makes everything very polarizing," Meghan shared on Watch What Happens Live back in February. "I prep as hard as I do for The View as I did for every news show I've ever been on."
That work ethic and mindset proved to be beneficial for the famous daughter of Senator John McCain and Cindy McCain. Not only is she wrapping her first season on The View today, but she recently announced that she's coming back for another year in September. So how did she do it? It's been one heck of a journey.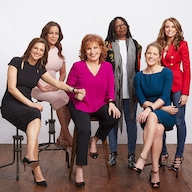 Photos
The View's Wildest Rumors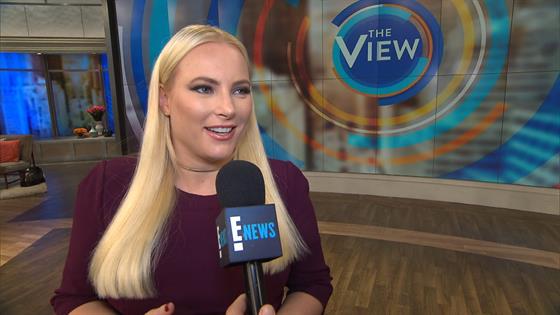 From the moment she sat at the desk alongside Sunny Hostin, Joy Behar, Sara Haines and Whoopi Goldberg, she immediately recognized that she would provide a different political voice than what viewers are used to.
"I think that women need to know around the country that the media sometimes wants to act like all women live in big cities, are pro-choice and don't want to carry guns," the Arizona native shared with ABC News. "And where I'm from, that's not the case at all."
The perspective has produced lively discussions, higher ratings and yes, even some feud rumors amongst the co-hosts.
When performing a quick search on YouTube with Megan McCain and The View, the top videos include "Meghan McCain Clashes With View Hosts and "Meghan McCain Clashes With View-Mates in Fiery Debate."
But if you're a loyal viewer of the show, you realize these ladies can leave their differences at the table.
"One of my favorite things about this show is there is always so much chatter about how we don't like each other and there's always an issue," Whoopi shared last month on the show. "They don't do this to men. They don't have this conversation with men nowadays. They only do it with women. This is the nature of the show."
The Oscar winner continued, "We don't always agree, but we're actually grownups and can continue a conversation."
Photos
We Ranked All of The View's Co-Hosts Over the Years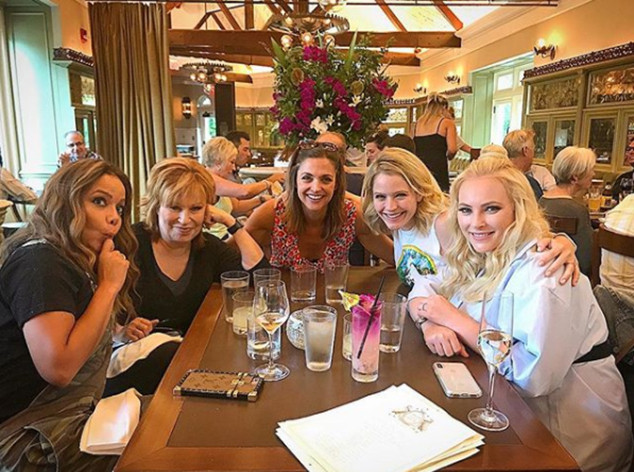 Instagram
Nonetheless, even Meghan has had to address the speculation that she doesn't get along with her co-hosts especially Joy.
"Joy and I are drinking buddies and I genuinely have such affection for her and I'm really over this feud thing of Meghan and Joy," she told Andy Cohen. "We fight like boxers and then we get out of the match and pump gloves and we're good. She's really fun."
At the same time, Meghan would likely be the first to say not everything is "fun" about what's going on in the world.
In addition to discussing politics, Meghan has had to address her father's health multiples times on the show as he continues battling a form of brain cancer called glioblastoma. Throughout the season, the author of Dirty Sexy Politics has taken several Fridays off to be with her family in Arizona.
But through it all, John has voiced support for his daughter's new gig and even appeared on the show as a guest.
"I certainly recommended it because this show needed a good conservative voice to counter yours," he shared with Whoopi and the audience. "I actually strongly recommended it because so many Americans watch this program and have their information and knowledge as a result of her participation and all of you."
And while having both of her parents on the show was a highlight in her first year, another unforgettable guest was former Vice President Joe Biden. Back in December, Meghan and the democratic leader bonded over both having family members with brain cancer.
"The thing that I found was, and Beau insisted on, your dad's gonna insist on, is you gotta maintain hope. There's hope. You have to have hope," Joe shared while holding Meghan's hand. "If anyone can make it, it's your father."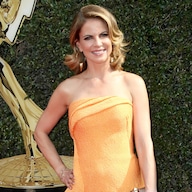 Photos
Daytime Emmy Awards 2018 Red Carpet Fashion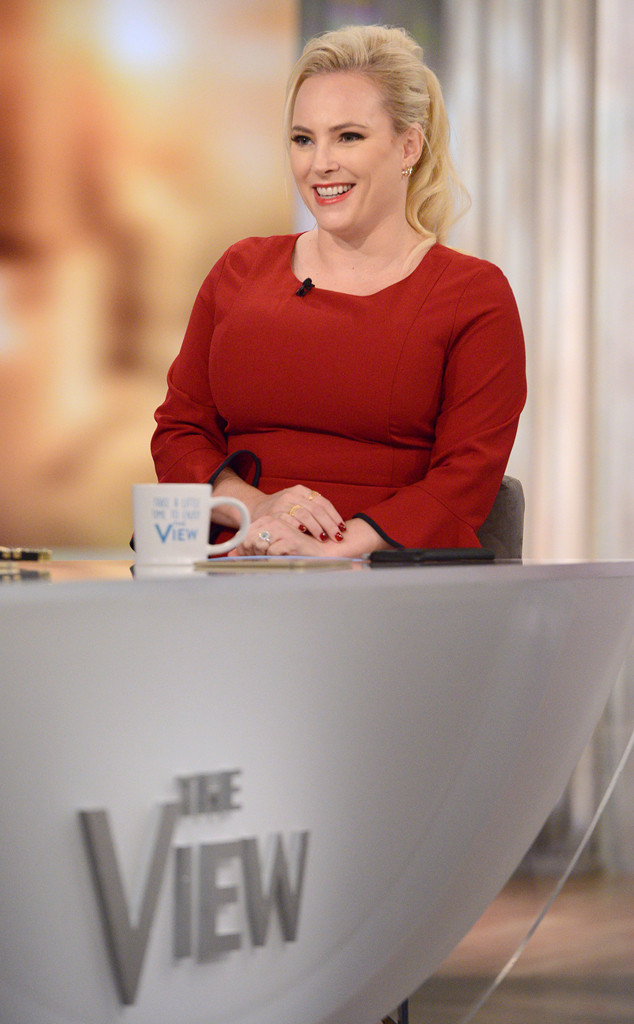 Lorenzo Bevilaqua/ABC via Getty Images
On a much lighter note, Meghan has been able to have some fun in her first season on the show. In various segments, the self-proclaimed Bravoholic has freaked out over meeting her favorite reality stars like Real Housewives of Beverly Hills' Erika Jayne and the cast of Jersey Shore: Family Vacation.
She's been able to share details about her "real country" wedding to The Federalist founder Ben Domenech.
And most recently, she helped 21-year-old brain cancer patient Lexi Caviston meet Taylor Swift on her reputation stadium tour.
With Paula Faris and Sara leaving the talk-show for other opportunities within ABC, there's going to be a new view to see when a new season kicks off.
And as the rumors already begin as to who could be added to the table—republican strategist and political commentator Ana Navarro's name has been floating around—Meghan is simply grateful to have a spot in the months to come.
"It's not important to me to have another republican on the show. I think I can hold my own and I'm very strong. Would it be nice? Of course," she shared on Watch What Happens Live. "Again, I'm just so happy that I honestly lasted more than a year because nobody has done it since Elisabeth in that republican seat."
Meghan added, "I'm just excited to come back and I feel like we really got into a groove on the show."
The View airs weekday mornings on ABC. Check your local listings here.
Source: Read Full Article