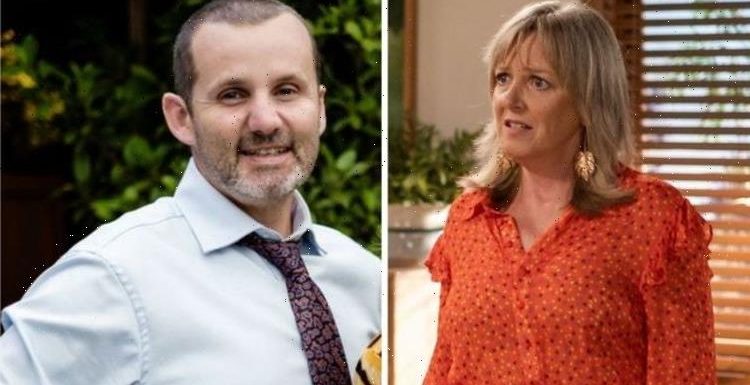 Neighbours: Pierce and Dipi are confronted over their affair
We use your sign-up to provide content in ways you've consented to and to improve our understanding of you. This may include adverts from us and 3rd parties based on our understanding. You can unsubscribe at any time. More info
Neighbours residents Toadie Rebeccchi (played by Ryan Moloney) and Melanie Pearson (Lucinda Cowden) look to be facing another setback in their relationship in new episodes as Toadie will discover a worrying secret about his partner. For the most part, Toadie and Melanie's relationship hasn't been an easy ride. It wasn't long ago the pair were arguing over Toadie's request to keep the connection between the two of them a secret from his children. Melanie's unpredictable behaviour has also caused trouble too. While they have managed to put these issues behind them, it seems there will be more trouble as Melanie's past is coming back to haunt her.
In upcoming episodes of Neighbours, Mackenzie Hargreaves (Georgie Stone) will assist Melanie to distribute her CV in order to help her find a new job.
Prospective employers begin to get in contact with Melanie's references but there is concern regarding one of the references as they seem to be from a questionable source.
Justin Buke is a big-time lawyer who used to be Mel's boss.
"They had an affair and Justin's wife Anna found out, causing Mel to lose her job, some friends and pride.
"Mel decided to get back at them when they refused to pay her severance and it didn't go well."
When Justin's wife, Anna (Brooke Satchwell) receives the call about Meanie, she is outraged by the fact she tried to use them as a reference on her CV.
Deciding to give Melanie a taste of her own medicine, she turns up at Toadie's office to remind him of the restraining in order in place.
Toadie is left in total shock as he learns about the incident from Melanie's troublesome past while she is left in complete embarrassment by the abrupt encounter.
The lawyer is devastated to find out the relationship he had with Melanie wasn't as real as he hoped as she'd not been completely honest about her past.
Speaking about the storyline, actor Ryan told Digital Spy: "Now, this brings up a lot of questions about Melanie's past that he was completely unaware of.
"He starts to question the sincerity of their relationship. He thought they were building something special together, but now wonders if this is just what Melanie does with all her bosses."
DON'T MISS…
BBC commentator heartbroken as Japan divers in tears over missed dive [INTERVIEW]
Emmerdale's Manpreet finds Leanna's ring after Rishi's death? [SPOILER]
BBC commentators despair as Team GB swimmers mess up key dive [INTERVIEW]
It looks like the couple's relationship is on the rocks and it could be time for Toadie to end his romance with Melanie.
Can Melanie convince her boss to give their relationship another go?
ext week's episodes on Channel 5 will see Toadie need a break from partner Melanie due to him feeling claustrophobic in their relationship.
He tries to make plans away from Melanie with friends Karl Kennedy (Alan Flecther) and Kyle Canning (Christ Milligan).
When Melanie hears his plans, she brings up his schedule but Toadie lies and insists he has more work at the office so needs the evening to himself.
But Toadie's caught out when Melanie pulls up in the driveway and spots Toadie making snacks. Feeling hurt she heads home. Can they work things out?
Elsewhere in Erinsborough, Amy Greenwoord (Jacinta Stapleton) and Levi Canning (Richie Morris) share a moment and it seems they could start a romance despite Ned (Ben Hall) still being interested.
When he learns Yashvi Rebecchi (Olivia Junkeer) is leaving town, he thinks it's a sign he can move on with Amy but she has other plans.
Amy moves on to Levi and the pair have sex but she's shocked to learn he's the same age as her son.
Neighbours airs weekdays at 1.45pm and 5.30pm on Channel 5
Source: Read Full Article