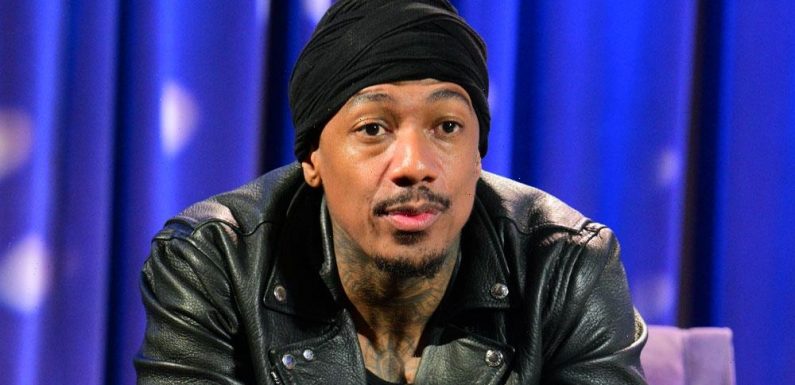 Nick Cannon has been hospitalized after coming down with pneumonia. The Masked Singer host confirmed the news on social media by posting a selfie of himself in a hospital bed with a mask on.
"Okay, so I guess I'm not Superman… I promised myself I would never be back at this place again…," he shared on Instagram.
Cannon continued, "But this is a great lesson to take care of YOU or YOU won't be able to take care of everyone else. Don't trip though, I don't need any well wishes or prayers , just some solid rest and I will be back on the journey to becoming stronger than ever… it's just pneumonia, nothing I can't handle."
Related Story
'Nick Cannon' Syndicated Talk Show Canceled After One Season, Veteran 'The Real's Future Uncertain
The television personality and father of 11, and soon to be 12, shared that the "crazy thing" was that he was "rocking a sold-out crowd at Madison Square Garden" the night before.
"Now, I'm all alone in a tiny hospital room. Life is definitely a rollercoaster," he ended.
Cannon was at the MSG with the comedy tour Nick Cannon Presents: Wild 'N Out Live where he performed alongside Rip Micheals, DeRay Davis, Michael Blackson, Justina Valentine, DJ D-Wrek, Emmanuel Hudson, Conceited, Vena E., Charlie Clips, Hitman Holla and Radio Big Mack, plus musical performances by A Boogie Wit da Hoodie, GloRilla and Fabolous.
See Cannon's Instagram post below.
https://www.instagram.com/p/ClsCD5mLH88/
https://www.instagram.com/p/ClsCD5mLH88/
A post shared by NICK CANNON (@nickcannon)
Must Read Stories
'Moonhaven' Canceled After AMC+ Reverses Decision On A Season 2 Amid Cutbacks
'Wakanda Forever' Rules Sleepy Post-Holiday Frame As 'Violent Night' Stabs At $12M Debut
DirecTV & Fox Reach Carriage-Renewal Deal, Averting Blackout During World Cup
'Firefly Lane': Sarah Chalke On Kate's Big Revelation, Rift With Tully And Show's Last Chapter
Read More About:
Source: Read Full Article