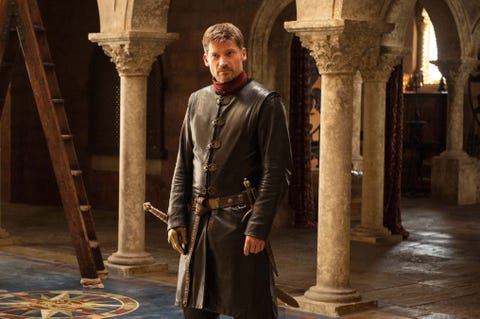 When we left King's Landing at the end of Game of Thrones season 7, Jaime was also on his way out, having seen the true colors of sister dearest Cersei, who may or may not be pregnant with his child (or Euron's, or no one's because she's not really expecting???). Right before his solo ride north, Jaime also escapes being killed by the Mountain, simply by walking out of the room, a move that definitely, maybe made Cersei seethe.
With season 8's premiere still months away (seriously, winter is coming, right after this latest heatwave), one can't help but wonder how Jaime's solo ride is going. Is he OK? How's his golden hand? What has he seen? And more importantly, who has he seen?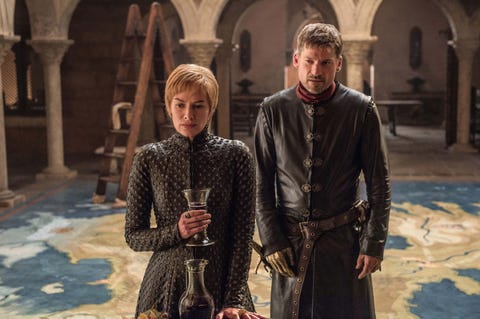 In a new interview with Huffington Post, Nikolaj Coster-Waldau offered some ideas on Jaime's condition on the road, along with what filming the final season was like. (Production wrapped in July.) "I don't think you can assume that he's going to make it up there, but who knows," he teased. "For sure, we see him head north. He might be eaten by dragons, you never know. Or he might just stumble, things happen." Before you can roll your eyes in response to the dragon theory, he also said, "Or he might find the love of his life and suddenly he's like, 'God, this is it. No more.'"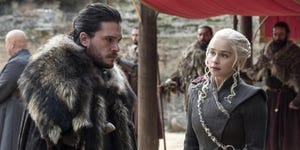 When Brienne, aka Jaime's true love, was brought up, Nikolaj danced around the subject with a sprinkle of "Ohhh," "who knows?" and "I don't, well," before stating the obvious: he knows how it all ends but obviously he can't say anything about it.
He did, however, describe what it felt like when all was said and done. "To me, it was very satisfying but also very surprising and all the things that I was hoping for," he said. "It still made sense." In fact, he was surprised that Jaime even made it to the final season, given all his close calls leading up to that lonely ride north. "God, every time we got a new script I thought, 'OK, this is probably going to be the one.' But no. The Lannister kids made it to the end."
Naturally, if you've always read too much into everything GoT-related since day one, the bit about the Lannister kids making it "to the end" can make one scream. Those hoping Cersei would meet her fate after all that she's done (and the fact that Arya still has Cersei on her list) might feel a bit sour reading that. Or hey, maybe Nikolaj is just doing that thing where he's teasing one storyline when the opposite is actually true, and no one is alive by the time the credits roll one final time. I just hope at least one dragon survives. That, or my forever hero Lyanna Mormont.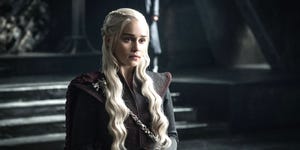 Source: Read Full Article