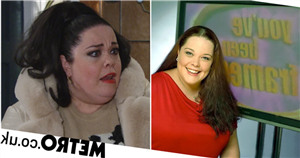 Lisa Riley has reflected on her stint as presenter of You've Been Framed following reports that it has been axed.
You've Been Framed, which made its TV debut in 1990, saw members of the public send in funny home videos.
The home videos would often range in subject, but the most memorable often showed people suffering falls or slips.
Lisa, best known for playing Mandy Dingle in Emmerdale, presented the series from 1997 to 2002, taking over from previous presenter Jeremy Beadle.
'I woke up this morning to loads of messages informing me that after many many many years "YBF" is leaving @itv,' she wrote on Instagram following claims of its axing. 'It does make total sense this decision, as this format is now so readily available on streaming platforms.
'Personally I wanted to say the biggest thank you to the show, for five glorious years, full of non stop, fun-laughter, and to the individual people who taught me so much, for this I'm eternally grateful.
'The best part of this job was the FANTASTIC crews I worked with year after year.
https://www.instagram.com/p/Co9FfZjougu/
'This programme was a terrific learning ground for young adults wanting to make it in TV, and so many of them whom I had the joy of working with, have now gone on to fabulous entertainment programmes in various Executive positions, not only in UK but around the world.'
You've Been Framed has reportedly been 'shelved' due to the popularity of social media as a source for clips similar to those that would've been showcased in the ITV series.
A source told The Sun: 'It's a different world to Jeremy Beadle's heyday. Why would viewers tune in to a show featuring funny videos when they could see the same sort of thing on the internet?'
Lisa, meanwhile, returned to Emmerdale several years ago, reprising her role as Mandy, and has featured in numerous storylines ever since.
Mandy has been worried about former husband Paddy Kirk in recent scenes, after he left the village in what is an important mental health storyline for the character.
If you've got a soap or TV story, video or pictures get in touch by emailing us [email protected] – we'd love to hear from you.
Join the community by leaving a comment below and stay updated on all things soaps on our homepage.
Source: Read Full Article