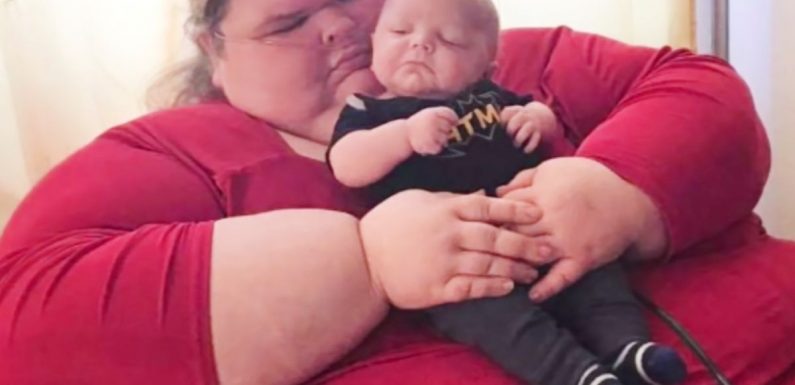 1000-lb Sisters: Tammy Slaton marries Caleb Willingham
1000lb Sisters star Tammy Slaton teased potential pregnancy plans with husband Caleb Willingham after sharing a virtual "test" with followers on TikTok. The reality TV star laughed after using the "When will you get pregnant?" filter on the social media site, possibly hinting at the news.
The TLC reality star already admitted she was "thinking about" having children with her rehab romance Caleb Willingham.
Tammy tied the knot with her husband in November last year and the pair's big day only recently played out on 1000lb Sisters season four.
It was during the recent series that Tammy touched on possible pregnancy plans – and her latest social media post only fuels those rumours.
Shortly after Tammy's surgery, which played out on TV, she told family members how she "could have a kid" one day.
Taking to TikTok over the weekend, Tammy sparked rumours she and Caleb could be expecting a little one very soon.
Applying the "When will you get pregnant?" filter, Tammy smiled as she shared the potential life update with fans – but not was all as it seemed.
"When will you get pregnant?" says a voice in Tammy's video as the social media trick worked its magic.
The reality star burst into laughter after she received some unexpected news about the "test's" results.
@tammyslaton2020 @amyhalterman87 ♬ original sound – MoeMillionz
"You just need to poop," the filter explained – debunking any possible baby news for Tammy.
Clearly finding the results hilarious, Tammy shared the short clip with followers, tagging her sister Amy in the post – attaching laughing emojis.
Pregnancy isn't totally off the cards for her though, only recently talking about starting a family.
In a 1000lb Sisters confessional, Tammy once said: "I've been saying, I don't want kids, I don't want kids. I don't know, just something changed."
Don't miss…
Four in a Bed viewers fume over 'ridiculous' breakfast[LATEST]
Amy Slaton flaunts major weight loss and says she's 'feeling herself'[LATEST]
1000lb Sisters will be 'better' without Amy's ex, claims producer[LATEST]
Tammy added: "I've been seeing Amy with Gage and Glenn. So, I've been thinking about it.
"Nothing's written in stone. I don't even know if I can have kids. But, who knows."
Tammy then teased: "Maybe there will be a little Tammy running around one day. I don't know if the world is ready for that."
It was during season four's finale that even Tammy's family questioned if she was pregnant.
In the season's final episode, Amy asked: "Are you pregnant? Shotgun wedding."
After a moment of silence, Tammy insisted: "Nobody's having a shotgun wedding."
Her half-sister Amanda then added: "Well it is awful soon."
In a confessional, Tammy exclaimed: "The heck? I ain't pregnant. This is crazy. I can't believe my family thinks I'm getting married because I'm pregnant. They're stupid."
1000lb Sisters seasons one to four aired on TLC in the USA.
Source: Read Full Article