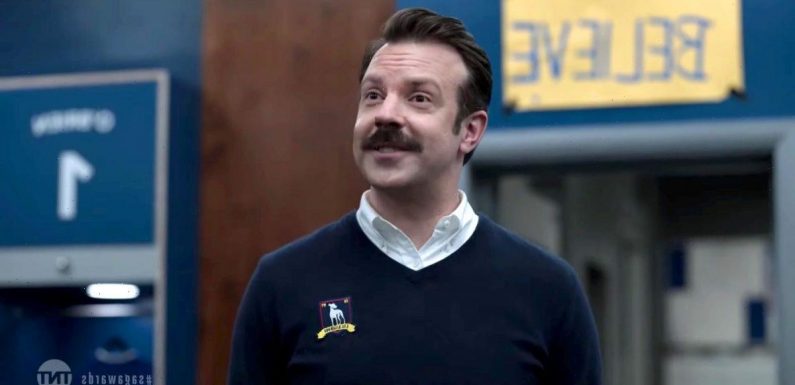 ARTICLE HIGHLIGHTS
Quick 'Ted Lasso' season 1 episode 4 recap
Ted saves the day when he hires a musician to replace Robbie Williams
After his success on 'Ted Lasso' Cam Cole is touring again
Ted Lasso season 1, episode 4 "For the Children" was a memorable one. The Apple TV+ comedy started to find its groove in the episode that featured a charity dinner and an AFC Richmond player auction.
Fans will recall that the event was supposed to have a performance by Robbie Williams. But thanks to Rebecca's (Hannah Waddingham) horrible ex-husband, the singer canceled. That's when Ted (Jason Sudeikis) stepped in and saved the day by hiring a busker he had passed by earlier in the episode while walking the streets of Richmond.
Who was this musician that ended up blowing fans away?
Rebecca and Keeley's friendship blossoms in the 'Ted Lasso' episode 'For the Children'
The fourth episode of season one was a big one for Rebecca, who was dealing with the stress of the 10th Annual Benefit for Underprivileged Children. The newly-divorced owner of AFC Richmond was organizing the event for the first time without her ex, Rupert (Anthony Head). Who ends up showing up anyway despite the fact that he RSVP'd "no."
Rebecca is feeling small and uncomfortable, and Keeley (Juno Temple) takes the opportunity to give a masterclass in female friendship. The two ladies don't have much of a relationship at this point, but Keeley is there for Rebecca in every way.
She gives her advice on how to pose for the paparazzi, and shouts praise at her before she enters the gala. Keeley wants Rebecca to know she's beautiful, and that she deserves to feel good about herself. She should also be proud of the event she has put together. Later in the evening, Rebecca returns the favor by convincing Keeley to break up with Jamie Tartt (Phil Dunster).
Ted helps Rebecca out, even though she's plotting against him
At this early point in the series, Rebecca is still on a mission to destroy AFC Richmond. She's doing everything she can to sabotage the team and Ted, but the former college football coach is killing her with kindness.
After Rupert shows up and Robbie Williams cancels, it's clear Rebecca needs a hug. She might not be a hugger, but Ted knows she needs comfort. When she says "I'm alone, just like he said I would be," Ted proves her wrong. Rebecca is not alone, and it's the beginning of her character arc from series villain to one of Ted's biggest allies.
Who was the musician who blew 'Ted Lasso' fans away?
In addition to the hug, Ted also comes through for Rebecca by finding a musician to perform at the charity event. He manages to find the busker he had heard earlier in the night on his way to the event — Cam Cole.
Cole's performance ended up blowing everyone away. It was a huge success that started a big dance among those who were in attendance. The performance was also a huge career boost for Cam Cole.
Cam Cole was preparing for a tour when the pandemic hit
According to Cam's website, his career was starting to take off a couple of years ago thanks to multiple viral internet videos and a rapidly increasing following from all over the globe. He also had a well-received debut album titled I See, and he was planning an international tour. But when the pandemic hit, his journey from the streets of London to the stage was abruptly put on hold.
But Cam is a one-man band, which means it wasn't difficult to put together performances for social media. During the pandemic, Cam stayed in touch with his fans via his "Sounds From the Van" video series. He streamed his rehearsals directly from his van. And after he showed up in Ted Lasso, Cam discovered that his fan base had more than doubled in size.
After his success on 'Ted Lasso' Cam Cole is touring again
The pandemic could have killed his career momentum. But instead, Cam Cole is finding more success than ever. Now that live music venues have opened back up, he's been touring all over the UK.
The rock/blues artist — who finds inspiration from groups like Black Sabbath, Nirvana, and Led Zeppelin — has also released a new album titled Crooked Hill.
The season 2 finale of Ted Lasso drops Friday, Oct. 8 on Apple TV+.
Source: Read Full Article