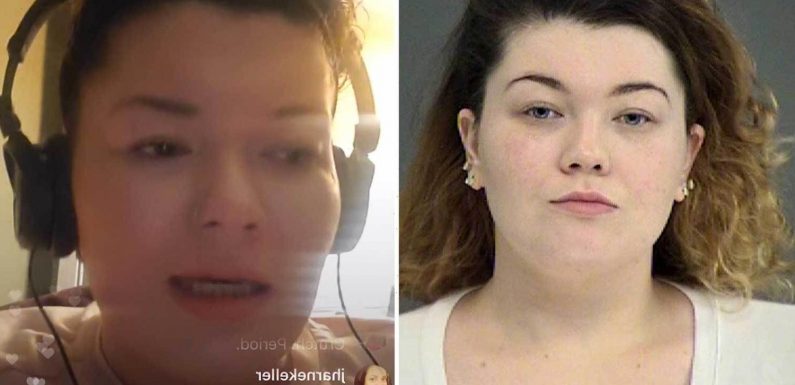 TEEN Mom Amber Portwood has slammed trolls for "talking about the machete incident" in a hugely emotional Instagram Live.
The MTV star quit the social media site late last year after she took a plea deal in the domestic abuse case against ex Andrew Glennon.
Amber was accused of attacking her babydaddy Andrew with a machete in 2019 while he was holding their then one-year-old son James.
In October 2020, TMZ reported that the 29-year-old had accepted a plea deal that reduced her conviction to one felony charge for the incident.
Yet her followers appeared intent on dredging up her past misdemeanours – and Amber wasn't going to let it lie.
The Teen Mom OG star told fans of her bipolar and depression battle and said: "You don't know what it's like to struggle every day."
She then pleaded: "Stop bashing us – it's been centuries and centuries and centuries."
After confirming she would be on medication "for the rest of my life" the screen star pleaded: "Stop talking about the machete by the way.
"Stop, because … we are not going there.
"Not going there. Lord help me," before letting out a nervous laugh.
She concluded: "Anyways, a year. I got a year," referring to her probation in the plea deal.
Amber flagged the incident after a number of comments on the Live simply stated the word "machete."
Clearly putting the drama behind him, Andrew was recently spotted on dating app Bumble by Amber's followers.
Teen Mom OG fans shared what looks like the 36-year-old producer's page amid the exes' nasty custody battle over their son James.
The unverified profile has a photo of Andrew smiling with the tagline 'Andrew, 36'.
The 'about me' section reads: "UCLA graduate turned ad man at RPA. Making art, delicious things, and writing great song lyrics are me at the core. Sweet surprises, warm hearts and laughter welcome.
Amber meanwhile has been firmly focussed on a low-carb diet health kick diet.
She was seen trying out green beans and Kielbasa – a staple of Polish cuisine.
The healthy meal looked delicious as it cooked away on her stove.
Alongside the shot, Amber explained: "I have been wanting to try a low carb diet for a while now.
"Today I'm starting a 3 month low carb diet! Kielbasa and green beans to start. Who's in with me for a 3 month challenge?"
The post didn't go unnoticed with Amber's followers, who were quick to show their support.
Teen Mom OG – Season 9
Season 9 was filmed as the outbreak of coronavirus hit America.
Who's in the cast this season?
Amber Portwood
Catelynn Lowell
Cheyenne Floyd
Maci Bookout McKinney
Mackenzie McKee
Who are their boyfriends, husbands and baby daddies?
Amber Portwood's boyfriend Dimitri Garcia
Catelynn Lowell's husband Tyler Baltierra
Cheyenne Floyd's ex-boyfriend Cory Wharton
Maci Bookout's husband Taylor McKinney
Mackenzie McKee's husband Josh McKee
Teen Mom OG 's season nine aired on January 26th 2021 on MTV.
Source: Read Full Article