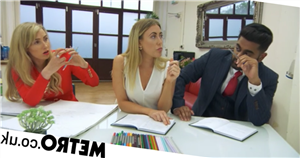 The Apprentice viewers have been left stunned after the candidates managed to make a huge spelling blunder in their bid to impress Lord Alan Sugar.
The candidates were tasked with creating their own video games, with team Infinity opting for a prison-break game, and Diverse going for a global warming themed game.
However, in creating their game, which sees 'Scientist Sam' attempting to rescue animals from the Arctic and Antarctic, the candidates managed to name their product 'Artic Saviour', misspelling 'Arctic'.
Only Baroness Karren Brady, who was overseeing the team's progress, noticed the error – until it was way too late.
Viewers were dumbfounded, with one joking: 'Love the Artic. Just such a cool place. My fave band is Artic Monkeys too.'
'Artic Saviour…..ARTIC? I can't,' another added, with one more saying: 'How have they not realised they have misspelt "Arctic".'
Source: Read Full Article