I'll be the first to admit that season 2 of The Chilling Adventures of Sabrina left me with way more questions than answers. Is Sabrina still the Herald of Hell? How will the team rescue Nick Scratch from the netherworld? What's with all the incest?!
Unfortunately, we'll probably have to wait until part 3 is released on Netflix to get most of those answers, but here's everything you could possibly want to know about the next season of CAOS while we wait.
Is there a premiere date yet?
Yes! On December 7, Netflix announced the show would be coming back January 24. They announced it via this very scary looking YouTube video.
Great. Is there a trailer?
Not exactly. In lieu of a traditional trailer, the show released a music video, with Sabrina singing, featuring scenes from the new season. An interesting approach!
There might still be a traditional trailer to come, so we'll throw that in here if and when it happens.
Where did we leave off?
Sabrina and the gang foiled the Herald of Hell prophesy by locking the Dark Lord in Nicholas Scratch's body and sending him to the seven circles. As a parting gift, Lilith restored Sabrina's powers. That leaves Sabrina, Harvey, Rosalind, and Theo able to start planning a rescue mission.
Aside from the Fright Club, Prudence and Ambrose are on the hunt for Father Blackwood, the Church of Night is in disarray, and Aunt Zelda has appointed herself High Priestess and head of The Academy of Unseen Arts.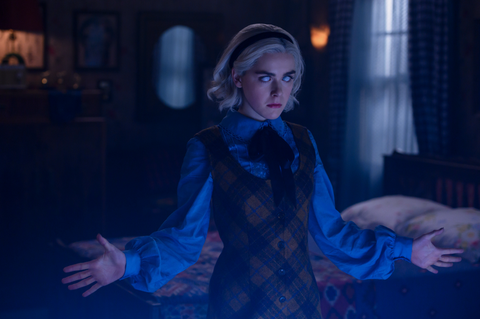 So what's this season going to be about?
Great question! Here's an official plot summary from Netflix:
Are we going to visit Hell?
YES. Finally, something I can really answer. Series creator Roberto Aguirre-Sacasa confirmed the Fright Club's rescue mission will take us straight to Hell.
"I think it's safe to say that we are going to Hell, yes," he told TheWrap at the Television Critics Association press tour. "We're going to Hell. It's very fun. It's very fun. It's dangerous, but it's really fun."
Okay, any others news I need to know?
We already know that part 4 is happening! In December 2018, the streaming giant announced 16 more episodes to be divided over seasons 3 and 4.
Chilling Adventures of Sabrina has been renewed for 16 more episodes! Production begins next year and the next batch will air in two parts: Parts 3 & 4. pic.twitter.com/OvwMftgMN0
Here's Salem's announcement:
Make sure to keep checking in for more info on your fave witch & friends.
Source: Read Full Article