The Meg is Jaws turned up to 11, an over-the-top creature feature starring a 20-metre-long prehistoric killing machine that comes from the very bottom of the ocean to cause havoc at the top. It is an utterly outrageous thrillfest that one of its writers, Erich Hoeber, recently described as being "like Sharknado if it had a $150 million budget and a heart".
It is enormous, ridiculous fun but, director Jon Turteltaub insists, it has a solid grounding in science (we'll get to that later) and the environment. Not that they are why he signed on to make it.
Replay
"There was nothing deep within the movie I loved – it was all the surface stuff," the director of National Treasure and Last Vegas says gleefully. "It was a genre I'd never done, the science I'd never explored, the love of the ocean and getting a chance to work with Chinese producers and go to China. Those were all the fun things that made the project so attractive to me."
For 20 years, at least some of those things had made the idea of filming Steve Alten's 1997 novel (the first in a series of five) attractive to lots of other people too. But for a variety of reasons it never quite came to fruition.
Low-budget horrormeister Eli Roth (Hostel) had in fact spent the best part of a year working on the film before departing in March 2016, allegedly over cost concerns as the budget neared $US100 million. By the time Turteltaub took the reins, it had travelled well north of that – but it was, he says, plain sailing.
"There are a million reasons not to make a movie, and people tend to find them. But by the time I came on board it was full steam ahead, so I never had to suffer through any of that. I have on other movies, but not on this one. For me it was a piece of cake."
A good chunk of the budget for The Meg came from China, a market that turned the Australian shark-in-a-supermarket movie Bait into one of the surprise hits of 2010. Should we conclude then that the Chinese have a particular penchant not just for shark fin soup, but also for shark movies?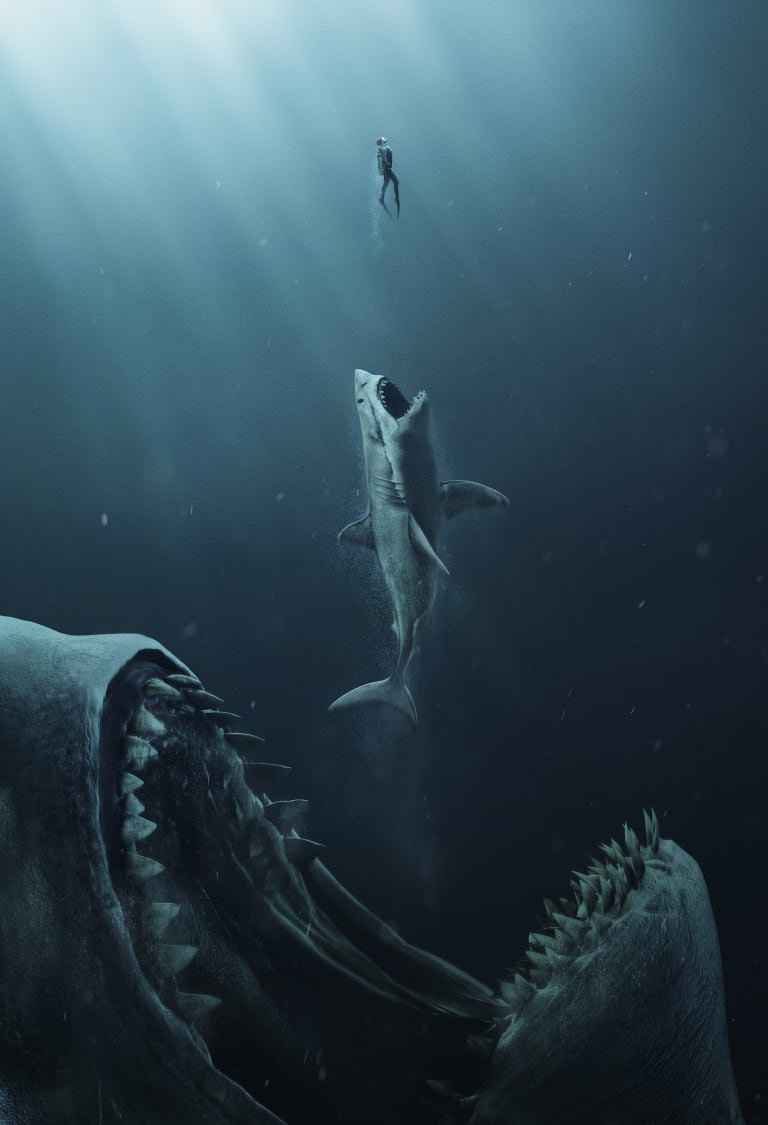 The Meg is like Jaws, only a lot more so.
"I would say sharks play well everywhere, they make great villains," Turteltaub muses. "Sharks are kind of like ocean Nazis. Normally we get British actors to play Nazis, but I had to use CG to get a shark."
The Chinese connection is on screen as well as off, with actors Bingbing Li and Winston Chao prominent among a multinational cast that also features Englishman Jason Statham, Australians Ruby Rose and Robert Taylor (Longmire), New Zealander Cliff Curtis (Whale Rider, Fear the Walking Dead) and American-born Iceland-based Olafur Darri Olafsson (Trapped).
The film was shot "90 per cent in New Zealand", says Turteltaub, but some key scenes were filmed in China.
"We wanted to go there because the ending takes place in China and there are some great places, great beaches, some unexpected things that certainly non-Chinese audiences don't know about," he explains. "But the best thing is that China has a lot of Chinese people in it. We couldn't fake 10,000 Chinese people going to the beach. It was much easier to go to an actual Chinese beach."
Of course, China is an increasingly important factor in the thinking of Hollywood's studios, and The Meg is precisely the sort of film they are building with that market in mind.
Li Bingbing, seen here with Jason Statham, is a key element in pitching The Meg to a Chinese audience.
The dialogue is, ahem, straightforward, the settings and characters international, the Chinese characters smart and heroic. Even the high-tech undersea laboratory that discovers the megalodon that has been lurking at the bottom of the Mariana Trench for the past couple of million years is made in China.
Factoring in the world's most populous country "has gone from being interesting to being a necessity", says Turteltaub. "There are just too many people going to the movies in China to ignore."
The results in its first weekend suggest the producers behind The Meg got it absolutely right: the film took more than $50 million at the Chinese box office – about 10 per cent more than it took in the US.
As a prolific producer as well as director, Turteltaub is as much across the "business" of movies as he is the "show". But he insists he's in it for the experience as much as the results and rewards of churning out box-office hits.
Making a movie that takes place largely on water "is both extremely difficult and extremely awesome", he says. "I loved the feeling that we were experiencing what we were filming rather than just pretending all the time, and I liked not being in some smelly dark studio, being outside in the South Pacific. That's a better way to spend a day."
He was also determined that it wasn't just the setting that seemed real but also the premise. Well, up to a point at least.
The megalodon and the world from which it emerges – a body of denser water hidden beneath a layer of hydrogen at the bottom of the Mariana Trench – is "100 per cent based on research", he claims.
"Most of our exploration [of the deep sea] is about blasting a bunch of sonar down there to try to get a topographical map but we haven't really explored the bottom of the oceans. So you could have a layer of gas that we just haven't penetrated and seen the other side of."
Life in the underwater lab is like being in a fishbowl … that's about to be eaten by a really, really big fish.
If we ever do get there, of course, there's a fair chance we will follow the well-worn path described by Winston Chao's scientist Zhang in the movie: First we discover, then we destroy.
"That has been the habit of humanity," admits Turteltaub. "I heard someone say, 'Every place you've ever been to is named after the thing that was destroyed in order to build the place you went to'. If you go to Heather Glen, you know there used to be a heather glen before it was destroyed for the shopping centre that's there now."
In that sense, and for all its unapologetic silliness, The Meg tries to balance its depiction of oversized horror with a respect for the environment – including, bizarrely, man-eaters.
"We all saw what happened to sharks after Jaws," Turteltaub says. "They became labelled as villains when they're such a beautiful and important part of the oceans. We made sure that megalodon-equals-bad, shark-equals-good.
"The truth is that a giant megalodon is not as big a threat to us as it is to other sea life," he adds. "We can always choose not to go in the water."
The Meg is out now
Facebook: karlquinnjournalist Podcast: The Clappers Twitter: @karlkwin
Source: Read Full Article