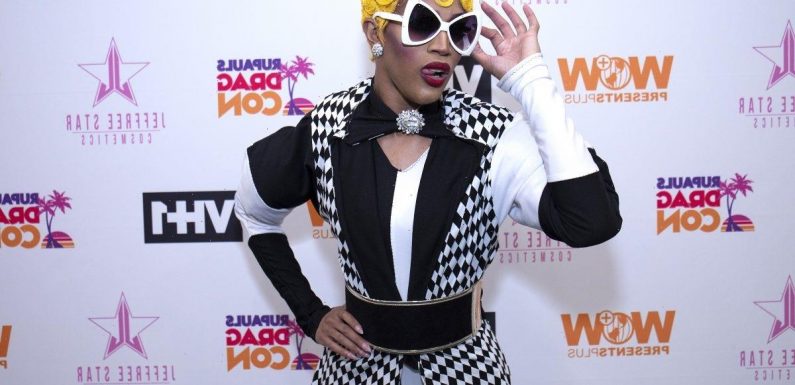 It's difficult to impersonate Queen Bey, even for someone with plenty of charisma, uniqueness, nerve, and talent.
However, after plenty of failed attempts, one contestant on RuPaul's Drag Race: All-Stars 6 might've perfected a lip-sync performance of Beyoncé Knowles-Carter. Here's what we know about Trinity K. Bonet and this Super Bowl-themed challenge. 
There is an unofficial 'Beyoncé curse' on 'RuPaul's Drag Race'
RuPaul's Drag Race and its contestants are known for sharing their love for musical divas. During RuPaul's Drag Race: All-Stars 3, each contestant was assigned a legendary artist to impersonate. 
Although Beyoncé was not among the selection, several other seasons featured contestants dressed as "Queen Bey." Unfortunately, the imitation never worked well for the drag performers in question.
For season 4, Kenya Michaels appeared as Beyoncé for the Snatch Game. For season 10, Asia O'Hara tried her best impersonation for the same challenge. During season 6, Trinity K. Bonet shared that she would love to perform as Beyoncé in Las Vegas. Of course, Bianca Del Rio was hesitant to show her support.
"I haven't seen anybody that looks like Beyoncé," Bianca Del Rio retorted. Trinity said that she had nothing to prove to her fellow competitor.
Trinity K. Bonet impersonated Beyoncé during 'RuPaul's Drag Race: All-Stars 6'
For the "Halftime Headliners" challenge, each contestant selected a Super Bowl performance to imitate. A'keria Davenport chose Prince. Kylie Sonique Love chose Steven Tyler. Trinity K. Bonet chose the "Formation" singer, Beyoncé.
Although some other contestants shared their concern for this performance, Bonet proved she had what it took to appear as this legendary singer. From the little poses to the choreography, Trinity K. Bonet embodied Queen Bey.
Trinity K. Bonet earned praise from RuPaul and viewers of this reality competition series for her extremely accurate performance of Beyoncé. After the judges deliberated, this contestant was safe. Jan won this challenge with her half-flipping performance of Lady Gaga.
Trinity K. Bonet portrayed a different celebrity in Taylor Swift's 'You Need to Calm Down' music video
Beyoncé wouldn't be this drag queen's first celebrity impression. Although it was somewhat of a fail, for the Snatch Game of season 6, Bonet acted as the rapper Nicki Minaj, even switching her wig mid-challenge. Outside of her work with RuPaul's Drag Race, this contestant earned a feature in Taylor Swift's 2019 music video titled "You Need to Calm Down." 
There, Trinity K. Bonet dressed as the rapper and activist Cardi B. Another drag queen who did not compete on RuPaul's series, Riley Knoxx, appeared as Beyoncé Knowles-Carter for the same project.
Fans can catch up with this drag queen and others on the RuPaul's Drag Race Instagram account. New episodes of RuPaul's Drag Race: All-Stars 6 premiere weekly on Paramount+.
Source: Read Full Article