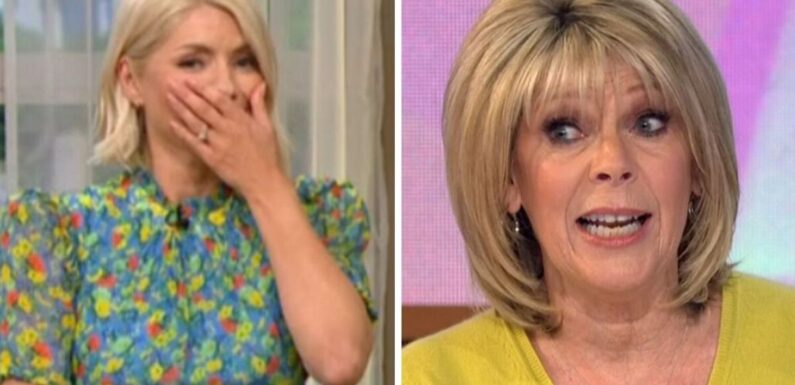 Ruth Langsford appears to ignore Holly Willoughby
This Morning fans seemed to think Ruth Langsford "ignored" Holly Willoughby when speaking via video link on Tuesday.
As Holly and Josie Gibson cut to the Loose Women studio, Holly began: "Right, in just a moment we're gonna be speaking to The Repair Shop's Suzie Fletcher, but first it's time to find out what the Loose Women are talking about this lunchtime."
"Hi Ruth," she continued as Ruth replied before quickly moving on: "Hi Holly, hi Josie.
"Coleen was just talking about that ice cream [truck], you used to go there."
"It's exactly the same as it was in the '60s," Coleen Nolan exclaimed as Ruth joked: "102 years ago.
"We've got lots coming up on Loose Women. Should passengers be weighed alongside their luggage before they get on a plane?
"We will be giving our take on that one because an airline is actually doing that.
"Also, after a totally embarrassing encounter between two islanders last night we're talking first dates with our very own Love Island correspondent, Gloria Hunnisford.
"And from sausage rolls to rock and roll, James Martin is here."
Don't miss…
Emmerdale death as Caleb Milligan is thrown off woodland ridge[SPOILERS]
Holly Willoughby 'threw Phillip under bus' as fans slam This Morning speech[LATEST]
Holly Willoughby 'disingenuous' in speech, claims expert[INSIGHT]
She concluded: "See you at 12.30pm, we will be rocking out."
The "snub" didn't go unnoticed by viewers and many took to Twitter to share their thoughts on the frosty exchange, @LoveBananarama said: "The awkwardness between #HollyWilloughby and #EamonnHolmes wife #RuthLangsford during the handover to #LooseWomen is excruciating." (sic)
Sharing a gif, @leeleeCThomas pointed out: "Ruth was like this to Holly #ThisMorning."
While @TellyVsPodcasts added: "Ruth not even acknowledging Squeak #ThisMorning."
We use your sign-up to provide content in ways you've consented to and to improve our understanding of you. This may include adverts from us and 3rd parties based on our understanding. You can unsubscribe at any time. More info
@Itt39354118 tweeted: "Ruth not speaking to Holly #thismorning."
Fans also spotted tension between the duo following Monday's crossover, with @EARNER1 tweeting: "I don't know how Ruth Langsford keeps a straight face when Holly Willoughby speaks to her when introducing Loose Women #Thismorning."
@Lucieno74 penned: "Wow Holly having to crossover to Ruth on #loosewomen, considering how Ruth's husband has been sniping about Holly, that must of been awkward #thismorning."
@Poppyblew went on: "Ruth and Holly. #awkward #loosewomen."
This Morning airs weekdays at 10am on ITV.
Source: Read Full Article