Much like my hair now that I no longer leave the couch, Tyler Cameron's love life is low-key messy. Since becoming famous, Tyler has managed to date a supermodel (hi, Gigi Hadid), infiltrate the Kardashians' inner circle, hook up with an influencer, and kinda-sorta-maybe get back together with The Bachelorette's Hannah Brown. What I'm trying to say is, a lot has happened since Tyler's golden days on reality television, and we're here to break it all down for everyone out there confused and/or bored and in desperate need of a distraction. ON THAT NOTE: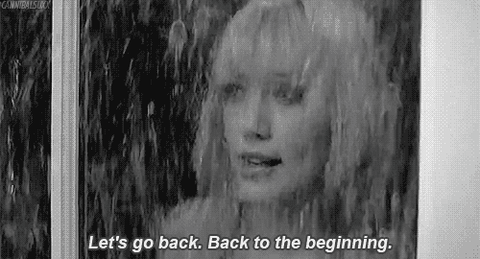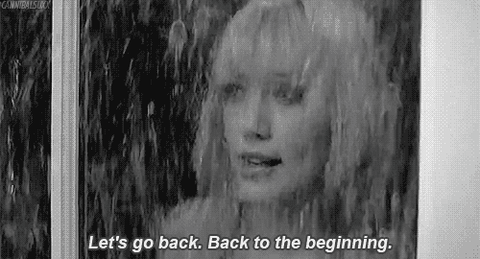 P.S. This analysis of Tyler's love life will also include rumored romances. History demands that leave no stone unturned.
Hannah Brown
Hannah and Tyler met on set of The Bachelorette, and he made it all the way to her final two! But then she broke up with him in front of the world sometime in May 2019: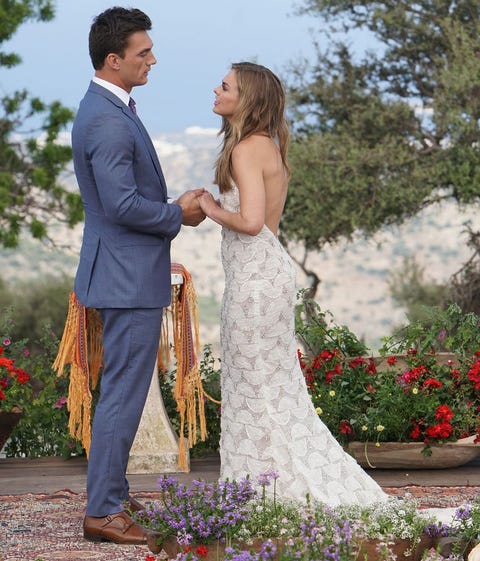 Flash-forward to July, and Hannah (fresh off a breakup with Jed Wyatt) asked Tyler to go out with her during After the Final Rose:
Then, my friends, Tyler and Hannah were spotted on a date, and he was spotted LEAVING HER HOUSE THE MORNING AFTER. But here's the thing. That same day (August 1st), Tyler also went out with….
Influencer Violet Benson
She confirmed as much on the podcast Sex with Emily, saying they grabbed a bite on the same day as Tyler's date with Hannah:
Violet also mused, "Clearly, I think Tyler is trying to shoot his shot with people that he's a fan of that he could now get the chance to hang out with."
Which brings us to….
Gigi Hadid
Okay, so Tyler and Gigi started following each other on Instagram in July, 2019—just a few months after his breakup with Hannah Brown.
Welp, there goes my chance #TheBachelorette pic.twitter.com/lYSFVDqHwH
Several weeks later (after the Hannah and Violet dates), Tyler and Gigi were spotted out together in New York City:
Speculated photo of Tyler Cameron with Gigi Hadid vs. IG story of Tyler posted by his friend Matt = SAME OUTFIT. 😳#TheBachelorette #TylerC #GigiHadid pic.twitter.com/nj8bJfAt9u
Then they went on vacation (read: sat in a Starbucks) in Lake George:
And eventually Bella Hadid started following Tyler on Instagram—so things seemed pretty damn official:
Buuuuuut, by the end of September, Tyler and Gigi had fizzled out, and in October, E! News confirmed that the couple had split, while Us Weekly sources said "Tyler is single."
Andi Dorfman
After his breakup with Gigi Hadid, Tyler started hanging with fellow Bachelor Nation alum Andi Dorfman—but please note they are Just! Friends! Andi confirmed as much, saying: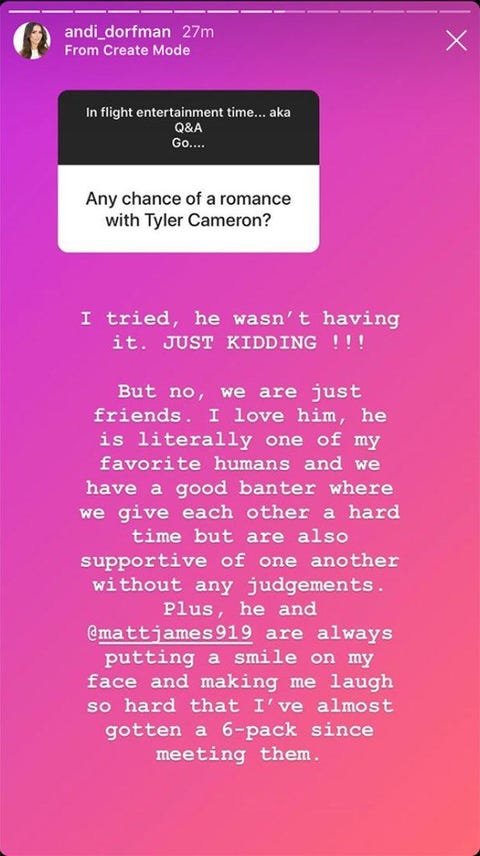 Stassie Karanikolaou
Whomst is Stassie Karanikolaou, you ask? That'd be Kylie Jenner's best friend. She and Tyler started hanging together in November, when they were spotted being super flirty at a Clippers game and then kissing at the club. Per a source:
They also spent New Year's Eve together, but it looks like things fizzled out after that, so MOVING ON to….
Hannah Brown (AGAIN!)
Hannah and Tyler reconnected in March and decided to quarantine together in Florida with a group of friends during the coronavirus outbreak. Obviously, Bachelor Nation has been SHAKEN TO ITS VERY CORE ever since—especially since they're trolling us with content like this:
BREAKING: Tyler finally got into Hannah's pants #fyp #foryou #coronavirus #fliptheswitch #thequarantinecrew
So, are they dating? Not yet. But maybe soon considering they're stuck inside together for the foreseeable future. Either way, a source close to Tyler told Us Weekly, "They have a lot of love for each other. They're great friends and have a lot of fun together. It's as simple as that. It's been a hectic year for them both. And they finally found some time in their schedules to connect. Guys and girls can be friends without it being romantic. Could something happen down the line? Sure."
The end, I stan.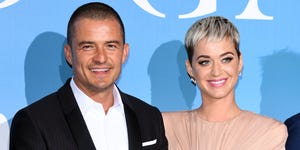 Source: Read Full Article