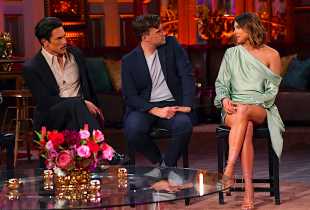 Bravo fans have been buzzing about the #Scandoval on Vanderpump Rules for months, and now we finally get to see Tom and Raquel answer some tough questions.
On Thursday, Bravo released a sneak peek at the three-part Season 10 reunion (beginning Wednesday, May 24 at 9/8c), with host Andy Cohen and the rest of the cast grilling Tom Sandoval about his infamous affair with Raquel that broke up his decade-long relationship with Ariana. "I can't think of two worse people," Ariana says through tears before sternly telling Sandoval: "Don't even f–king look at me. You don't deserve to look at this." Sandoval and Raquel huddle up away from the reunion stage at one point, with him complaining that "they're making you and me to be pathological liars." Raquel nods, adding: "Even though we know that we're not."
Tom Schwartz says he found out about Sandoval and Raquel's dalliance in "late August" — which seems to take his friend Sandoval by surprise. Raquel admits to be "super selfish," which Ariana corrects by saying: "Diabolical, demented… sub-human." The anger over the affair also spills over to Raquel's ex James, and he and Sandoval nearly come to blows, with James labeling him "a worm with a mustache." Sandoval storms off and refuses to be filmed… but what's his answer when Andy asks him if he's in love with Raquel?
Press PLAY below for a first look at the Pump Rules reunion, and then hit the comments to share your first impressions.
Source: Read Full Article