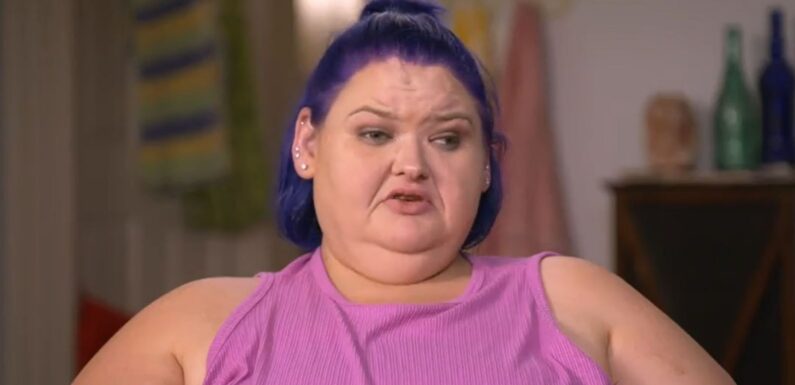 AMY SLATON stars in the TLC reality series 1000-lb Sisters alongside her sibling Tammy.
Here's everything you need to know about Amy Slaton's net worth.
What is Amy Slaton's net worth?
According to Market Realist, Amy Slaton has an estimated net worth of around $250,000.
Her YouTube channel features nearly 500K subscribers, while she has over 377K followers on Instagram.
Amy also has a Cameo account, where users can pay for customized video calls.
Since 2020, Amy Slaton and her sister, Tammy, have starred on the TLC reality series, 1000-lb Sisters.
Tammy reportedly has a net worth of around $100,000.
Who is Amy Slaton?
Born on October 28, 1987, Amy Slaton is a Kentucky native known for her appearances on TLC's 1000-lb Sisters.
Amy Slaton continues to display her slimmer face and the results of her weight loss journey.
When Amy first appeared on 1000-Lb. Sisters in 2020, she weighed over 400 pounds.
Most read in Celebrity
Loose Women star Kerry Katona breaks silence on Phillip Schofield after affair
Harry and Meghan to stop making royal-bashing shows & books after backlash
C4 axes huge show after eight series – leaving spin-off series in its place
Boy, 17, & girl, 12, die after 'major incident' off UK beach as man arrested
After having gastric bypass surgery in 2019, the mom of two dropped to around 275 pounds.
Her sibling Tammy also planned to lose weight after tipping the scales at 700 pounds.
Tammy lost 300 pounds during her battle against obesity.
"When Tammy was first in rehab, she needed to reach her goal weight of 550 pounds from around 700 pounds to be approved for her bariatric surgery," a friend of the reality star exclusively told The U.S. Sun.
Amy shares her two little ones, Gage, two, and Glenn, nine months, with her estranged husband, Michael Halterman, 40.
In May 2023 Amy Slaton showed off her natural skin in new filter-free photos during a concert.
Tammy, 36, and Amy, 35, went on a concert date together to watch rapper Kevin Gates perform. 
In the filtered Instagram collection, the 1000-Lb. Sisters alums cuddled and made silly faces at the camera.
The TLC stars stuck out their tongues and pouted their lips.
In one non-filtered photo, Amy ditched the makeup as she teased cleavage from her low-cut tank top. 
What is 1000-Lb Sisters about?
First released in January of 2020, 1000-lb Sisters is a reality television show on TLC that follows the day-to-day life and struggles of Tammy and Amy Slaton.
Together, the sisters weigh over 1000 pounds and have a slew of health problems related to their size.
Throughout the show, the sisters work to lose weight in order to qualify for bariatric surgery.
During the first season of the show, Amy works alongside a doctor in order to begin her weight loss journey, and ends up being approved for the operation.
Also featured on the show are other members of the Slaton family: Chris, Misty, Amanda, and Michael Halterman.
Read More on The Sun
Shoppers go wild for Matalan's 'dress of the summer' & it's just £17
Mum issues warning over why you should never put 'cute' headbands on your baby
Season three of 1000-lb Sisters premiered on November 15, 2021, and is set to end at the end of January 2022.
While on air, the show hits screens on TLC at 10pm ET. 1000-lb Sisters is also available for streaming on Hulu, Discovery Plus, YouTube TV, fuboTV, Amazon Prime, Sling TV, and Philo.
Source: Read Full Article