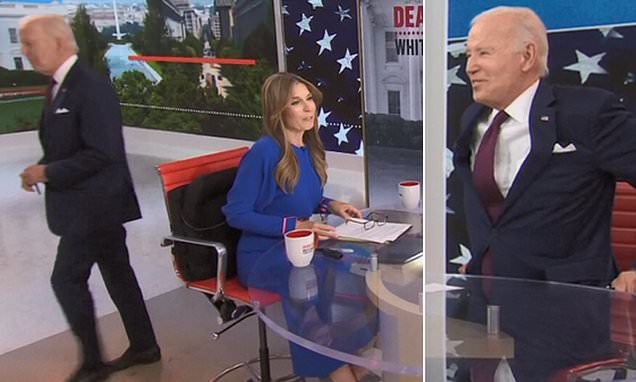 Bizarre moment Biden, 80, walks off at end of live MSNBC interview where he was asked about the Supreme Court, January 6, Trump and John McCain – but wasn't questioned about son Hunter, bribery claims or his health
President Joe Biden sat down with MSNBC's Nicolle Wallace Thursday 
He got up and walked off set while she was still on-air 
Biden traveled to New York to raise funds for his 2024 bid  
President Joe Biden walked off the set of a live MSNBC interview Thursday afternoon, while the cameras were still rolling. 
The president took a day trip to New York City to raise money for his presidential campaign. 
His first stop, however, was to '30 Rock,' to sit for an interview with Deadline: White House host Nicolle Wallace, who previosly worked for Republicans including President George W. Bush and the late Sen. John McCain. 
She probed Biden on the Supreme Court's Affirmative Action decision, the January 6 insurrection and former President Donald Trump – but neglected to question the president about his son Hunter's foreign business dealings and his health, two issues that have been front-and-center this week. 
Earlier Thursday, Hunter was seen arriving at a Delaware courthouse to give a deposition for the defamation lawsuit brought by 'laptop from h***' computer shop owner John Paul Mac Isaac.  
As the president and the host wrapped up the interview by gabbing about the president's bipartisan achievements, Biden stood up, shook Wallace's hand and was seen walking off set, as she was still on the air. 
AND OFF HE JOES! President Joe Biden walked off set of an MSNBC interview that was being broadcast live from New York Thursday before host Nicolle Wallace went to commercial break
President Joe Biden (right) stands up to shake the hand of MSNBC's Nicolle Wallace (left) before exiting the studio while she was still on-air 
https://youtube.com/watch?v=CmekpMxhFmg%3Frel%3D0%26showinfo%3D1%26start%3D1159%26hl%3Den-US
The walk-off got more attention than that meat of the interview, with White House spokesman Andrew Bates tweeting that it was a 'power move,' after Mediaite tweeted out a story headlined, 'Biden Awkwardly Walks Off MSNBC Set While He's Still On Air.' 
The sit-down had started with the news of the day – Biden's reaction to the conservative-leaning Supreme Court gutting affirmative action in college admissions. 
After giving remarks at the White House on the decision and how his White House would respond, he told reporters he believed the Court to be 'not normal.' 
'It's done more to unravel basic rights and basic decisions than any court in recent history,' Biden told Wallace when asked to explain his comment. 
He pointed to other precedent-breaking decisions including Dobbs that overruled Roe v. Wade, which federally protected a woman's right to an abortion. 
Wallace also queried the president on why it took the Justice Department so long to look into Trump in relation to the January 6 Capitol attack. 
Biden pushed back indicating that it would be inappropriate for him to interfere in a case. 
'I have not spoken once, not one single time, to the Attorney General on any specific case, not once,' Biden said.   
He criticized the 'last administration' for trying to 'direct' the courts, the Federal Reserve and other institutions. 
Wallace then asked Biden if leaders of other democracies have asked him why the 'foot soldiers' of the insurrection have been charged, but 'the leader' – meaning Trump – hasn't. 
'Well, the answer is yes,' Biden said, then expanded what he meant. 
'Well here's my answer. I have faith that the Justice Department will move in a direction that is consistent with the law. And so it may take time, but I have faith that There going to do – but I have not spoken about that, and I don't think I should.' 
Wallace said that answer showed that Biden had 'reverence for the institutions' while the modern-day Republicans were 'openly running on politicizing the rule of law.' 
'I think it's really important that they know my value set is very different than this new MAGA Republican Party,' Biden said. 
He said he had 'great faith in the instincts of the American people,' calling them 'decent and honorable,' indicating he believed that he could beat Trump for a second time. 
He also suggested that he was being hurt by media coverage, noting that 'there are no editors anymore' and reporters are being pushed to have a 'brand.' 
Turning to the unrest in Russia this weekend, Biden stayed tightlipped about what he knew in advance of the Wagner uprising. 
Wallace then asked if Biden feared Trump would have tipped off Russian President Vladimir Putin ahead of time had the Republican been in office. 
'Oh God, I don't know, I don't think about that very often,' Biden said. 
Wallace recounted how McCain, who passed away in 2018, had been hawkish on Russia and asked Biden what he thought the late Arizona senator would think of the modern GOP – especially in light of McCain's close friend, Sen. Lindsey Graham, being a top Trump ally. 
'I don't think he'd think much of them,' Biden said, but then added, 'I don't know that.' 
Biden pointed to an incident that came to light in 2019.  
'I got very upset with the last president and even with my good friend Lindsey sometimes because of the denial,' he said. 'Covering the name of the ship of John McCain. Come on, this guy was a hero.' 
The Trump White House had asked the Navy to keep a ship named after McCain, a top Trump critic, out of sight during the then-president's trip to Japan. 
Biden concluded the interview by telling Wallace that 'this ain't your father's Republican Party.' 
'There's still a lot of good Republicans,' he then said, offering up Sen. Mitt Romney's name as an example. 'There's a lot of them.' 
A moment later, Biden was on his feet and walking off-set, while Wallace stayed put in the anchor chair.  
Source: Read Full Article