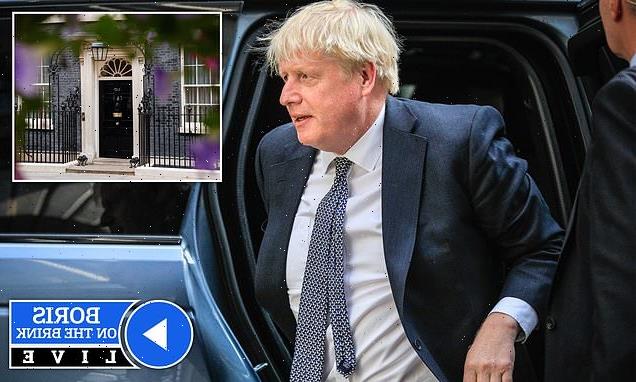 Boris Johnson clings on LIVE: New Chancellor Nadim Zahawi hints at 9% pay rise for teachers as fights to stay in Downing Street after Rishi Sunak and Sajid Javid QUIT
Follow MailOnline's live blog for all the latest news and updates as Boris Johnson fights to stay in Downing Street: 
Host commentator
Nadhim Zahawi, who arrived in Britain as a nine-year-old boy unable to speak English, was promoted to chancellor yesterday, replacing Rishi Sunak.
In a bid to distance himself from his predecessor, the leading Tory indicated that he would raise teachers' salaries by 9%.
MailOnline reported that Mr Zahawi had written to Mr Sunak last week begging him to give teachers more money so as to avert union threats of strikes this autumn.
And this morning, he has already suggested that he could push ahead with the PM's plans to scrap higher rates of tax.
"There's nothing off the table."
Chancellor Nadhim Zahawi says he will look at "everything" in terms of corporation tax with the aim to make Britain "as competitive as it can be".
Latest: https://t.co/m2L0PLgICB #KayBurley
📺 Sky 501, Virgin 602, Freeview 233 and YouTube pic.twitter.com/ROIDA2MExS
#Boris nice to see you again. pic.twitter.com/4hHuoJp9LU
Hey Boris!…..it's #Wednesday…you have the #LiasonCommitee #PMQs …….and if I'm not mistaken have miraculously contracted #Covid even though you're fully vaccinated #Boris #GetOut #WatchThisSpace pic.twitter.com/jQIWEKS3JZ
No fridge available as #boris spots the press #BorisMustGo pic.twitter.com/oOYqZQYU1O
#Boris on the phone again. What he would like to see you. pic.twitter.com/Sd14l3F9IY
Johnson enters PMQs. #Boris pic.twitter.com/xOBJi0Xn07
Rishi Sunak quit as chancellor on Tuesday, alongside Sajid Javid who resigned as health secretary, in a move that came just as the Prime Minister was being forced into a humiliating apology to address the row over scandal-hit former deputy chief whip Chris Pincher.
Mr Sunak and Mr Javid, both potential leadership rivals, offered sharp criticisms of Mr Johnson in their resignation letters.
Mr Sunak said 'the public rightly expect government to be conducted properly, competently and seriously', adding: 'I believe these standards are worth fighting for and that is why I am resigning.'
Mr Javid said the British people 'expect integrity from their government' but voters now believed Mr Johnson's administration was neither competent nor 'acting in the national interest'.
Good morning, and welcome to MailOnline's live coverage of the political crisis gripping Britain.
In case you missed it last night – Boris Johnson is fighting to stay in Downing Street after Chancellor Rishi Sunak, Health Secretary Sajid Javid and a series of junior ministers all quit his government.
It came after the PM was forced into a humiliating apology to address the row over disgraced 'sex pest' Tory MP Chris Pincher.
So follow MailOnline's live blog today for all the latest updates – you really won't want to miss a thing.
Source: Read Full Article