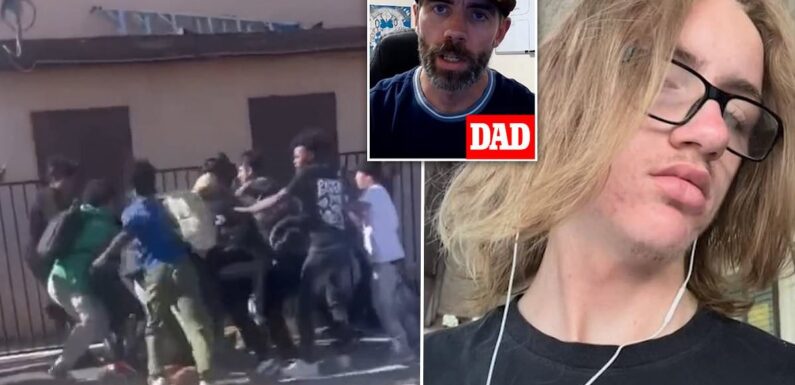 Jonathan Lewis, 17, is 'beaten to death' by huge swarm of bullies in Las Vegas 'after standing up for smaller friend who they'd just robbed'
Jonathan Lewis, 17, died in the hospital days after he was pummeled by a group of around 15 other youths

His father said he was attacked after confronting the group when they stole something from his friend

The boy was described as an aspiring artist who loved 'caring for others'
A teenage boy has died days after he was horrifically beaten by a huge gang of bullies near a Las Vegas high school.
The attack happened on November 1 near Rancho High School, when 17-year-old Jonathan Lewis was pummeled by around fifteen other youths.
He is said to have been targeted after standing-up for a smaller friend who'd just been robbed by the mob, according to a GoFundMe page set up by his family. 
Police officers found him at about 2.05pm that day, bleeding from the head.
The teen was put on life support at University Medical Center, where he died Tuesday after doctors made several attempts to save his life.
'All I can do is hope there's a way that can find forgiveness in their heart and find a way to be able to come to terms with what they've done,' the boy's father, also named Jonathan Lewis, said of his son's attackers.
Jonathan Lewis, 17, died in the hospital days after he was attacked by a group of around 15 other teenagers
The boy's father, also named Jonathan Lewis, said his son confronted the group after they stole something from his friend
Chilling video posted to social media showed a group of youths standing over Jonathan's body, kicking him as he lay on the pavement
Speaking to 8NewsNow, Lewis said his son usually kept to himself and had planned to move to Austin, Texas to be with his father.
The teen was living with his mother in Las Vegas at the time of his death. 
'Violence just begets more violence and these children don't even know what they're doing half the time,' Lewis said.
In the aftermath of the teen's death, video circulated on social media showing the moment a fight broke out.
It shows a group of about a dozen youths kicking the 17-year-old as he lies curled on the pavement.
At least two teens stand nearby, filming the attack on their cellphones.
Lewis claimed that his son was standing up for a 'smaller friend' who had something stolen by the group and was then thrown in a trash can.
He described his son 'courageous' and said he wished to donate his organs to save others.
The attack happened near Rancho High School on the afternoon of November 1. Police found Jonathan bleeding from his head
Speaking to a local news outlet, Lewis said he hopes his son's death opens up a discussion about the epidemic of youth violence in Las Vegas
No arrests have been made, but Lewis claims an investigator assured the family that authorities plan to charge several students involved in that fight with murder.
The heartbroken father added: 'I think there's just a failure of all of humanity to recognize that we need to be teaching our youth how to coexist.'
Las Vegas Metropolitan Police have launched a homicide investigation. 
So far, no arrests have been made, but Lewis said the family was told by investigators that they plan to charge several students involved with murder.
Lewis created a GoFundMe page titled 'Heart of a Champion Our Son,' where he posted a photo of him holding his son's hand in the hospital on the day of his death.
'He will always be so loved as his dad I'll forever hold him in my heart, shine even brighter, love even more and work all my life to bring peace into this world,' Lewis wrote.
The 17-year-old was an aspiring artist and devoted older brother.
'Although our hearts are broken and this tragedy is absolutely absurd madness, we want to focus on the legacy of our son,' Lewis wrote.
'Jonathan was a loving, giving, kind, fierce young man who loved community and caring for others.'
Source: Read Full Article