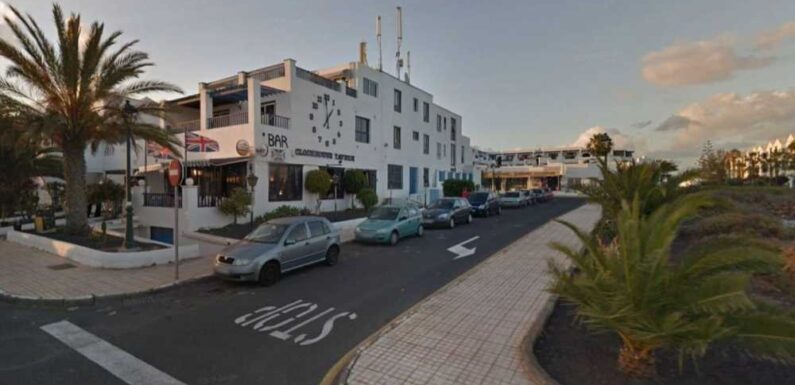 A 50-year-old Brit died after plunging off a bar terrace in Lanzarote reportedly during a scuffle with a drunk German expat.
The bar owner is said to have fallen around 13 feet down a flight of steps in a fight with another man who has been arrested on suspicion of homicide.
The Brit was rushed to hospital after being stabilised at the scene but died as a result of his injuries.
The incident that led to his death occurred in the early hours of Sunday morning near the Clock Bar in the resort of Costa Teguise.
The Brit died at the Doctor Jose Molina Orosa Hospital in Lanzarote's capital Arrecife on Monday.
The suspect, a 46-year-old who has not yet been named by local police, went before a judge on Monday and was remanded in custody pending an ongoing investigation.
READ MORE ON WORLD
Moment Chinese kids brutally stab dummies of enemy soldiers amid Taiwan tension
Brit officials are Russian assassination targets, Putin's deputy warns
Local reports said the German had been banned from several bars in the area because he was known as a "troublemaker" who often got into brawls.
Court officials have confirmed he is being investigated on suspicion of homicide, although investigators are still understood to be in the process of analysing CCTV footage to see if he deliberately pushed the British man and should be charged with murder or manslaughter.
A spokesman for the investigating judge said: "With regards to the death that occurred in the early hours of Sunday morning in Costa Teguise in Lanzarote, Court of Instruction Number Four in Arrecife has confirmed it is investigating a man on suspicion of homicide.
"This person has exercised his constitutional right not to say anything and has been remanded in prison."
Most read in The Sun
Loose Women star Kerry Katona breaks silence on Phillip Schofield after affair
C4 axes huge show after eight series – leaving spin-off series in its place
Boy, 17, & girl, 12, die after 'major incident' off UK beach as man arrested
Bargain high street chain closes several stores with more to follow in weeks
Source: Read Full Article