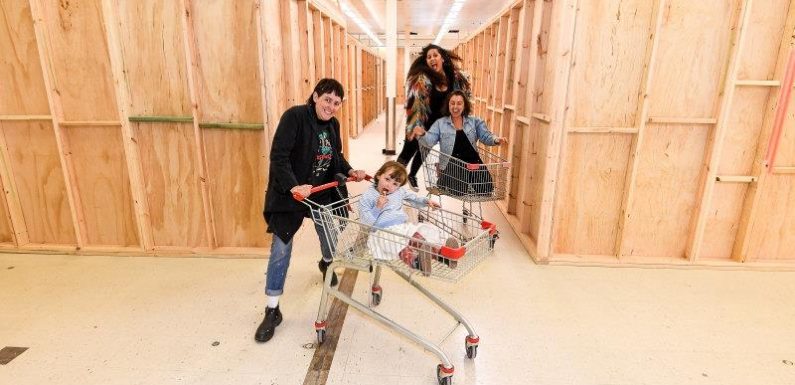 Coburg once had two Coles outlets just 100 metres away from each other — picking which one to shop at came down to personal preference.
But one of those stores has now closed for good after the supermarket giant handed over the keys to a group of artists to help revitalise the area.
The aisles, fruit and veg section and bakery have been pulled out from the Waterfield Street Coles to make way for Schoolhouse Studios, a not-for-profit group that provides space for artists.
The old Coles in Coburg will become the new home of arts organisation Schoolhouse Studios. Artists (L-R) Alice Glenn, daughter Wanda, Grace Dlabik with son Elijah and Fiona Figliomeni and Hollie Fifer.Credit:Justin McManus
The arrangement, which comes with the support of Moreland City Council as land owner, is part of a five-year sublease of the prime location next to Coburg Station.
With builders fitting out the site, Schoolhouse Studios hopes to finish the move from Collingwood to its new home in June. Coles decommissioned the store after it was used as a "dark supermarket" for online grocery deliveries during the COVID-19 lockdowns.
To begin with, the centre will feature artists' studios, an event space, a gallery, co-working areas and a cafe. But there are also ideas to exploit the more unusual aspects of the creative space, with the large loading dock a potential venue for gigs and parties.
Before: outside the store.Credit:
"We do feel lucky, I think it's quite rare in Australia for this to happen because it's prime real estate," said Schoolhouse Studios director Hollie Fifer.
"It's a surreal feeling because we didn't think we'd be able to have a space this big right in the middle of Coburg."
Ms Fifer said the opportunity to move into the Coles site arose after Schoolhouse Studios approached Moreland looking for a space in the city's north. Moreland was aware Coles wanted to close one of its supermarkets and suggested sub-leasing it to the arts organisation.
After: outside the storeCredit:
The site is planned for future redevelopment after the five-year period is up. In the meantime, the introduction of artists is seen as a way of revitalising a sleepy pocket of Coburg that tends to go quiet after 5pm.
"It's actually perfect because it's like an airport hangar and it's had upkeep," said Ms Fifer.
"We're used to having factories that are about to be redeveloped – they need a lot more work."
Where other artists may baulk at the help of a corporate benefactor, Schoolhouse Studios is happy to team up with Coles. As part of the arrangement, Coles is paying the lion's share of the rent. They've also left behind useful things like security cameras, fire extinguishers and a Wifi system.
Before: inside the storeCredit:
Some of the supermarket touches are still there. A checkout was kept, there's a spot for trolleys out the front, the old deli will become a communal kitchen.
"We actually want it to be part of the fun of it," says Ms Fifer.
"I'm sort of glad its not too Coles-y. It doesn't look like a supermarket now but we will play on it a little bit. Because I think it's funny. It's funny that an arts organisation has taken over a Coles in the middle of Coburg. We want the community to enjoy that fun as well."
After: Inside the storeCredit:
The "double Coles" phenomenon is not just limited to Coburg. Another example in Melbourne is in Northcote Plaza, where two Coles outlets sit under the same roof. The merits of which of those Coles is better than the other is fodder for debate between locals.
But the reason they exist is fairly simple. When the company retired its old Bi-Lo brand in the mid-2000s, it rebranded those stores as Coles.
"We had the two stores opposite each other, we wanted to focus all our attention into one store and make it a better offer for the community," said Coles state leasing manager Kate Wicks.
"Moreland approached us, we thought it was a good idea and a good fit."
Moreland mayor Annalivia Carli Hannan said artists and other creatives were a vital part of the Moreland community who had been some of the hardest hit during the pandemic.
"This initiative will provide much needed affordable work spaces for local artists, as well as cultural activities and an event space for all of our community to enjoy," she said.
Start your day informed
Our Morning Edition newsletter is a curated guide to the most important and interesting stories, analysis and insights. Sign up here.
Most Viewed in National
From our partners
Source: Read Full Article