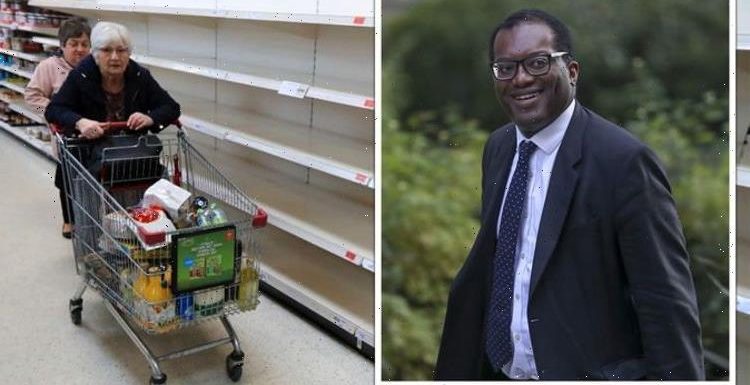 CO2 shortage: Meat industry boss warns of Christmas food supplies
We use your sign-up to provide content in ways you've consented to and to improve our understanding of you. This may include adverts from us and 3rd parties based on our understanding. You can unsubscribe at any time. More info
CF Industries is set to start reproducing the carbon dioxide at Ince, in Cheshire, after business secretary Kwasi Kwarteng met with the fertiliser company over the weekend. This came after the company had briefly stopped production on Friday at its UK-based plants in response to the soaring global prices of natural gas. Costs of the manufacturer will come out of taxpayers' pockets to increase the security of CO2 supplies for the food sector as the energy crisis persists.
The agreement is set to last three weeks to let the CO2 market "adapt" to the hike in global gas prices, according to the Department for Business, Energy and Industrial Strategy (BEIS).
Mr Kwarteng has said the deal will prevent any "disruption" in the "many critical industries that rely on a stable supply" of carbon dioxide.
The recent curbing of CO2 production led to an emerging food crisis as CO2 is a byproduct of fertiliser production, which is widely used in food processing.
CO2 is used to package salads, meats and is used to carbonate things like fizzy drinks and beer.
CO2 is also an important part of the method used for slaughtering animals in the most humane way, as it stuns the animals.
Before stopping production, the CF Industries supplied about 60 percent of the UK's food-grade CO2.
Ian Wright, CEO of the Food and Drink Federation has said that the UK probably had around 10 days before consumers and shoppers would be made aware of a wide range of food missing from the shelves because of the CO2 shortage, such as chicken and pork supplies as well as baked items.
UK's meat processors also warned that they would need to put a stop to production within days if CO2 production did not quickly restart.
It is still not known when production will restart and what incentives were offered to the company as details of the deal are yet to be made public.
This means that despite Mr Kwarteng's deal, there will be far less CO2 available all over Europe.
But the global hike in gas prices is causing an impact to European firms, too.
CF Industries was not the only fertiliser company to halt its production of CO2, with a host of other EU fertiliser companies also stopping or significantly reducing their production, either for scheduled maintenance or as a result of the soaring costs.
DON'T MISS
Not based on science!' Lord Frost mocks EU approach to GM organisms [INSIGHT]
Time travel proof? 'Time traveller' unveils photos from year 3311 [REVEAL]
Archaeologists astounded by 1,000-year-old city underneath lake [REPORT]
EU energy ministers will meet this week at an Alpine castle in Slovenia, where they will hold emergency talks to discuss global gas shortages and the union's energy policy.
Since the start of the year, wholesale gas prices in Europe have risen by 250 percent, the result of a complex cocktail of economic, natural and political forces.
Source: Read Full Article