California authorities are investigating the possibility of at least a dozen more victims who may have been sexually assaulted by an orthopedic surgeon already being accused of drugging and raping two women.
Investigators have received more than 50 calls since they announced the arrest of Dr. Grant William Robicheaux, 38, and his purported girlfriend, Cerissa Laura Riley, 31, Orange County District Attorney Tony Rackauckas said in a press conference Friday.
The crimes may have taken place over the last two decades — some outside the state of California, Rackauckas said.
Robicheaux met potential victims in person at bars and restaurants but may have also targeted them through dating apps, Rackauckas said, cautioning dating app users to be careful when meeting people online.
"Ladies, please be careful when you meet people on these kinds of apps," he said. "You don't know what's behind that — what appears to be a perfect smile."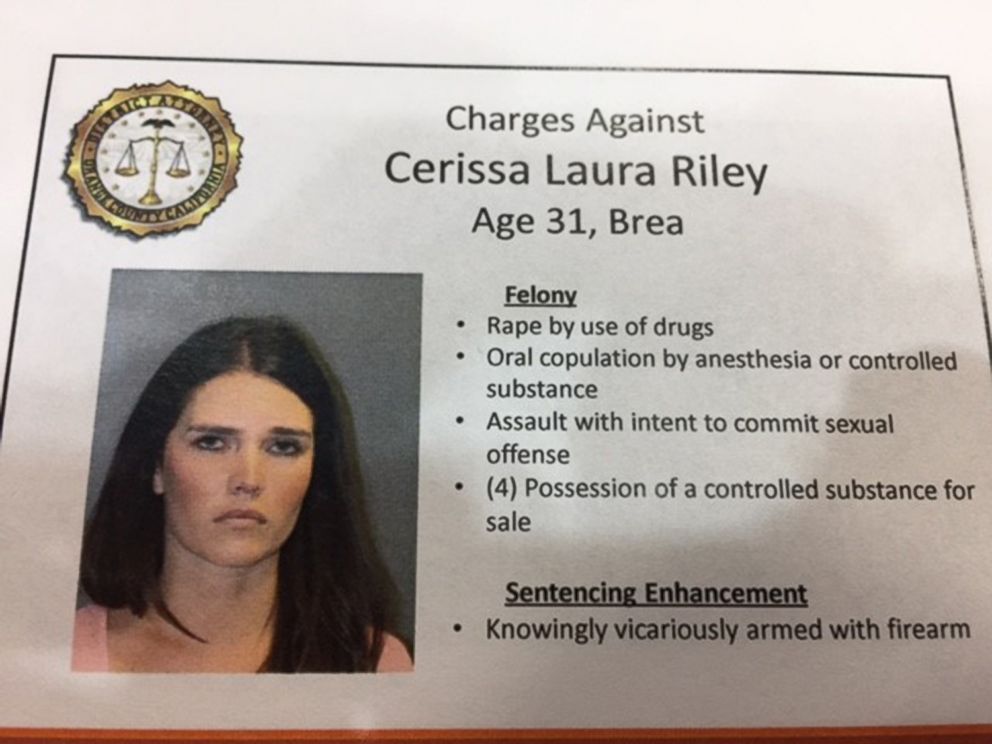 Some of the women who have come forward indicated to prosecutors that they felt the need to support the the two women Robicheaux is accused of raping, Rackauckas said.
Rackauckas thanked the people who "reported what happened to them," saying it "must be difficult" to relive the events, as well as the media for circulating the story.
He also asked other potential victims to come forward, promising that their identities will be safeguarded.
"They didn't ask to have this happen to them," the district attorney said.
The couple was arrested on Sept. 12 at Robicheaux's home and each face multiple felony charges in California, including rape by use of drugs, oral sex using a controlled substance, assault with intent to commit a sexual offense and possession of controlled substances.
Women were at risk up until the arrest, Rackauckas said.
Robicheaux was also charged with possession of an assault weapon and faces a sentencing enhancement related to that weapon possession. Riley will face a sentencing enhancement for being knowingly vicariously armed with a firearm.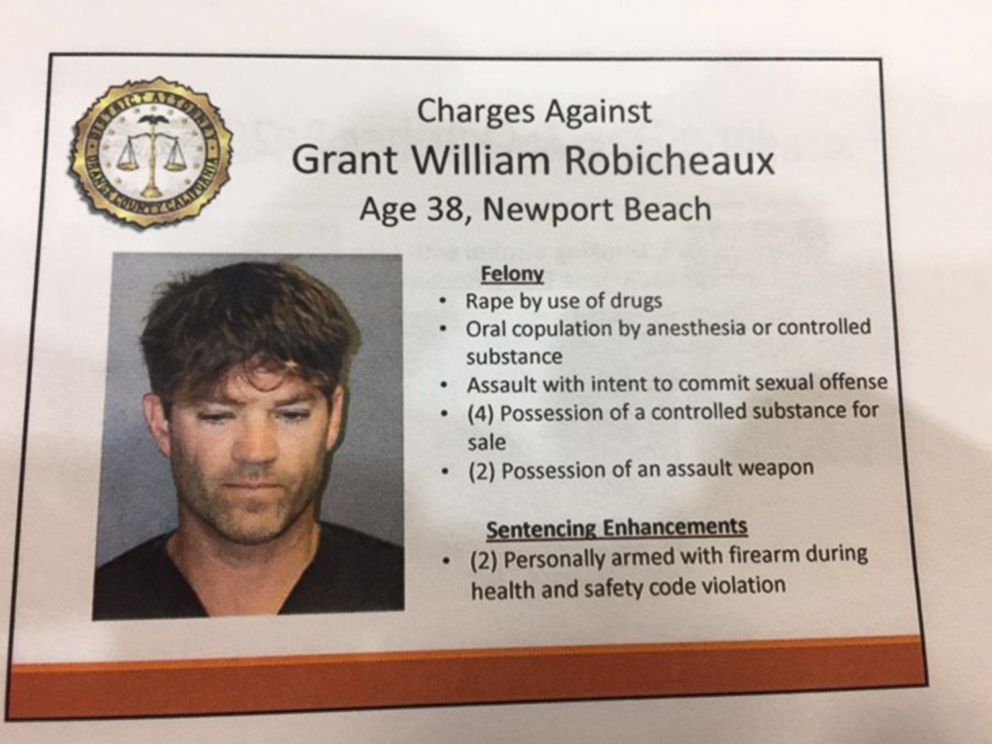 While the couple could face additional charges, it is unclear whether they will be re-arrested, Rackauckas said. They are currently free on a $100,000 bond each.
Their attorneys released a statement Tuesday, "unequivocally" denying all allegations of non-consensual sex.
"They have been aware of these accusations for a number of months, and each of them will formally deny the truth of these allegations at their first opportunity in court. Dr. Robicheaux and Ms. Riley believe that such allegations do a disservice to, and dangerously undermine, the true victims of sexual assault, and they are eager to have the proper spotlight shed on this case in a public trial," the statement read. "It must be noted that none of the allegations in this matter relate to or concern Dr. Robicheaux's medical practice or patients in any way. They both thank their families and friends for their continued support."
The defense attorneys for the couple planned to hold a news conference Friday, Rackauckas said.
The couple used their "good looks and charm" to disarm the victims, and traveled to festivals like Burning Man in Nevada and events in Palm Springs, California, Rackauckas said.
Robicheaux appeared on the Bravo series "Online Dating Rituals of the American Male" in the past.
Investigators are currently combing through "thousands" of videos on Robicheaux's phone that allegedly show women who "appear to be highly intoxicated, beyond the ability to consent or resists," Rackauckas told reporters earlier this week.
Robicheaux and Riley are expected in court next month.
ABC News' Meghan Keneally, Crystal Muguerza and Kayna Whitworth contributed to this report.
Source: Read Full Article