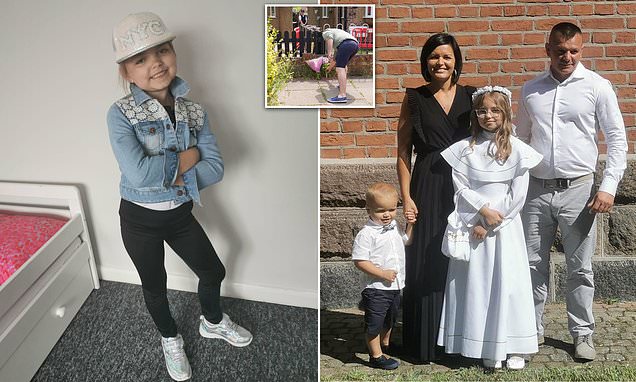 Girl, 11, found dead alongside her little brother and parents in 'murder suicide' was 'missing from school for four days' but 'seen playing with her mum just two days before bodies were discovered'
Police called on Friday to concerns of welfare of occupants at house in Bedfont
An 11-year-old girl found dead had been missing from school for four days, but seen playing with her mother two days before her and her family's bodies were found, it has emerged.
The bodies of Michal Wlodarczyk, 39, his wife Monika, 35, and their children Maja, 11, and Dawid, three, were discovered at their flat in Hounslow, west London earlier this week.
Teachers at Southville Primary School, where Maja attended, apparently asked pupils whether they knew of he girl's whereabouts when she failed to turn up for classes four days running. Parents of Maja's classmates allege the teacher contacted police.
Similarly, a neighbour has claimed Maja and Dawid were 'very happily' playing with Monika in the family's garden two days before the family was found dead.
The Hounslow resident said Monika frequently joked and laughed with the children on evenings and weekends, but claims she rarely saw Michal. 
The family's deaths are being treated as a suspected murder-suicide. Murder detectives have said they were not seeking any other suspects in connection with the deaths but were keeping an 'open mind'.
Maja Wlodarczyk, 11, had been missing from school for four days, but seen playing with her mother two days before her and her family's bodies were found, it has emerged
A family of four who were found dead in a west London flat on Friday have been named as Michal, 39, (right) and Monika, 35, (second left) Wlodarczyk and their children Maja, 11, and Dawid, three
A man lays flowers at the scene outside a property where the bodies of four people believed to be from the same family were found dead
The mother of one of Maja's classmates revealed WhatsApp messages where it was claimed that a teacher 'had a whole conversation' with pupils on the girl's whereabouts. The teacher is said to have told children she would 'call someone' if no one had seen her.
The mother, speaking on the basis of anonymity, said: 'I know the family, I was each day going to school, the daughter would go in front of me – my son is in the same school, same class.
'My son said that Monday she had gone to school and she went with him, Tuesday she didn't come.
'Wednesday and Thursday she didn't come, we had a course where people were outside of school but she didn't come to school. She went only Monday. The school have activities outside school so it was outside.
'My son said that he had a conversation with some staff in school about why she didn't come, they said that they were going to call the family or something.
'Staff in school had that conversation, they talked about her and why she didn't come. In the WhatsApp with the children, my son is in it, they all talk about school.
'They talked about Maja. My son he feels really scared.
'I don't know if [the school] called the police. They said tomorrow there would be an event about it, what's happening.
'I am so worried, I couldn't sleep yesterday night thinking of the children, thinking how can this situation happen with children.
'In Year 5 when they would leave for school she would go with my son, the same way. She was very responsible, she would close the door after herself.
'She is a responsible lady – she'd take her bike, she'd go to school on her own. 'I was shocked when I heard it, I said Mashallah [God has willed it in Arabic].
'I was shocked, each day we meet, me and her mother – sometimes they are in front of me, I have to pass or I am in front and they have to pass. But we never talked.
'I never see the father, but the mum and children and I saw them each day because I saw them on the way to school. So it was hard to hear that.'
Today school friends paid tribute to 11-year-old Maja, calling her a 'really beautiful' and 'really kind' friend 
The youngsters said they had only been at an 11th birthday party of Maja a few weeks ago 
Similarly, neighbour Oana Petraru, 31, revealed that Monika had been playing with her children in the days leading up to their deaths. 
Ms Petraru said she often saw Monika joking and laughing with the children in the evenings and weekends, but rarely saw the father.
She said: 'I just saw the mum because the garden is just out there. I saw her sometimes with the kids outside.
'They were very happy. She was always playing with them, with the ball, just being a mum, you know?
'There was nothing strange with them. I don't know them personally, but she seemed fine.
'They were laughing and playing in the garden a couple of days ago, the mum and the boy and the girl.
Ms Petraru added: 'They were playing with a ball, they have a trampoline. I can't see everything because of the fence but I can hear them.
'She would play with them on the weekends, in the evening. She was always outside with them, as mums do. I saw her but not him.
'I never saw the dad, only maybe last week they were playing outside and he was up on the shed and he was climbing up to take the balls down.
'I never heard fighting. When you hear about adults it's terrible, but when kids are involved.'
Monika with daughter Maja. Today Maja's school friends to their 'really beautiful' and 'really kind' friend 
Police forced entry to the upstairs property on Staines Road, Befont, on Friday afternoon but nothing could be done to save the family. Pictured: Maja and her little brother Dawid
Forensic teams carrying equipment arrived at the scene today in Bedfont
Police and forensics teams at the scene where police were called at 3:12pm on Friday to concerns for the welfare of the occupants
Neighbours are mourning the 'absolutely gorgeous' family that lived in the west London flat 
A woman, who laid flowers at the scene, said the family were eastern European and 'kept themselves to themselves'
Details of the family's last days emerged today after Maja's heartbroken classmates paid tribute to their 'really beautiful' and 'really kind' friend.
Southville Primary School with Maja revealed today that she had just celebrated her 11th birthday with a big sleepover at the end of May.
Sarah Gouveia, 11, said the group of friends played Just Dance and badminton in the garden with Maja's parents watching.
She also said that the family were really 'kind' and would always bring back sweets and lollipops for her friends.
Sarah revealed they would also play sports, including football, regularly together and Maja enjoyed being a goalkeeper.
She added: 'She was really nice; she would always buy us stuff from the shops. Her mum's birthday was on May 31. We did Just Dance, we played in the garden.'
Another school friend, who was not named, added: 'She was really kind and nice, she was helpful with stuff. She was really beautiful.
'Every time she would go on holiday, she would bring us something back.'
Sarah's mother Maria Gouveia, 37, previously told how her daughter was in the same year as Maja at Southville Primary School in Feltham.
She said the parents seemed 'lovely' and worked hard while Maja was a 'beautiful' girl.
She said: 'We just knew the parents from school, they seemed lovely though. Really nice, hardworking people. Nice, kind.
'Maja was a lovely girl, she was so smart. Beautiful girl, strong minded.
'I still can't believe it to be honest with you, it seems unreal, terrible.'
Police and forensics at the scene in Hounslow where the family of four was found dead
Police are currently investigating the circumstances of the deaths
Monika Wlodarczyk, 35 – neighbours have described the family as 'absolutely gorgeous'
People can be seen carrying forensic equipment towards the house in Bedfont
Forensics teams can be seen exmaining the top floor flat of the house
One officer was pictured outside the scene at Staines Road earlier Saturday morning
Staines road in Bedfont, Hounslow where police were called to a property on Friday
Meanwhile, James Hoopa, the father of Maja's best friend, visited the family home where forensic searches were ongoing yesterday to lay flowers with his family. 
He told how his daughter, 11-year-old Jasmine Hoopa, ran home to him on Friday afternoon to tell him: 'I think something's happened to Maja.'
Mr Hoopa said: 'My daughter goes to school with the little girl in the same year.
'I finished about half six and I came down here and I saw the police cars and everything.
'I got home and I said well, have you contacted your friend? Is she okay? But you know what children are like, no notice.
'Then I come back from work today I find out that she's dead.
'I found out Maja is dead. We know the parents as well, the dad and the mum, they all go out together.
'[Maja] was just a normal child, growing up, a lovely girl. She's just a normal child, this is a shock.
'I don't know how my daughter is going to get through this because my daughter is very best mates with her.
'For her to go through this experience, something else as parents that we've got to deal with.
'We're neighbours, we live across the road, this is a shock – it's going to take some time to settle into this one.'
Floral tributes were left at the scene of the house in Hounslow, west London on Saturday
A card left outside the family home is believed to be from Maja's school teacher, who is said to have called police after she had been absent from class since Tuesday
Monika pictured with daughter Maja, who recently celebrated her 11th birthday
The scene in Bedfont, Hounslow where the family were found dead
Metropolitan Police officers forced their way into the home in Staines Road, Bedfont, Hounslow, at just after 3pm on Friday after being called to concerns about the family.
The family were Polish, according to neighbours, who said Mr Wlodarczyk worked as a builder, while Mrs Wlodarczyk was a cleaner at a hotel. 
Those who know Wlodarczyks have said they believe the family have lived in Hounslow for over 10 years. 
Detective Chief Inspector Linda Bradley, who is leading the investigation, said yesterday: 'I would like to assure the community that specialist detectives are working to establish the circumstances which led to this tragic incident and we will provide further updates as soon as appropriate.
She said police are retaining an 'open mind' around the circumstances which lead to the four deaths. But it is understood that officers are not looking for anyone else in connection with the incident.
Ms Bradley added: 'Our thoughts are with everyone who has been affected by what has happened.'
Post-mortem examinations are yet to take place, but the family's next of kin have been informed and are being supported by family liaison officers.
Anyone with information that may assist police in their investigation is asked to call 101, quoting reference 5135/16Jun.
Source: Read Full Article