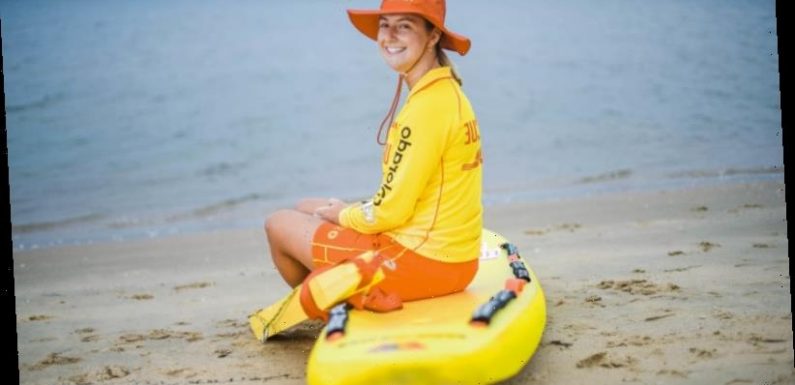 Until the 1980s, women were mostly relegated to a minor role in the blokey world of surf life saving, with clubhouse change rooms for women often a fraction the size of those for the men who vastly outnumbered them.
Even 12 years ago, when Hannah Tzimokas, joined the Woolamai Beach Surf Life Saving Club, the masculine atmosphere was clear.
Hannah Tzimokas has risen through the ranks at Life Saving Victoria and last year won a prestigious award.Credit:Joe Armao
"I never felt shut out or unwelcome, but it was very obvious it was a male-dominated sport," she says.
But Ms Tzimokas, Victoria's 2020 lifeguard of the year, says that since then there has been a "pretty remarkable" change.
"It only takes a few really enthusiastic females to get involved. All of a sudden they're inspiring so many others."
These days a woman is just as likely to rescue a drowning swimmer from treacherous ocean waters as a man.
On Monday – International Women's Day – Life Saving Victoria is celebrating its first female-majority board. It has also achieved gender parity across its volunteer base and professional staff.
Across Victoria's volunteer emergency services, women have fought for major social change, rising to the upper echelons of traditionally male-dominated institutions.
But leaders say the work is far from done.
When Angela Malan was appointed as the first female president of the Inverloch Surf Life Saving Club in 2011, she knew of few other women in similar positions.
"When I stood up to take on leadership roles at club level I didn't get a lot of support initially," she says. "I had to prove myself. But I had some great male champions."
Ms Malan, who is now a Life Saving Victoria board member, says extensive measures help provide an inclusive environment, including programs for safeguarding children and access to member protection officers who can deal with concerns about welfare and disputes.
"A lot of education has gone into that in recent years for leaders and members, so everyone knows their rights."
Country Fire Authority board member Dawn Hartog has worked in emergency management for about 20 years, recently developing gender and cultural diversity improvement strategies at the Department of Environment, Land, Water and Planning.
Three years ago she became the first woman named captain of the Toolangi fire brigade, one of only 46 women among more than 1200 captains in total.
Dawn Hartog, captain of the Toolangi CFA unit, says quotas would help even the gender imbalance. Credit:Justin McManus
Ms Hartog says initiatives to increase women's representation in the formerly male-only organisation were slowly working.
"But it's not working to where we will see that parity soon," she says.
The number of women in operational leadership roles at the CFA have increased from 247 to 349 over five years. But Ms Hartog says targets or quotas are now needed.
"People see those words in direct opposition to merit," she says. "The two are not conflicting. You still have to put somebody in a position where they're going to succeed."
Ms Hartog was also aware of concern that men would have fewer opportunities if quotas were introduced.
"But they have had opportunities. There has been a bias towards men for a very, very long time in our industry and our sector."
Ms Hartog says she hasn't experienced sexual harassment at the CFA. Yet a 2017 report revealing a bullying culture towards women and impunity for perpetrators did not shock her. She says experienced men had unintentionally second-guessed her firefighting abilities and decision-making, and dealing with unconscious bias still needed work.
But Ms Hartog has great hope for the future.
"There's young girls … who have actually said to me, 'I'm going to have your job in a couple years,' " she says. "That is fantastic, that's what I want to see."
Bendigo SES deputy controller Natalie Stanway says recruiting more women is crucial.Credit:Justin McManus
Victoria's State Emergency Service has achieved parity in its executive team but women make up less than one-third of the active membership base.
Bendigo SES deputy controller Natalie Stanway says recruiting more women is a matter of principle and necessity. She says women get better results in search parties because missing children will more likely respond to a female voice.
Since joining the Bendigo SES in 2009 Ms Stanway has responded to many incidents, from plane crashes to train derailments, and spent four years working as a staff member in operational capability.
She was the first female volunteer to become a level-two operations officer, qualifying her to oversee large-scale emergency operational responses. Ms Stanway urges women to push back if they encounter "old boys' club" attitudes or inappropriate comments.
"If you ask somebody, 'What did you mean by that?' and they can't explain it, they know it's wrong," she says.
Life Saving Victoria board member Ms Malan was at the Inverloch Surf Life Saving Club this weekend patrolling the beach. But the work does not stop there.
She says Life Saving Victoria cannot rest in striving for equality for women and under-represented groups. "If you do it right it makes a great organisation where everyone feels included."
Start your day informed
Our Morning Edition newsletter is a curated guide to the most important and interesting stories, analysis and insights. Sign up here.
Most Viewed in National
From our partners
Source: Read Full Article