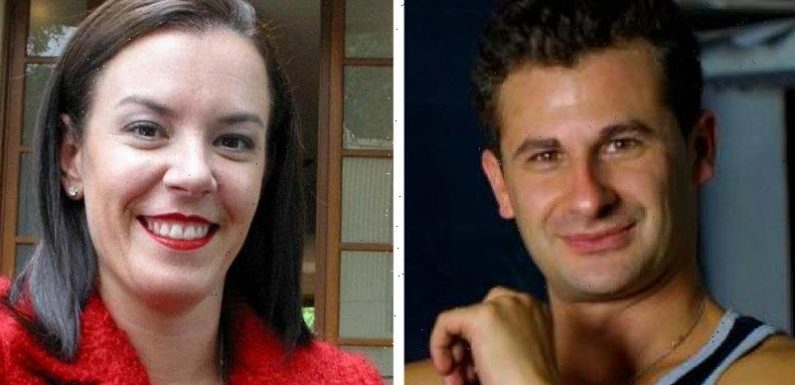 Anthony Koletti, the husband of missing fraudster Melissa Caddick, has abandoned his claim to his wife's possessions, including $2 million worth of jewellery, her Gucci wedding dress and the proceeds from the sale of their luxury cars.
Koletti wanted to remove himself from the proceedings so he could get on with his life, his solicitor Judy Swan told a brief hearing in the Federal Court on Wednesday.
Anthony Koletti and Melissa Caddick.
Swan also submitted that Koletti should not face a costs order over the legal proceedings.
In April, Koletti filed a claim over his wife's $30 million proceeds of crime, including her wedding dress, $7 million in shares and five John Olsen paintings. He also claimed jewellery which included his white gold onyx cufflinks valued at $5600, a $34,000 diamond ring and his wedding band, valued at more than $26,500.
While Koletti's lawyer said he was abandoning his claim relating to possessions, it was not clear whether this included his claim on the Dover Heights home his wife purchased for $6.2 million in 2014 using funds stolen from her investors. The property still has a $4 million mortgage.
Koletti, who recently moved out of the house, lived in the property rent-free since his wife disappeared on November 12, 2020. The house will be put on the market in coming months.
Caddick, 49, vanished hours after the corporate regulator ASIC raided her home in relation to a $23 million Ponzi scheme she had been running for years.
Her partial remains washed up on a remote South Coast beach in February 2021.
Melissa Caddick and her husband Anthony Koletti celebrate their joint birthdays on April 21, 2020.
Despite not being aware of the fraud, Koletti, 40, who married Caddick in late 2013, enjoyed years living the high-life courtesy of his wife's fraud.
In an interview with Channel Seven in May, Koletti justified his claims over his wife's possessions saying, "Melissa never gave me a cent … I always pay for myself … It's not like I was some desperate Double Bay housewife living off the wife, which is what everyone else thinks. Why wouldn't I be entitled to something?"
However, when his wife first went missing Koletti told the Federal Court he only had $1.95 to his name. He explained he was employed as a part-time hairdresser but when the COVID-19 lockdown commenced in March 2020, he quit work. "As a result, I do not earn an income. My living expenses and those of our Dover Heights household are paid for by Melissa Caddick," Koletti told the court in December 2020.
Koletti has taken to songwriting to accuse ASIC of being responsible for his wife's death. He also told Channel Seven he was planning legal action against the corporate regulator. "I'm going to sue them for everything they've got. Look, I'd be happy with a few million dollars so that I can get on in my life … Yeah, a few million dollars would do that."
His baseless accusations have led to the police applying for an Apprehended Violence Order on behalf of lead investigator Isabella Allen.
Anthony Koletti leaving Downing Centre court in February.Credit:Nick Moir
In his most recent musical endeavour "Liar Liars" he lashes out at ASIC, the liquidators of his wife's assets as well as the media, in particular, the Herald/60 Minutes podcast Liar Liar: Melissa Caddick and the Missing Millions.
In his song, Koletti claims his wife lost the money trading on the stock market and the allegation his wife was a major con artist was fabricated.
"To make your cast look neat / To kick her son and I out on the street / You left me with two bucks / But I landed back on my feet."
The song concludes with Koletti suggesting the media take him to Judge Judy as he has "zero f—s left to give."
The case will return to court on July 25 to hear arguments by Caddick's parents, who claim they are entitled to a third of an Edgecliff penthouse their daughter bought for $2.55 million in 2016. Barb and Ted Grimley, who are in their 80s, claim they had an agreement with their daughter to be able to live there rent-free for the rest of their lives.
They also gave their daughter $1.1 million to pay down the mortgage, but the court heard Caddick spent it on her lavish lifestyle.
The Morning Edition newsletter is our guide to the day's most important and interesting stories, analysis and insights. Sign up here.
Most Viewed in National
From our partners
Source: Read Full Article