On Jan. 22, 2016, I walked into my sixth major surgery, this time to remove my silicone breast implants. I would like to believe this significant life decision — or "last cut," as I like to call these moments — will be the last surgery I face. It certainly has been the most impactful.
As I reflect on that day, what is most worthy of celebration is not solely the massive improvement in my physical health (which has far exceeded any hopes or expectations I had going into that operation), but the power of lining up my internal beliefs with my actions out in the world. My decision grew into the Last Cut Project and is every day strengthening into a community around bold, brave empowerment — well beyond my story.
Here's where it began: almost 22 years ago, at age 21, I was diagnosed with thyroid cancer. I was just returning from studying abroad and readying for my senior year of college when the shocking news came out of the blue. Plans to write my thesis, connect with dear friends, and explore my next steps in life throughout my senior year were all derailed by the words: "The tumor is malignant."
In the months that followed, I lived at home with my parents. My thyroid was removed, and I underwent two rounds of radioactive iodine treatment to annihilate any remaining malignant cells. I longed to be back at college with friends and in class, where I was most content. Instead, my days passed slowly, with the focus on doctors' appointments and healing.
I put forth my best effort to be happy and optimistic but was inwardly depressed and passed many hours crying alone in my bedroom — even once the cancer was gone. Because I so deeply yearned to be well for myself and the loved ones around me, I hid the painful emotions, always doing my best to keep smiling and functioning.
This began a period of disconnect in my life that would go on for years. I began outsourcing my happiness to external, societal beliefs. My choices and decisions increasingly were sourced less from a connection to an inner knowing and more from a desperate desire to feel whole and well.
Somewhere in the midst of this period, I opted to be tested for the BRCA gene due to my own cancer history and my mother's bout with breast cancer at a young age. I tested positive for the BRCA1 mutation, which indicates elevated risk of breast and other cancers. This diagnosis triggered a deeper wave of angst around my body and health that shadowed the latter part of my 20s.
When the nearly daily Emergency Room-worthy, stress-induced migraines finally forced me to claim disability leave from my job, there was no denying any attempt to live a full and fulfilled life was being thwarted by my untouched trauma. I had no idea what the future would look like for me if I remained on all the prescription medications that seemed to be keeping me afloat.
Something had to change.
In the years that followed, I dove into ongoing traditional and alternative therapies in order to heal and began to approach my health from a more holistic angle. I met a man and got married. We moved across the country and had a baby. I was doing my best to lead a present and full life.
After giving birth, I desired to be free of the frequent and anxiety-ridden testing the BRCA mutation required. I wanted to be healthy for my new child and opted for a preventive double mastectomy with breast reconstruction in 2008. Researching that choice, a quiet whisper within led me to ask about alternative options to silicone breast implants, but I was told I was too thin to use my own fat for reconstruction. My doctor — and most everyone around me — upheld that implants were what made women (and no doubt their hetero male partners) happiest, as they felt most "normal," a word I have now come to abhor. I do not recall the option of no reconstruction being presented to me, or, frankly, being considered by me at the time. I moved forward with reconstruction with an increasing level of disconnect between body and self.
This series of surgeries opened up old, untouched wounds and finally made me commit to unpacking the trauma I had ignored for years. I simultaneously began to delve deeply into therapy and to write about the prior 10 years of my life. I no longer could distract myself with intellect and action. In the years to come, I would get a divorce, close my business, end an unhealthy relationship, move, and radically change how I lived my life.
When New Year's Eve 2016 came around, I anticipated a wonderful year ahead. I hoped to embody the freedom I had finally created. I had changed so much and was eager to savor my new and strengthened healthy relationships and habits. Just days later, a dear friend came over and told me she planned to remove her silicone implants. She felt they were causing her health issues. She shared research she had done about the effects of silicone in our bodies. I was still not feeling 100 percent physically, in spite of how hard I was working to take care of myself. I had been fighting a MRSA staph infection for six months. Upon hearing her story, I knew immediately I would remove these foreign bodies, which never truly felt like part of my own body. For eight years, I had praised the perkiness of my "foobs," but it was clear that I would call my doctor the next day to let them go. Three weeks later, with clarity and hope, I went through with the explant surgery.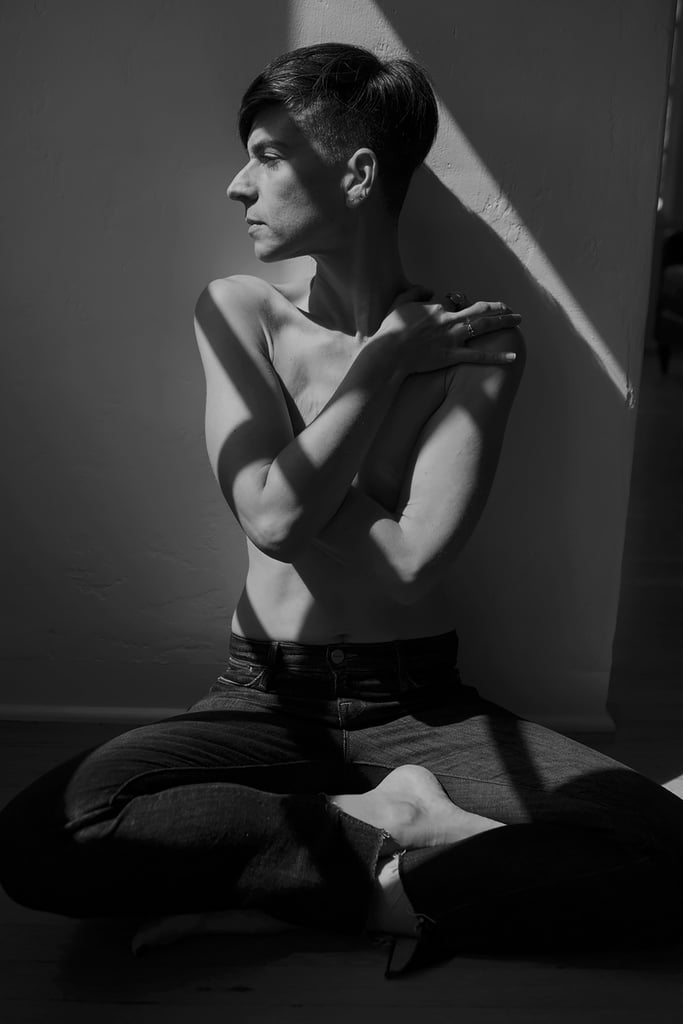 It was a watershed moment when I owned that the reconstructed breasts I had elected were making me unhappy and unwell. My personal choice to act on behalf of what was most true to me by removing them was made with a simultaneous dedication to attach words and imagery to a process we all experience over and over in life with the creation of the Last Cut Project.
There is a universal thread in any big life decision, or last cut moment, that connects us beyond the details of any one of our stories. We have all experienced moments in which we feel like strangers in our own lives, or in our own bodies. We all know what it is to sense incongruence between what we feel and what we do. These are the moments when we have the power to elicit change. These are the times when we can boldly and bravely act on behalf of our truths in order to do what is possible to set ourselves free and help support others in doing the same.
Every last cut evokes a desire that this one single action will set us free. If I quit this job, I will be happy. If I leave or step into this marriage, I will feel whole. The list of wistful conditions is long. Yet we live in a dynamic world. Everything within and around us is constantly evolving. We have a choice as to whether or not we dedicate ourselves to staying on the pulse of that change.
One day, that might be the decision to remove silicone implants, if resources and an internal calling collide. Tomorrow, it may be standing up for the rights of millions to have access to health care or of children to stay with their parents. It may be informing yourself of upcoming opportunities to vote, volunteer, support, speak up, and advocate beyond your comfort zone. It may be speaking up to a bully, or coaching your child to do so. It may be realizing the ways you are being a bully to yourself or others and altering those behaviors.
I have spent more than just these past years dedicated to making last cuts and making peace. It has been a long 22-year journey of physical pain and the emotional fallout that came along with a thyroid cancer diagnosis at age 21. I have loved and lost people, places, and parts of my body and ultimately committed myself to finding love and forgiveness within and all around me.
Samantha Paige founded Last Cut Project, a multimedia documentary project about those big life decisions (last cuts) made to bring us closer to living a life that feels like our own. Her book of the same name is coming out soon.
Source: Read Full Article